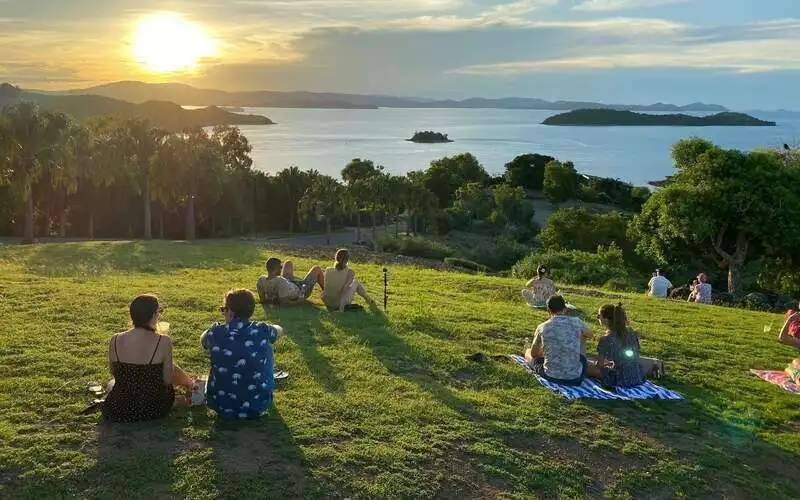 Hamilton Island, Queensland.
Calls for JobKeeper to be extended grow louder by the day, as we near the looming March 31 deadline.
The Federal Government has expressed its intentions to end the (expensive) scheme on that day, but certain industries still impacted by closed borders and health restrictions want their own JobKeeper-type schemes to help them manage in a strange economic climate.
On this page:
Need somewhere to store cash and earn interest? The table below features savings accounts with some of the highest interest rates on the market.
Lender

---

4

0

0

0

$product[$field["value"]]

$product[$field["value"]]

$product[$field["value"]]

More details

FEATURED

Savings Account (Amounts < $24k)

4

0

0

0

$product[$field["value"]]

$product[$field["value"]]

$product[$field["value"]]

More details

High Interest Savings Account (< $250k)

4

0

0

1

$product[$field["value"]]

$product[$field["value"]]

$product[$field["value"]]

More details

0

50

0

$product[$field["value"]]

$product[$field["value"]]

$product[$field["value"]]

More details

0

0

0

$product[$field["value"]]

$product[$field["value"]]

$product[$field["value"]]

More details
Rates based on a savings balance of $10,000. Sorted by total interest rates. Refer to providers' websites for bonus rate conditions and for any applicable fees and charges. Rates correct as of May 29, 2022. View disclaimer.
Recap: What's happening with JobKeeper?
JobKeeper was a major component of Australia's eye-watering $251 billion in economic support, initially announced in March 2020 as a straight $1,500 per fortnight sum paid to businesses to each employee, in order to keep them in work. JobKeeper accounted for nearly half of that total, at a cost of roughly $101 billion.
Initially set to end in September 2020 but extended through to 31 March 2021 at a reduced rate, JobKeeper has widely been heralded as a success, helping to keep the unemployment rate under 10%, boost the household savings rate and seemingly sparing 500,000 households from housing stress. There have been a few setbacks - such as executives using the scheme to pay large bonuses and businesses reporting non-existent employees as being eligible - but it has, for the most part, allowed Australia to record a decent recovery from the virus.
As we approach the March deadline, the Federal Government has repeatedly expressed its intentions to not extend JobKeeper again. Their justification for doing so is that Australians are back at work (some 90% of workers who lost a job in the pandemic are now back at work), and Australians being flushed with cash thanks to stimulus payments and extra savings.
But while this looks good for the economy as a whole, breakdowns by different industries tell a different story. Some sectors are worse off than others, with those in customer-facing workforces suffering more than those who could securely work from home: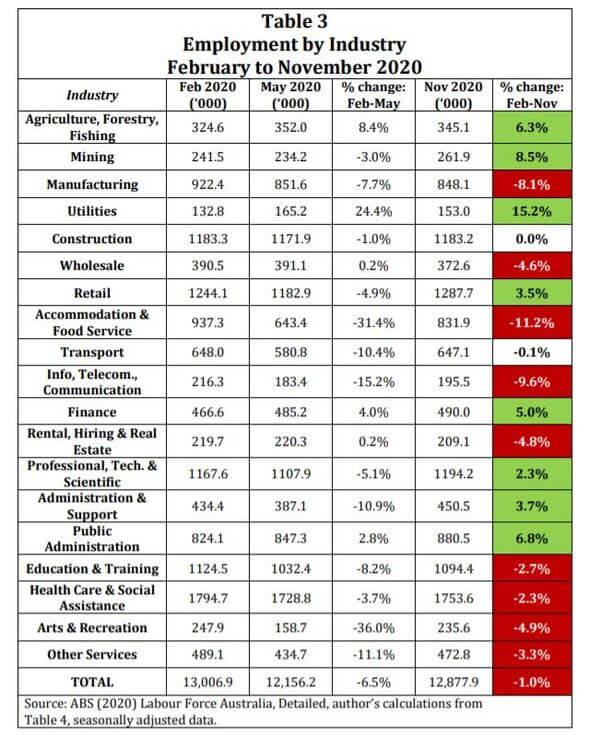 This is why certain industries, like the ones below, are calling for JobKeeper-like payments to be extended to them:
Tourism

Hospitality

Retail

Arts
TourismKeeper
The tourism industry has been one of the hardest-hit by pandemic restrictions. Australia's international border remains closed to all but New Zealand, and non-essential travel was also halted domestically between the states for some time.
The initial state border closures and subsequent opening and reopenings as new cases pop up have wreaked havoc on the industry. One in seven tourism workers (113,000) lost their jobs from March-December, and analysis by the Tourism and Transport Forum (TTF) found as many as 320,000 jobs could be lost by September 2021. Just over the Christmas holiday period (December 24 to January 31), more than $7 billion was lost.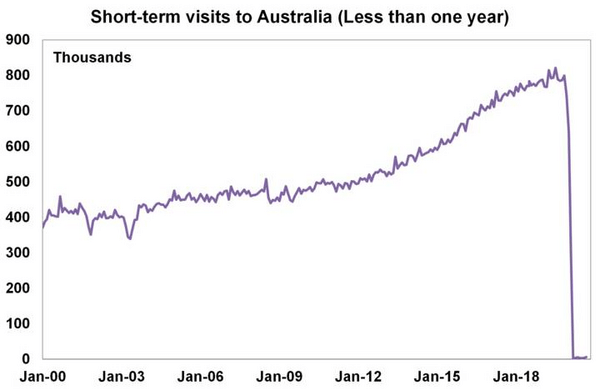 With the national tourism industry down to just 55% of its pre-pandemic size, the TTF has called for an extension of JobKeeper for the industry, as those job loss figures above (320,000) assume it will end on 31 March.
TTF CEO Margy Osmond said this extension, as well as uniform border restriction rules, would be "critical" to the survival of tourism in 2021.
"Suggestions that increased domestic travel can replace the lack of international visitation is a complete myth with the average international tourist spending three times the average domestic tourist and in the case of Chinese tourists – our biggest market pre-Covid – spending over five and a half times," Ms Osmond said.
"While health remains the number one priority in the management of COVID-19 and TTF has continued to support the Government in its management of the pandemic, the prospect of no international travel in 2021 makes the domestic tourism market all the more critical.
"On behalf of tourism operators across the country, TTF urges the Federal and State Governments to work together with industry and implement a simple set of uniform rules that allow Australians to undertake domestic travel.
"We will also need further support in the form of something that looks, walks and talks like JobKeeper, even if it does not go by this name, if we are to have any chance of surviving then recovering."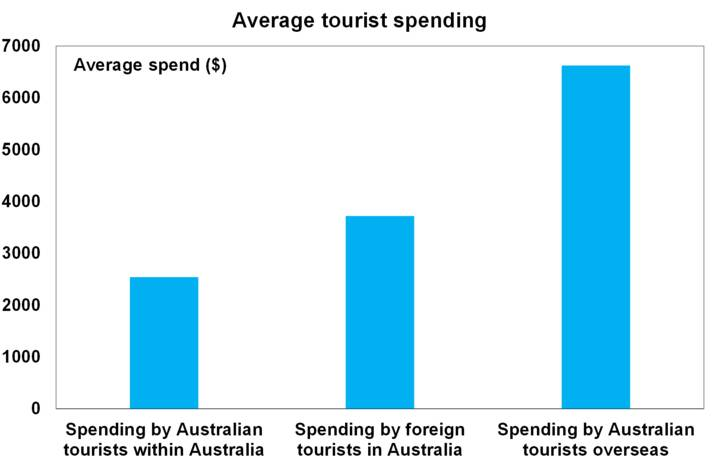 Data shows domestic spending just won't cut it without international visitors. Source: Tourism Research Australia, AMP Capital
Who else backs 'TourismKeeper'?
To be clear, TourismKeeper is a name invented for the sake of this article, but the general idea is supported by a number of high-profile people. Politicians on both sides of the aisle are included, with the following among the growing list of supporters:
Coalition MP's Warren Entsch and Llew O'Brien

Tourism Minister Dan Tehan, and

Queensland Premier Annastacia Palaszczuk
"I've already been engaging heavily with the tourism industry to listen to their concerns and also to get thoughts, ideas and feedback from them as to how the government may be able to assist them while we wait for international tourism to come back online," Mr Tehan said last week.
"I'll continue to have those discussions, engage with the sector and look to see whether there is specific or targeted support that could be provided or is needed."
Ms Palaszczuk meanwhile lobbied the Prime Minister to extend JobKeeper to tourism, as well as others.
"It would be a mistake to take it [JobKeeper] away completely before international borders are able to safely reopen," Ms Palaszczuk said.
"Regions such as Cairns, the Whitsundays and the Gold Coast that rely on tourism will be the worst hit.
"Today I'm calling on the Prime Minister as a matter of urgency to consider extending JobKeeper for the industries doing it tough."
I'm calling on the Prime Minister to consider extending JobKeeper for industries doing it tough. #auspol pic.twitter.com/sakbui0qT4

— Annastacia Palaszczuk (@AnnastaciaMP) January 28, 2021
AMP economist Diana Mousina meanwhile said such a scheme may be necessary.
"If vaccine rollout is successful in Australia over the next six months and state borders open, then the impacts from the closure of the international border on the tourism sector could be potentially offset by higher domestic tourism," Ms Mousina said.
"But in the meantime, there is a case for some tourism-dependent businesses to receive government support.
"Or governments could incentivise residents to travel domestically through increased advertising to domestic residents or offering cash or vouchers for domestic holidays."
See our list of State Governments already offering travel & dining vouchers.
The Federal Government has denied extending JobKeeper to the tourism sector.
Speaking to ABC's Insiders, Treasurer Josh Frydenberg said border clarity was the key to helping the tourism industry, and rejected Ms Palaszcuk's calls for more assistance.
"The Morrison government has delivered more than three times the amount of money to Queenslanders than the Annastacia Palaszczuk government has even committed to. So I'd welcome the state government in Queensland making more of a commitment," he said.
"Based on what we know today, there should be no expectation that JobKeeper will extend beyond the end of March.
"What we've done in terms of the tourism industry is not only put in place the economy-wide supports but targeted programs, for example for travel agents, for the airlines, in terms of infrastructure programs and what we put in the budget."
HospoKeeper
One scheme that does actually have a name already is the hypothetical 'HospoKeeper' scheme. The hospitality industry - those working in restaurants, cafes, bars, hotels, theme parks and the like - has been devastated by the virus. Data analysed by the Australia Institute found jobs in 'accommodation and food service' fell 11.2% over February to November 2020. From February to May, 31.4% of jobs were lost.
"Unsurprisingly, the industries most impacted in the early months of the pandemic were those which depend on direct customer contact: hospitality, arts and recreation, personal services, transportation and retail," the report said.
Many of these jobs are also prone to further restrictions. Every time a government announces a new hotspot, cafes and restaurants suddenly have to decrease their capacity. HospoKeeper, which would work exactly the same way as JobKeeper, has already been proposed to the government by the Restaurant and Catering Industry Association, and CEO Wes Lambert told SmartCompany that such a scheme would be necessary to help struggling businesses.
"We know that 100% of the time, when restrictions are put in place, they are always placed on restaurants, pubs and clubs," he said.
"HospoKeeper allows the JobKeeper mechanism that's in place now to deliver that targeted, bespoke stimulus, exactly where it's needed."
Small business ombudsman Kate Carnell also told SmartCompany that such a scheme should relax the rules about paying JobKeeper to new employees.
"As the economy recovers and more jobs become available, small businesses that are still struggling are losing their staff and cannot claim JobKeeper if they hire replacement employees under the current eligibility rules," she said.
Treasurer says no to HospoKeeper
Although Mr Lambert said he was in ongoing discussions with the Federal Government, The Treasurer told The Australian that he would not consider such a scheme.
"We recognise the challenges faced by the accommodation and food services industry," Mr Frydenberg said.
"However, given the unprecedented levels of support announced by the commonwealth and state and territory governments, I consider that existing policy settings will continue to support a strong economic recovery and we are not contemplating a "HospoKeeper" package at this time."
Other schemes proposed include a revenue-contingent loan scheme for small businesses, similar to HECS debts paid until turnover recovers to a certain level, with Ms Carnell saying access to credit could be life or death.
"Unfortunately it's a perfect storm scenario - especially for those small businesses that haven't been able to fully recover from the COVID crisis," Ms Carnell said.
"Sudden lockdowns and border closures have heavily impacted small businesses in recent weeks – it's no wonder they are scared to take on additional bank debt given conditions can deteriorate so rapidly.
"A revenue contingent loan scheme would give small businesses the confidence they need to seek funding, so they can survive and employ again. It's essential to Australia's economic recovery."
"JobKeeper will be ditched at the end of March but the Government is seriously considering 'HospoKeeper' to support the hospitality sector."

Read 'Will we fall off a cliff when JobKeeper ends in March?' https://t.co/rzY3yHWohr#jobkeeper #hospokeeper #tourokeeper pic.twitter.com/nnwNXY41ZC

— Peter Switzer (@peterswitzer) January 21, 2021
RetailKeeper
The retail industry - think anywhere you go to buy something from a shop - was a natural victim of pandemic shutdowns too, given the customer-facing, close contact nature of the jobs lost. ABS data shows a 5% decline in retail jobs from February to May 2020, and by June the Treasury reported 9.5% of JobKeeper recipients were in the retail industry - one of the highest rates behind the likes of construction, healthcare and scientific services.
Signs of a recovery in the industry are mixed. While that same ABS data shows retail jobs have now actually recovered to be 3.5% above their February tally, many of these jobs remain casualised with fewer hours, and retail spending actually fell 4.2% in December.
Australian Retailers Association (ARA) CEO Paul Zahra said confidence in the industry is up significantly compared to the early pandemic days, but the threat of the virus remains.
"…Even when the vaccine is rolled out we're going to be living with Covid for some time, so some of the existing challenges will remain for retailers," Mr Zahra said.
With this in mind, Mr Zahra told Savings.com.au the ARA is in discussions with the Federal Government about the need for more targeted assistance for retailers beyond March.
"JobKeeper has played a key role in stimulating the economy, and it can be credited with the robust retail spending we've seen in the pre and post-Christmas shopping period," he said.
"We know schemes like this need to have an end date, but there are still pockets of retail that are critically affected by Covid restrictions. For example, CBD retailers, goods and services reliant on international visitors like Duty-Free stores and the hospitality industry - restaurants and cafes, are continuing to struggle.
"Most of our members would like the eligibility of JobKeeper tightened up, or for there to be additional support measures, on an as-needs basis, for retailers who are still struggling."
National Retailers Association (NRA) CEO Dominique Lamb meanwhile expressed confidence in the industry to manage.
"While there is some trepidation about what will happen once the JobKeeper and other welfare measures are wound back in March, we know that consumers are confident and that Australian retail businesses are competitive and adaptable," Ms Lamb said.
"Our sector can face the coming year with a degree of confidence that would have seemed impossible just months ago."
ArtsKeeper
Arts and recreation didn't fare so well in the pandemic, although it's starting to show signs of recovery. When restrictions were in place, it wasn't possible to go to concerts, plays, movies and for a while even sports, and the job loss figures reflect this: 36% of arts and recreation jobs were lost from February to May, according to the Australian Institute, and come November, job numbers were still 5% below the pre-virus level.
JobKeeper data released in June last year also showed these jobs were over-represented. Two-thirds of arts workers relied on JobKeeper payments, and despite only accounting for 0.3% of total employment, arts jobs made up 1% of the JobKeeper figures.
Virginia Lovett, Executive Director and Co-CEO of the Melbourne Theatre Company (MTC), a major employer in the industry, said the recovery will require ongoing investment by the government far beyond March 2021.
"Public health restrictions such as capacity limits, while critical for health and safety, have a very real impact on arts companies' ability to recoup the losses of 2020. The impact affects key revenue centres such as box office, corporate sponsorship, food and beverage sales and venue hires," Ms Lovett said.
WTAF? Those who actually need to be on JobKeeper are barely keeping afloat on it. March we'll be falling off a cliff.

I've just survived on it since freelance arts journalism shrank as venues closed & advertising died last year.

Journalism 101: ask some people affected by it. https://t.co/d87YnIY19J

— Miriam Cosic (@miriamcosic) January 14, 2021
Music rights management organisation APRA AMCOS also believes JobKeeper should be extended, saying the industry is in crisis.
"The constant wave of lockdowns and state border closures means that any local live music events and national touring is impossible to plan. Hospitality and tourism dollars generated from our sector remain stifled. We are an industry in crisis," said CEO Dean Ormston.
"In just two months JobKeeper ends which has been the single most important policy intervention by the government since the pandemic hit our shores. It has provided some certainty and helped keep a large number of individuals and businesses in the music industry on ice so they are ready to restart with new tours and events."
According to APRA AMCOS, the arts and entertainment sector contributes around $15 billion per year in GDP and employs around 200,000 people, and creates nine jobs for every million dollars in turnover.
"We can't afford to lose the skills and businesses of our sector. The result for Australia would be catastrophic," Mr Ormston said.
So is any of this going to happen?
It isn't just these four industries that have called for more support. Other badly impacted sectors in terms of Feb-Nov job losses include manufacturing (-8.1%), Communication and Telecom (-9.6%), Real Estate (-4.8%) and Education (-2.7%). Education and childcare were particularly impacted. Universities were mostly ineligible for JobKeeper, while early childcare was removed from the scheme on 20 July.
At this stage, it looks unlikely that these 'SectorKeeper' schemes will be rolled out to all of the ones mentioned, although never say never. The Government has mostly expressed its intention to wind back the JobKeeper support, which as mentioned earlier has been very expensive.
In a National Press Club Address on 1 February, Scott Morrison said the subsidy would be "temporary and accompanied by a clear fiscal exit strategy", instead preferring to bet Australia's economic recovery on open borders, boosted by a national scheme to vaccinate 26 million Australians by the end of the year.
"You can't run the Australian economy on taxpayers' money forever," the Prime Minister said.
"We are not running a blank cheque budget. The task now is to continue our economic recovery by sticking to our economic recovery plan and exercising the fiscal discipline necessary to ensure that we do not overburden future generations and continue to spend taxpayers' money wisely."
Australia's vaccination program is expected to cost $1.9 billion in total.
PM @ScottMorrisonMP includes an up-date on his government's investment in #Australia's own sovereign #COVID19 vaccine capability. pic.twitter.com/m5oAVO10uu

— VickiTreadell (@VickiTreadell) February 1, 2021
Shadow Treasurer Jim Chalmers said too many workers will lose their jobs when the subsidy ends, particularly regarding the talk of tourism stimulus.
"It shouldn't be beyond the government to work out a way to extend that support beyond March for parts of the economy, including those which are impacted by the federal government's international border closures," Mr Chalmers said.
"Some businesses are recovering and don't need JobKeeper any more, but many are still struggling and require ongoing government support. It's welcome that parts of our economy are recovering."
In the meantime, it's more likely that smaller support measures dissimilar to JobKeeper will be introduced to help support struggling industries, whether it comes from the Federal Government or State Governments.
Under Josh Frydenberg dead people get JobKeeper money but struggling small businesses in the tourism sector won't. These are humiliating revelations because he's spent a decade or so banging-on about cheques for dead people during the GFC. #auspol pic.twitter.com/w5J5jLPeoS

— Jim Chalmers MP (@JEChalmers) January 29, 2021
Savings.com.au's two cents
Although the Federal Government has said it won't be extending JobKeeper, it also said this during its infancy, as it was initially only supposed to be a six-month thing. After being extended twice, it's not impossible an extension will happen again in some form.
Ultimately, it might depend on how well our economy is performing. While our recovery has been labelled "stronger than expected" mainly thanks to the near-elimination of the virus here, certain facets of the economy are still faring poorly or just plain average, as explained here. Constantly slamming state borders shut isn't helping businesses either, so there's clearly a middle ground between the two.
The loss of JobKeeper payments and JobSeeker supplements come 1 April will probably be a big shock to the economy, and we may get a better idea of what is needed afterwards.
---
Photo by Ian Branch on Unsplash