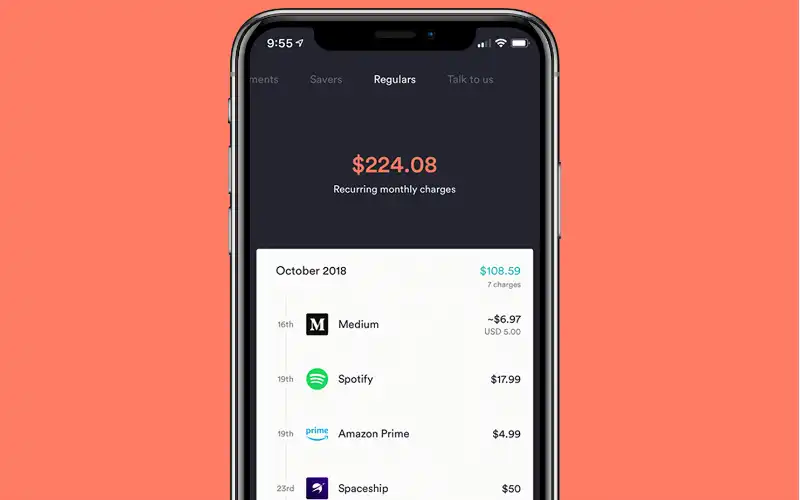 Image: UP
Up is the latest bank to cut interest rates for savers, decreasing its total interest rate by 15 basis points.
The Up Saver account will lower its maximum interest rate tomorrow (Tuesday 7 April 2020) from 2.00% p.a. to 1.85% p.a, Up confirmed in an email to customers.
This total interest rate comprises a base interest rate of 0.10% p.a (down from 0.25% p.a.) and a bonus rate of 1.75% p.a.
Conditions to earn the bonus rate - reached by making five transactions from a linked Up account per month - remain unchanged.
This is the second time in just a few weeks the popular neobank has cut interest rates.
In mid-March, Up reduced its total interest rate from 2.25% to 2.00% p.a, a reduction of 25 basis points.
This takes Up's total change in just a few weeks to 40 basis points, a substantial decrease for a bank with one of the market's leading savings account interest rates.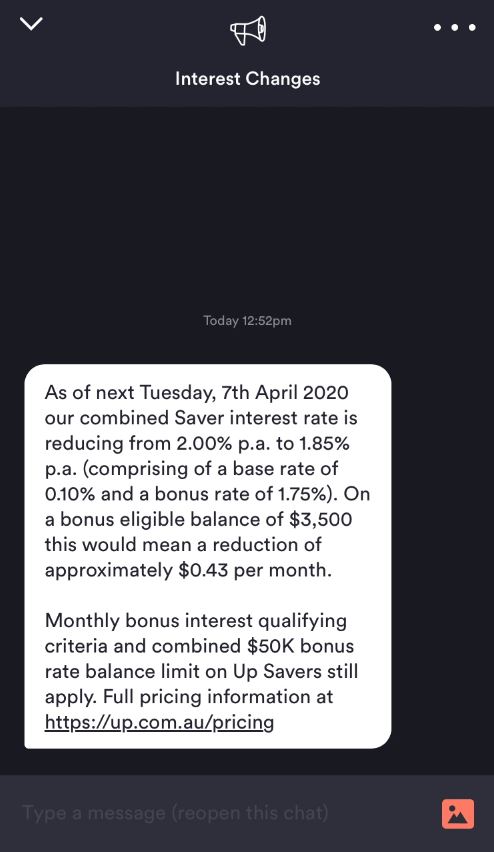 Up has proven to be extremely popular in recent times and in general since it entered the market in early 2019:
In the two weeks following March's first rate cut, around 25,000 new Up Saver accounts were opened

It acquired 165,000 new customers in the six months to 31 December 2019
Up's co-founder Dom Pym has previously told Savings.com.au it isn't interested in 'rate chasers'.
"It was never our intention to just have the best rate: We don't believe in people chasing rates for the sake of rate," Mr Pym said last month.
"We believe in always offering a constantly competitive, good rate. If that keeps us in the top echelon of rates then we're happy."
Check out the table below to see savings accounts with some of the highest interest rates on the market.*
*Reminder that Up's interest rate will change on 7 April.
Other savings account rate changes
Up aren't alone in cutting savings account interest rates recently, with two Reserve Bank cash rate cuts in March seeing a host of banks slashing rates.
Here are some of the more high-profile ones.
Volt Bank
Neobank Volt, which hasn't yet launched fully to the public, told customers in an email it would be reducing interest rates by 25 basis points, citing March 19's emergency cash rate cut as a primary reason.
"As with any competitive variable rate, change is inevitable, but we remain committed to helping our customers save, in a sustainable way," Volt said.
Volt's new total interest rate is 1.65% p.a, and there are no conditions to earn this rate.
ING
ING announced a 15 basis point rate cut on the same day as Volt, to a new total interest rate of 1.80% p.a.
The 15 basis point cut was made to the base interest rate - now 0.10% p.a. - which is what customers receive if they don't meet the conditions every month.
"We know the timing sucks but, after two RBA reductions to the official cash rate in March and assessing the needs of all customers, we've had to make a rate cut to Savings Maximiser," ING said in an email to customers.
"To help keep your savings on track, we're keeping the reduction to just 0.15% rather than the RBA's full rate cut of 0.50% – ING will absorb the difference for as long as we can."
Westpac and RAMS
Westpac, as well as its subsidiary RAMS, both cut savings account interest rates in mid-March by 25 basis points.
Among the accounts changed:
The Westpac Life account was reduced from a total rate of 1.55% p.a. to 1.30% p.a.
The RAMS Saver was reduced from 1.90% p.a. to 1.65% p.a.
You can see further details of these changes, including the requirements to meet the bonus interest rate conditions, here.
These two banks also cut savings account interest rates by 10 basis points in February, despite no cash rate cut occurring then.
CUA
The CUA eSaver Reward account had its maximum interest rate cut by 30 basis points from 2.00% p.a. to 1.70% p.a in mid-March.
This was greater than the 25 basis point cash rate cut prior to the second emergency cut on 19 March.
AMP introduces new introductory savings account rate
Rather than cutting savings account rates, AMP released a new introductory savings account interest rate that places it among the highest in the market.
The AMP Saver Account increased its maximum interest rate to 2.65% p.a in late March, a 54 basis point increase, with this total interest rate consisting of:
An introductory interest rate of 1.60% p.a.
A base interest rate of 1.05% p.a.
An introductory term of six months
This interest rate is one of the highest introductory savings account interest rates in the market, as can be seen in the table below.
Increased term deposit rates on offer
In order to protect deposit customers, a large number of banks have announced special term deposit interest rates as a part of their COVID-19 relief packages.
For example, three of the big four banks have rolled out new short-term deposit rates as high as 2.00% p.a, while the likes of Defence Bank have upped short-term rates to up to 2.10% p.a.
Check out the full list of special term deposit rates on offer here.
---
Latest Articles