Up Bank – backed by one of Australia's largest banking institutions, Bendigo and Adelaide Bank – was launched in October 2018, marketed as 'a radically different banking alternative' that gives customers a new way to manage their money.
Only one look at its website is necessary to see how it's different. "Super Powered Banking Living" is plastered right across the home page, and this, according to co-founder Dominic Pym, is what separates it from the big banks.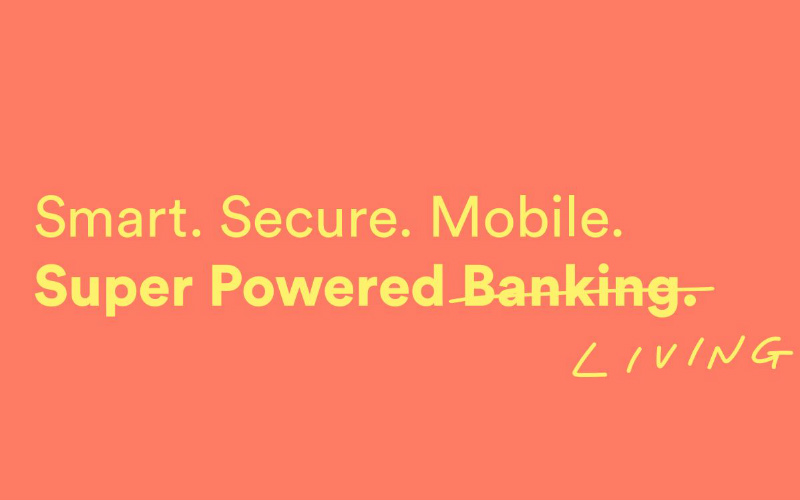 "You can see on our website we've crossed out the word 'banking' and replaced it with 'living'. We also categorise our features as "super powers," Mr Pym told Savings.com.au.
"That's because Up delivers banking services rather than products to help power people's lives. It might sound like a subtle difference, but it makes a big difference to customers.
"No-one actually wants to buy or use banking 'products', they want the outcome for their own life (like saving for a house, or donating to a charity/community/cause, or buying something easily, etc) and banking is the utility that helps power that outcome."
Mr Pym also said Up provides what he calls "technology-led banking" while everyone else provides "banking-led technology".
"Again, it's a subtle difference, but our ability to move fast, innovate, and respond to customer needs and new technologies is light-years ahead, since we're mostly all engineers," he said.
"This manifests in our ability to implement technology-based services and benefits and innovations before others, and then rapidly improve them over time."
What are these 'superpowers'?
Up is the first mobile-only digital bank in Australia. One of the key points of difference Up claims is how easy it is to apply for.
According to Mr Pym, people can download the app and be set up with a regulated bank account plus Apple and Google Pay access within three minutes.
Up is also currently offering a $10 signup bonus to new customers referred by current customers, who can also receive a $10 reward for each successful referral.
Up has two simple banking products at the time of writing: a transaction account (called Up Everyday Account) and a savings account with a total interest rate of 2.75% p.a. (the Up Saver Account).
With these accounts, users can instantly create any further 'sub-accounts', which can be helpful when categorising spending and saving.
Up also has a feature called 'The Naked Truth', allowing users to see when, where and how they spend their money, showing time of day, clear merchant IDs and automated weekly spend tracking and analysis – a similar tool to budgeting and expenses tracking app Pocketbook.
Other key-in app features include;
Recurring monthly charges: customers can see a complete list of their recurring direct debits and credits, such as Spotify and Netflix.
'Kill Bills': a feature that predicts upcoming charges automatically and generates reports to help with budgeting
'Life Savers': the savings account comes with the same 2.75% interest rate on

all

sub-accounts and allows for transaction roundups, which has proven popular with banks like ING
Digital integration: comes with features like push notifications, instant card-locking, instant PIN changes, instant reporting of a missing card, access to customer support and more
Up also is the first cloud-hosted digital bank in Australia, according to Mr Pym, and updates its software at least five times a day without interruption.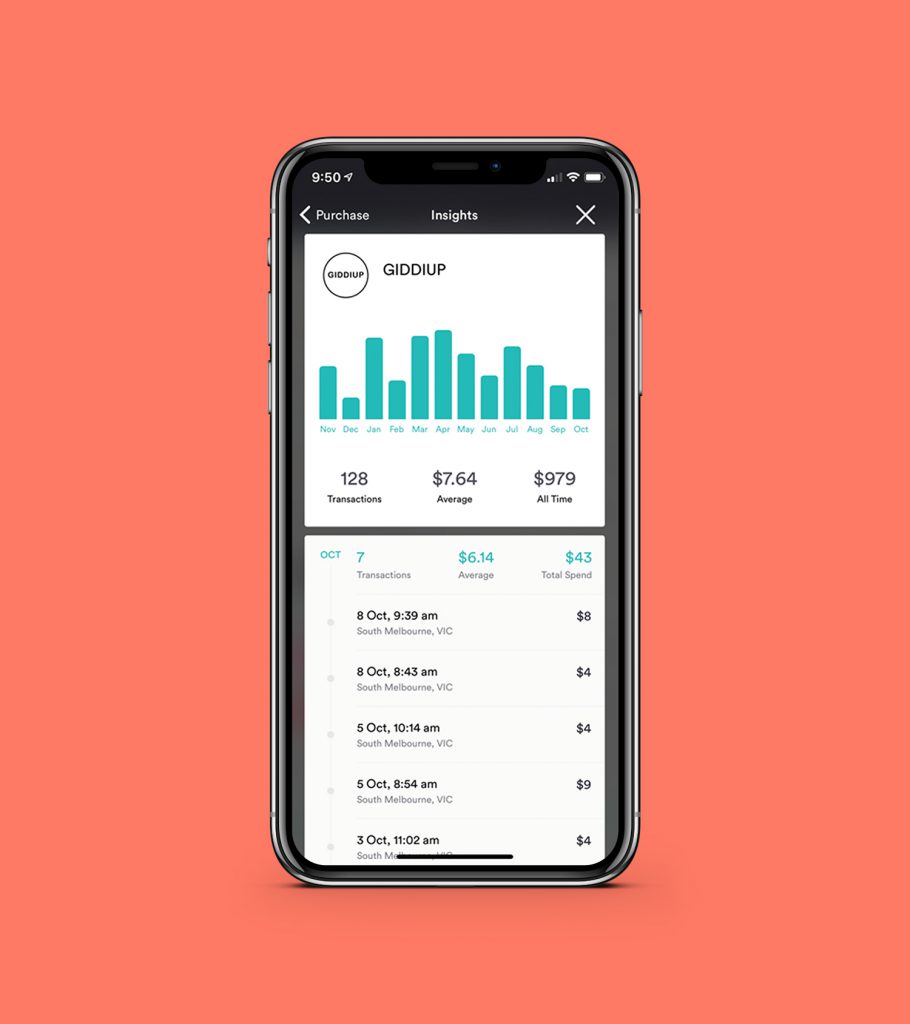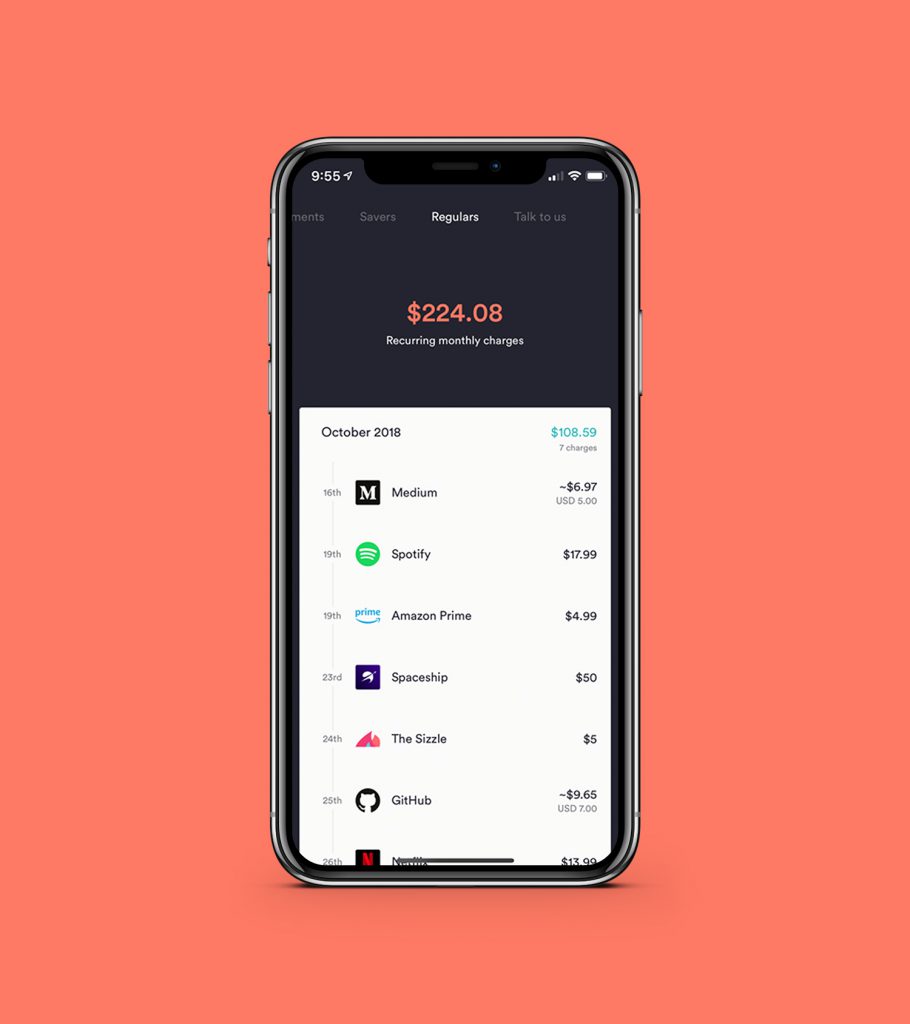 Source: Up
Up 'not interested in rate chasers'
Savings.com.au asked Dominic Pym about what set Up apart from savings accounts with higher rates.
"There are different types of customers, interested in different things. Up is not particularly interested in people who are constantly looking for the best rate, those customers are not sustainable," he told Savings.com.au.
"They will only stick around until the next best rate is offered by another bank. This is not the way to win, this is a race to the bottom."
Mr Pym said by offering better savings features and services, the interest rate, although still relatively high compared to market leaders, becomes less important.
"The maximum interest income you could earn from other banks versus Up is nominal," he said.
"Up offers savings features not available with those other banks, such as automated transaction round-ups and our new "pull-to-save" your spare change feature.
"There's a whole bunch of customers in our experience that value other things besides the best rate, or in addition to competitive rates such as usability, travel benefits, ease of use, innovation, customer experience, constant improvement, superior technology, instant services and more."
The Barefoot strategy made easier with Up?
Ever since being published in 2017, Scott Pape's book 'The Barefoot Investor' has taken off in Australia, with more than one million copies told.
In his book, Pape popularised the 'bucket' strategy of saving: setting up different sub-accounts in your bank account for different purposes, labelled:
Blow (for expenses and splurge money)
Grow (for long-term wealth)
Mojo (for safety money)
Fire-extinguisher (for emergencies)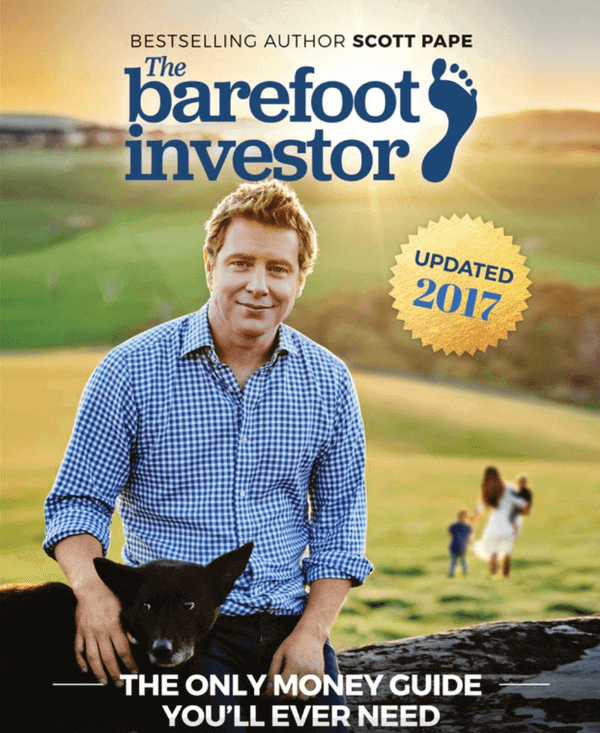 This is a solid money-management strategy, but it does have one fairly major flaw: many major Australians banks don't offer their full interest rate on secondary savings accounts.
As an example, a bank might have a 2.80% p.a. interest rate on its savings account. Any money put into this account will earn this rate of interest (if the bonus conditions are met).
But if sub-accounts were created (say a savings account specifically for holiday funds), these accounts would not earn the full rate of interest.
With Up, the full interest rate is payable on all savings accounts up to a $50,000 limit, and Mr Pym told Savings.com.au this provides a differentiator against some other banks that limit bonus interest to one account only.
"With Up, customers can spend and save using the Barefoot Investor method (or one of the other popular money management methods) and know that they can earn bonus interest on all their accounts," he said.
"Up advocates that the total value of your savings should be eligible for bonus interest, and this should not be limited to just one account.
"It can help people mentally to connect with their money better when they can see their savings accumulating in different accounts for different things – if that makes it easier for people to manage their own money, then it doesn't make sense for their bank to limit incentives to a single savings account."
Up: the key banking details
Up savings account
| | |
| --- | --- |
| Product name | Up Saver Account |
| Total interest rate rate (base rate + bonus rate) | 2.75% |
| Bonus rate | 2.00% |
| Bonus rate conditions | 5 or more successful card purchases per month from your Everyday Account. No monthly deposits required. Up to a combined balance of $50,000 |
| Card type | Mastercard |
| Supported devices | iOS and Android |
| Payment options | Apple Pay, Google Pay, Fitbit Pay, Garmin Pay |
| Monthly service fee | $0 |
| Withdrawals | Free & unlimited |
Up transaction account
| | |
| --- | --- |
| Product name | Up Everyday Account |
| Card type | Mastercard |
| Supported devices | iOS and Android |
| Payment options | Apple Pay, Google Pay, Fitbit Pay, Garmin Pay |
| Monthly service fee | $0 |
| Direct debits | Free & unlimited |
| Online payments | Free & unlimited |
| Deposits to savers | Free & unlimited |
| Domestic ATM withdrawals | Free (at most major bank ATMs) |
| International ATM withdrawal | $5.00, $1.50 for enquiries |
| Overdrawn interest rate | 12.28% p.a. |