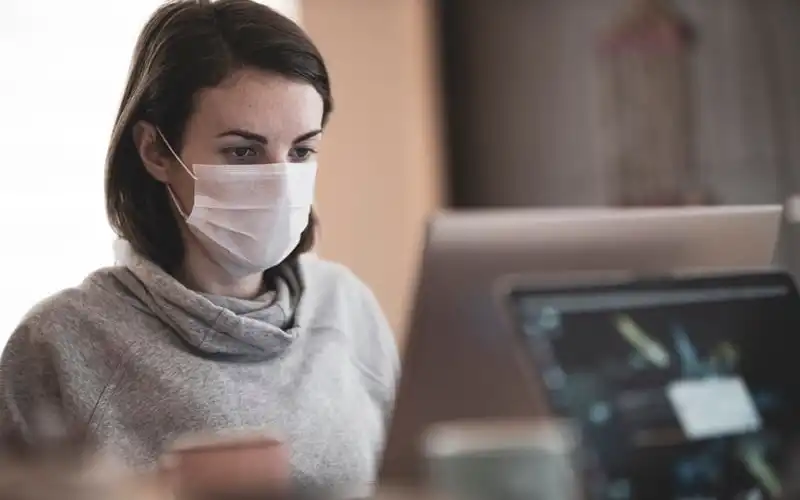 Photo by engin akyurt on Unsplash
AMP has today released research on the effect welfare and super withdrawals are having on incomes, finding the average has improved by net $5,000.
Although declining wages and salaries, including JobKeeper payments, have impacted incomes since mid-March, AMP found that consumer incomes have improved by a net amount of $5,000 since late March (graph mid-article).
This is due to superannuation withdrawals, mortgage deferrals, free childcare, additional JobSeeker, and one-off $750 payments affecting a broad number of people.
AMP predicts the average savings rate during the pandemic will have increased to around 10%, up from 5% before the pandemic, and the findings come after one report found Australians are spending 64% of their super withdrawals on discretionary purchases.
Need somewhere to store cash and earn interest? The table below features introductory savings accounts with some of the highest interest rates on the market.
Lender

---

4

0

0

0

$product[$field["value"]]

$product[$field["value"]]

$product[$field["value"]]

More details

FEATURED

Online Saver (Amounts < $499999)

0

200

0

$product[$field["value"]]

$product[$field["value"]]

$product[$field["value"]]

More details

PremiumSaver (Amounts < $250k)

3

0

0

0

$product[$field["value"]]

$product[$field["value"]]

$product[$field["value"]]

More details

0

10

0

$product[$field["value"]]

$product[$field["value"]]

$product[$field["value"]]

More details

4

0

0

1

$product[$field["value"]]

$product[$field["value"]]

$product[$field["value"]]

More details

WebSavings Account (New Customer) ($2,000+)
Rates based on a savings balance of $10,000. Sorted by total interest rate. Refer to providers' websites for bonus rate conditions. Note that the base rate will apply once the introductory term has passed. Rates correct as of June 30, 2022. View disclaimer.
However, AMP senior economist Diana Mousina said that Australians are building up a buffer for what could come later in the year and in 2021.
"The savings rate is likely to decline again from here as households use the build-up in savings for consumption, as income growth is expected to slow down," she said.
"The boost from government payments will fade. Wages and salaries will remain under pressure as employment growth is likely to remain low - with Victoria adding another negative to the labour market.
"The official unemployment rate is expected to increase to around 9.5% [to] 10% by the end of the year from 7.5% currently.
"Growth in total wages and salaries is only expected to turn positive on an annual basis in mid-2021."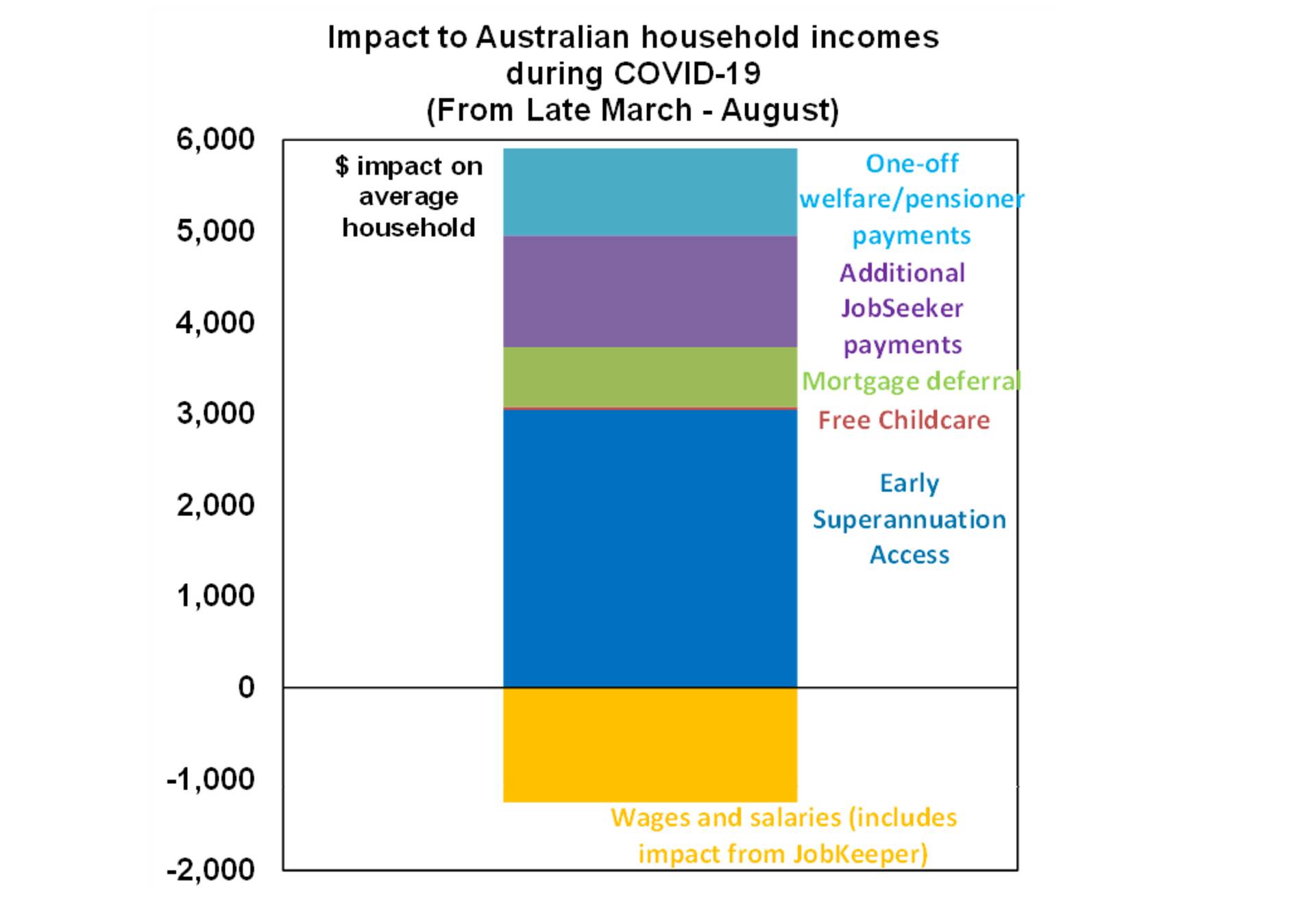 Source: AMP Capital
'Dire consequences' if JobSeeker is cut
The Australian Council of Social Service (ACOSS) today released findings from a survey in July of 744 community sector staff.
More than 80% of the workers said the increased rates of income support (JobSeeker) were having a 'positive' impact on the lives of the people they helped and that cutting the rate would have 'dire consequences'.
ACOSS CEO Cassandra Goldie has warned against the cut to the increased JobSeeker rate from late September.
"As we handle the COVID-19 health crisis and confront the economic crisis, more people than ever before will struggle to find paid work," she said.
"There is currently only one job vacancy available for every 12 people on JobSeeker or Youth Allowance.
"New figures from the Department of Social Service show 2.3 million people are currently receiving the Coronavirus Supplement.
"They're facing a $300 a fortnight cut to their incomes on 25 September. Troublingly, more than 1.1 million children are living in households that stand to have their incomes cut on 25 September."
ACOSS has also urged the Government to extend income support to people on temporary visas, including asylum seekers and international students.
The death of bricks-and-mortar retail
AMP's report also said that it expects consumer spending to turn positive in mid-2021.
At 16% of total spending, travel, recreation and eating out is currently impacted the most.
"There may be some offsets. Offshore travel will be replaced with domestic travel. Eating out will be replaced with takeaway food," Ms Mousina said.
"Public-based recreational spending will be replaced with home-based activities. But it's unlikely that this change in spending will completely return to its total pre-COVID amount, especially while the unemployment rate is rising."
While retail spending has been buoyed by home-based items such as groceries, house furnishings and equipment, there has been lower spending on discretionary items such as footwear and department stores (chart below).
AMP predicts total consumer spending will remain 5-10% below pre-COVID levels until the second half of mid-2021.
Ms Mousina said this could have negative impacts on investors and 'traditional' retail centres.
"Weakness in consumer spending in Australia 2020/21 will constrain GDP growth as consumption is worth close to 60% of GDP," she said.
"Business earnings which are tied to consumer recreation, travel and personal services will remain under pressure until more reliable treatments for COVID-19 are available.
"Traditional shopping centre real estate assets may be forced to consolidate as consumer spending remains below its pre-COVID levels for the near-term."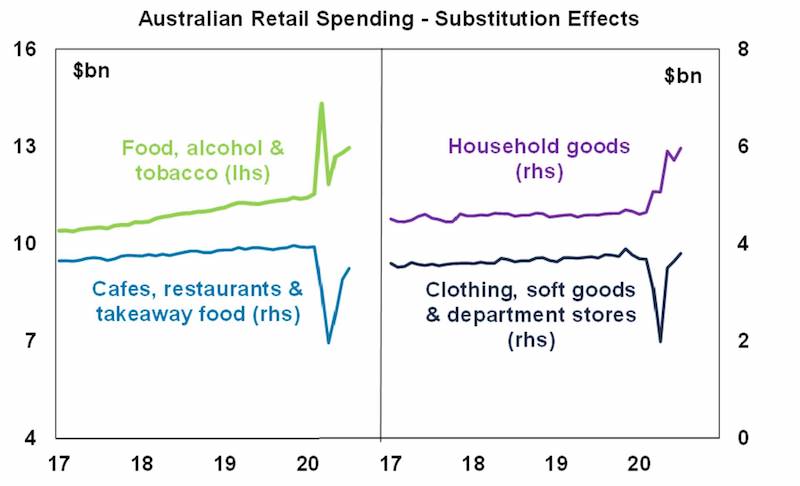 Source: Australian Bureau of Statistics and AMP
---
Latest Articles