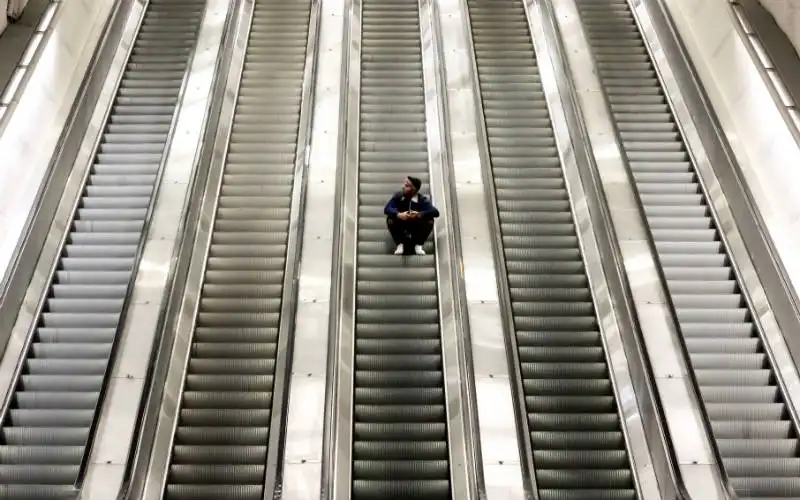 Photo by Alejandro González on Unsplash
ANZ, National Australia Bank, Commonwealth Bank and a number of other banks have dropped interest rates on term deposits over the past week ahead of Tuesday's widely-anticipated cash rate cut.
A thorough examination of the term deposit market by Savings.com.au has found a total of 48 different providers who have made changes to term deposit rates in May.
While some of these rate changes were increases, the vast majority were decreases as providers prepare for what is expected to be a cash rate cut for the first time in nearly three years.
The ASX RBA rate indicator is indicating a 100% chance of the cash rate being changed to 1.25% on Tuesday.
Of these 48 different providers, three of them were ANZ, Commonwealth Bank and National Australia Bank (NAB), which all slashed rates in the past few days.
The changes were fairly significant too – CommBank cut rates by as much as 55 basis points while NAB and ANZ dropped rates by up to 40 and 30 basis points respectively.
Westpac is the only big bank who has not made any changes to its term deposits this month, although it remains to be seen whether this will still be the case come next week.
At the time of writing, the highest term deposit rates available from the big four are:
ANZ: 2.35% (five to six months)
CommBank: 2.05% p.a. (six months)
NAB: 2.15% (four months)
Westpac: 2.40% (five years)
According to APRA's latest monthly banking statistics, these big four banks hold more than $731 billion in household deposits between them.
While current term deposits held by customers can't have their rates changed, many of these customers risk having their term deposits rolled over to a lower rate once they meet maturity.
Other key term deposit changes this week
RACQ Bank term deposit rate changes
RACQ Bank cut its range of term deposit products by as much as 15 basis points, and now offers rates no higher than 2.45%.
RACQ was one of last week's biggest movers too, cutting rates by up to 45 basis points.
Heritage Bank term deposit rate changes
Heritage Bank last week cut rates by as much as 15 basis points (and raised others by 25) but has this week cut a vast number by a further 10 to 20 basis points.
Heritage Bank's highest rate on affected term deposits is now 2.35%.
MyState term deposit rate changes
MyState made one of the week's largest cuts, slashing rates by as much as 55 basis points on selected products.
MyState now offers rates of up to 2.35% p.a.
CUA term deposit rate changes
Another provider to cut rates in successive weeks is CUA. Last week the credit union lowered certain rates by up to 20 basis points and it's done the same this week, taking its accumulative changes on some products' rates to as much as 40 basis points.
Previously possessing some of Australia's leading interest rates, CUA now only offers rates up to 2.30%.
BOQ term deposit rate changes
BOQ made some significant changes to its Premier Investment term deposit, reducing rates by up to 65 basis points. It now offers rates up to 2.25% on this product range.
Macquarie Bank term deposit rate changes
Macquarie Bank, one of the biggest providers of term deposits after the big four, lowered selected interest rates by up to 10 basis points and now offers rates no higher than 2.20%.
Other providers to change rates this week included Newcastle Permanent and P&N Bank – two of Australia's largest customer-owned banks – as well as Police Bank and Bankwest.
Based on a sweep of the market, the average term deposit interest rate across all terms and most providers now sits at 2.10% – it was 2.23% just two months ago.
In this time frame, the five year average has fallen from 2.69% to 2.38%.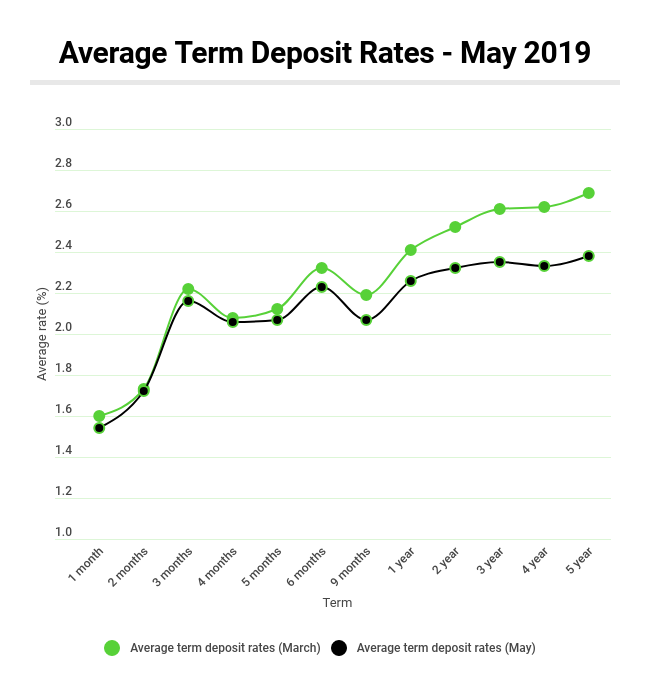 ---
Latest Articles