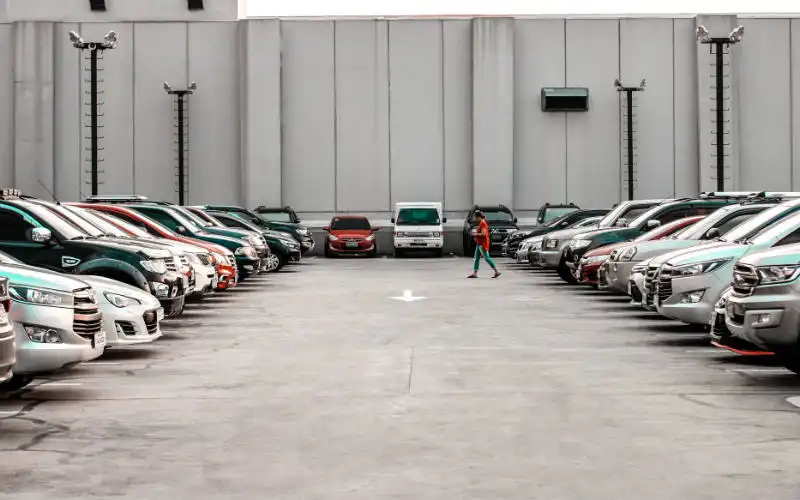 How much do Aussies fork out to rent a rectangular slab of concrete for their car in the city?
We look at what you can expect to pay for a CBD parking space in each of Australia's capital cities and how this compares to parking fees around the world and public transport costs.
In the market for a new car? The table below features car loans with some of the lowest interest rates on the market.
Approval in 24 hours
Balloon options to reduce repayments
No ongoing fees, no discharge fee
Rates based on a loan of $30,000 for a five-year loan term. Products sorted by advertised rate. Rates correct as of October 19, 2021. View disclaimer.
How much does public parking cost in each city?
Based on the data from RACQ's CBD Parking Report for 2018, you'll find that some cities in Australia cost far more than others when it comes to parking.
1. Sydney
With the exception of one-hour weekday parking rates, Sydney is unsurprisingly the capital of expensive parking in Australia.
The average one-hour parking price in the CBD is $28.42
The average two-hour cost is $56.66
Four-hours is $76.78
Eight-hours (the maximum) is $77.74
On-street parking is also the most expensive in Australia at $7.20 per hour, as is night-parking rates between 5pm and 5am ($22).
To compound commuter misery, there's the fact that Sydney has the fewest parks per person, with only 12 available for every 100 CBD workers.
Even early-bird parking (parking before 9.30am) is expensive at $29.06 a day.
2. Melbourne
While it might be one of the world's most livable cities according to the Economist, Melbourne is not cheap when it comes to parking. RACQ's report shows it's our third-most expensive city in terms of parking – one hour in the CBD will set you back $21.54 on a weekday in a designated off-street carpark, while on-street parking costs about $5.50.
But the Melbourne CBD overall is cheaper than Sydney or Brisbane, with only four-hour parking being more expensive than the latter:
Two-hours costs $42.62 on average
Four-hours costs $69.09
Eight hours costs $70.52
Melbourne also has the second most expensive night-parking rate at an average of $13.03, as well as the second lowest percentage of carparks per 100 workers (14.2%).
3. Brisbane
Brisbane's parking costs are the second-highest in Australia behind Sydney, with the exception of one-hour parking which has the highest average cost at $28.71 on a weekday in the CBD. Other rates are:
$46.64 for two-hours
$68.57 for four-hours
$72.52 for eight-hours
$4.90 per hour for on-street parking
$12.67 for night parking (the cheapest of the three major cities)
According to the RACQ, parking rates in Brisbane have more than quadrupled since 2001, while CBD office towers have been officially limited to just one parking space for every 200m squared of gross floor area. To sum it up in English, this is designed to minimise the amount of CBD commuting by car during peak hours, but it does make it much more difficult to find any park, let alone an affordable one.
The takeaway: in Sydney, Melbourne and Brisbane, between 60 and 70% of the maximum cost is incurred in the first two hours of parking. Costs tend to taper off after this point until stagnating entirely, so if you think you're going to be around two hours, maybe you should just stay a little longer to get your money's worth.
4. Perth
Perth has fairly affordable parking – in 2015 the average non-early bird price for an all-day park in the CBD was $31.89, and the City of Perth fee schedule for 2017-18 lists a current price range of $12 to $57 in different streets.
5. Adelaide
Pricing for carparks in Adelaide is definitely cheaper than Brisbane, Sydney or Melbourne – by looking around you'll see that off-street parking in the city can range from around $15 to $50. Although this data is a few years old now, commerciarealestate.com.au found the average CBD rate in 2015 was $22.29, with early bird times reducing this fee to $13.08 for a single day.
Adelaide also has an official parking outlet called UPark, which offers permanent, but unreserved, parking in the CBD for a minimum of $305 per month.
6. Canberra
Canberra offers prepaid, long-term parking options in addition to street parking, with reasonable rates to boot. Parks operated by the Canberra Council usually go for about $14 a day – Parkhound claim that your rates can be $30 a day depending on where you park. Access Canberra states that long-term prepaid parking can cost between $48 and $84 for one week, or a reduced $2,242 for one year.
According to Collider's Edge, however, Canberra has the second most parks available per 100 people at 21.5 – Adelaide takes the top spot here with 25.
7. Hobart
The City of Hobart website reports that residents can access 'customer-friendly' parking meters on-street, allowing you to pay via card, phone or app instead of dropping coins into a slot. Casual day-parking prices in the Hobart CBD tend to cost less than $20 in most cases, while you can usually expect your first hour of parking to be free or only a few dollars in a lot of central places.
Competition for spaces in Hobart is known to be pretty fierce, however.
8. Darwin
Darwinians are the lucky ones in terms of car parks – they have some of if not the lowest fees in any Australian capital city. According to the City of Darwin site:
On-street parking costs no more than $2.50 per hour and has a max daily charge of

$7.50
Off-street parking costs no more than $5.30 per day (privately-owned parks can charge up to $17)
There is currently a six-month trial underway in Darwin where all city parking zones have free, unrestricted parking on weekends. Darwin is an excellent value for short-term parking, but there are little options when it comes to buying or renting long-term spaces.
How does Australian parking compare to the rest of the world?
If you're thinking "gee whiz those numbers seem pretty high", that's understandable.
Parkopedia's Global Parking Index Report for 2019 shows that when compared against 6,500 cities across 75 countries, Australian and US cities are by far the most expensive in the world for two-hour off-street parking – only London and Tokyo even come close:
| | | |
| --- | --- | --- |
| Country | City | Two-hour Parking Average Rate (USD) |
| USA | New York | $34.94 |
| Australia | Sydney | $27.37 |
| Australia | Brisbane | $20.55 |
| USA | Chicago | $20.08 |
| Australia | Melbourne | $19.87 |
| USA | Boston | $18.36 |
| United Kingdom | London | $16.92 |
| USA | Washington DC | $15.56 |
| USA | Philadelphia | $14.77 |
| Japan | Tokyo | $15.16 |
Source: Parkopedia
Australia actually has two out of the 'top' four cities in terms of parking for two-hours – a fairly shocking statistic. When you add all of this together, we rank number one in the global ranking index, ahead of the US. Way to go!
In contrast, Italy's most expensive city for parking is Milan, at just $6.96 USD for two-hours' worth.
Little has changed among the ordering of the top five most expensive cities, too, with prices seemingly only going up. Philadelphia snuck into the top ten for 2019 though, while San Francisco was pushed to 14th, previously ninth.
On a positive note, while Brisbane retained third spot compared to the 2017 index, prices fell from $21.77 to $20.55. Melbourne's also fell on average nearly $2.
Park, or public transport?
So depending on where you live, parking ain't cheap. But as the Australian Automobile Association's (AAA) 2019 Total Weekly Transport Cost Index shows, driving and public transport can be expensive:
| | |
| --- | --- |
| City | Weekly cost: Q4 2019 |
| Sydney | $427.90 |
| Melbourne | $401.26 |
| Brisbane | $395.81 |
| Perth | $346.04 |
| Canberra | $396.13 |
| Adelaide | $324.94 |
| Darwin | $317.88 |
| Hobart | $310.90 |
| Capital city average | $357.61 |
Source: AAA Transport Affordability Index, December Quarter 2019
Sydney, Melbourne and Brisbane are by far the most expensive cities in terms of public transport fares.Transport costs also outstripped inflation. Note the word household: this may mean more than one person, so if you live alone you might spend half of that.
Savings.com.au's Two Cents
Aussies spend a lot of money on transport. According to the AAA, the average weekly household spend on all transport costs (parking, public transport, fuel etc.) is $357 every week. That's more than $18,000 a year!
If moving to Italy isn't an option for you, then there are ways you can cut down on this spend. Riding a bike into work or to wherever it is you're going can save you about $6 or more if you do it just once a week, and people who do it every day can save themselves a substantial amount on public transport.
But parking is another matter entirely. You might be in a hurry, and parking in that $80/day carpark might be your only option. Aside from taking advantage of early bird specials or living in a cheaper city, how can you save money on these costs?
Well, you don't have to simply use private car parks any more thanks to companies like Parkhound and Spacer, which allows people to rent out their own spaces like garages to people looking for parks. Both of these sites claim to cost you about 50% less than traditional parking options. So instead of driving around for hours in the city, why not just book out a friendly neighbour's garage spot close by?
If it's time you're looking to save and not money, then you can always invest in a car space too. We mentioned before that Canberra has long-term car parks available for $2,242 per year. This is roughly $600 more than what the average household pays for public transport there, but you'd give yourself the nice buffer of always having a car space available 24/7 if you need it.
First published 2 October 2018, last updated 23 March 2021.
---
Disclaimers
The entire market was not considered in selecting the above products. Rather, a cut-down portion of the market has been considered which includes retail products from at least the big four banks, the top 10 customer-owned institutions and Australia's larger non-banks:
The big four banks are: ANZ, CBA, NAB and Westpac
The top 10 customer-owned Institutions are the ten largest mutual banks, credit unions and building societies in Australia, ranked by assets under management in November 2019. They are (in descending order): Great Southern Bank, Newcastle Permanent, Heritage Bank, Peoples' Choice Credit Union, Teachers Mutual Bank, Greater Bank, IMB Bank, Beyond Bank, Bank Australia and P&N Bank.
The larger non-bank lenders are those who (in 2020) has more than $9 billion in Australian funded loans and advances. These groups are: Resimac, Pepper, Liberty and Firstmac.
If you click on a product link and you are referred to a Product or Service Provider's web page, it is highly likely that a commercial relationship exists between that Product or Service Provider and Savings.com.au
Some providers' products may not be available in all states.
In the interests of full disclosure, Savings.com.au, Performance Drive and Loans.com.au are part of the Firstmac Group. To read about how Savings.com.au manages potential conflicts of interest, along with how we get paid, please click through onto the web site links.
*The Comparison rate is based on a $30,000 loan over 5 years. Warning: this comparison rate is true only for this example and may not include all fees and charges. Different terms, fees or other loan amounts might result in a different comparison rate.
Latest Articles