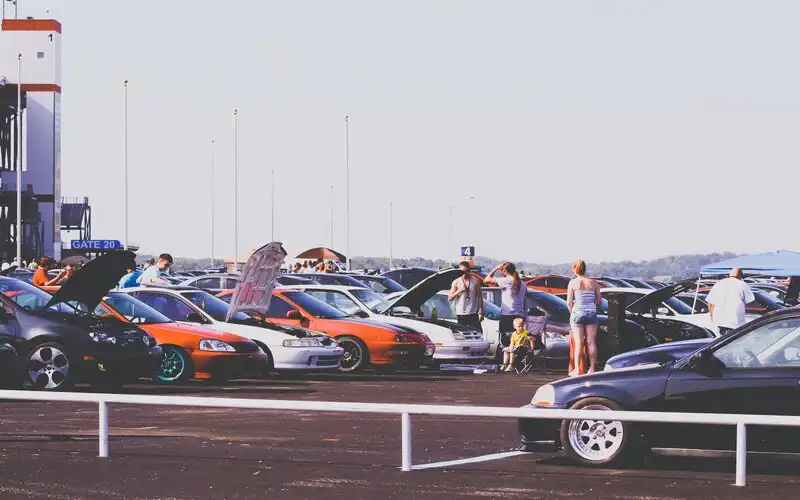 The saying goes new year, new me – so why not extend that to a 'new' set of wheels?
When it comes to buying a used car there's a lot to factor in. There's price, the age of the car, kilometres travelled, physical and mechanical condition, the list goes on. For many Australians a used car can often provide better value for money than a new car, provided it's not a lemon.
In this article we'll take a dive into the used car market, covering:
---
Advertisement
In the market for a new car? The table below features car loans with some of the lowest interest rates on the market.
Lender

---

Variable

New

1 year

More details

FEATURED

NO ONGOING FEES

New - Prime Special

Unlimited extra repayments
Flexible repayment options
Can apply online
You could win a $1,000 fuel gift voucher. Open to customers who settle a car loan with loans.com.au. Terms and conditions apply.

New - Prime Special

Unlimited extra repayments
Flexible repayment options
Can apply online
You could win a $1,000 fuel gift voucher. Open to customers who settle a car loan with loans.com.au. Terms and conditions apply.

Fixed

New, Used

99 years

More details

FEATURED

APPLY ONLINE

Car Loan

No ongoing fees
No early exit penalty
Flexible repayment options

Car Loan

No ongoing fees
No early exit penalty
Flexible repayment options

Fixed

New

2 years

More details

NO ONGOING FEES

New Car Loan

No ongoing fees
No early exit penalty
Apply online

New Car Loan

No ongoing fees
No early exit penalty
Apply online

Fixed

New

2 years

More details

QUICK APPLICATION PROCESS WITH NO FEES

New Vehicle Fast Loan Low Rate

Quick application process and no monthly fees
Low fixed interest rates with terms of up to seven years
New car loans cover cars up to 3 years old

New Vehicle Fast Loan Low Rate

Quick application process and no monthly fees
Low fixed interest rates with terms of up to seven years
New car loans cover cars up to 3 years old

Variable

New

1 year

More details

FEATURED

APPLY ONLINE

Electric and Hybrid Car Loan
Unlimited extra repayments
Flexible repayment options
Can apply online
You could win a $1,000 fuel gift voucher. Open to customers who settle a car loan with loans.com.au. Terms and conditions apply.
*Comparison rates based on a loan of $30,000 for a five-year loan term. Warning: this comparison rate is true only for this example and may not include all fees and charges. Different terms, fees or other loan amounts might result in a different comparison rate. Rates correct as of May 26, 2022. View disclaimer.
---
Factors to consider when buying a used car
The used car market can be a complicated beast. By navigating this complicated beast, the silver-lining lies in your ability to save hard-earned cash. Allianz Australia used car market research conducted in October 2021 notes on average Australians will spend 22 hours researching the second-hand car market. That's nearly an entire day - all before making a purchase decision.
I, myself, am tossing up between a new or used car to upgrade my zippy little blue Mazda. It's serviced me for the best part of eight years but it's time to finally say goodbye. Just by browsing the usual car sales sites, not to mention video reviews and vehicle comparisons, I can easily say I have spent more than 22 hours on research alone.
Despite a lengthy research process, Allianz Australia found 20% of Aussies do not have a positive experience when purchasing a second-hand car. It's therefore important to consider a range of key factors when purchasing a used car to ensure the process remains seamless, yet most importantly, headache-free.
Price
Price is one of the most important factors in the used car market. Navigating price however can be tricky. On one hand you have private sellers who are chasing a particular amount of cash for their vehicle that isn't based on its true value. This means it could be advertised at thousands of dollars more than current market value dictates. On the other hand, there are both private sellers and dealerships willing to be reasonable and negotiate without being low-balled on a mutually agreed-upon price.
Price ultimately comes down to your current financial position and your budget. When deciding on a budget, it's important to factor in the ultimate cost of the car, rather than just the initial price of the sale. This ultimate cost includes stamp duty, registration and transfer costs, maintenance, repair costs and car insurance.
RedBook is a handy tool at your disposal to determine the value of used cars. It may not be free, but if after all your research you remain unsure as to how much you should be paying on a used car, it may be worth the small valuation fee to receive a comprehensive valuation report. If, like me, you prefer a freebie, sites such as Drive and CarSales can also provide a free basic valuation guide to how much you should be paying for a used car. These are both powered by RedBook yet as they are free they lack the depth of a paid resource.
Condition
For everyday Australians, it can be tough to determine whether the used car you have your eyes on is a 'lemon'. In fact, Allianz Australia notes Australians are missing key steps during the used car inspection process, such as organising a mechanic's inspection (73%), viewing the car's logbook (48%), and checking whether the car had been in an accident (42%). All three of these factors are simple, yet significant checks that help determine the physical and mechanical condition of the car prior to purchase.
The condition of a used car will ultimately determine its longevity and number of hits to your back pocket. If you dive straight into a sale without checking what lies under the bonnet, you may be slugged with unexpected costs and associated fees from immediate repairs.
Mechanical checks may not be the most efficient for a seller who may want the used car off their hands immediately - they may pressure you to skip these checks (I know, I've been there myself with my little blue Mazda) - but for your safety and the safety of your passengers, the benefits can outweigh the cost.
No matter your location, mechanics often offer mobile services to perform pre-purchase mechanical inspections - all that's required is a quick online search.
Some of the most common providers include:
Roadside assistance or state based motor trade associations - RACQ, RACV, RAA, RAC, RACT, NRMA & AANT.

RedBook.

Independent mechanics.
Tools also lie at your disposal that cost no more than a gold coin. The Federal Government Personal Property Securities Register (PPSR) provides a search engine that can help you check if the car you're buying is recorded as debt free, stolen or written off.
There may also be different laws in your state when it comes to buying or selling a written-off vehicle.
Safety
When buying a vehicle, safety should be amongst your top priorities. If the unfortunate happens and you are involved in a crash, regardless of who's at fault, your choice of vehicle could make the world of difference. Generally, newer vehicles provide increased protection in a crash and include a range of active and passive safety features and technologies. An easy rule of thumb is, 'Buy the safest car you can afford'.
If the used car your heart desires is manufactured between 2018 and 2021, ANCAP safety provides comprehensive safety rating information. If it's a bit older than that then never fear, the Queensland Department of Transport and Main Roads, together with the Monash University Accident Research Centre (MUARC), provides a Used Car Safety Rating list for used car models manufactured from 2000 onwards.
The list provides safety information through a Driver Protection star rating based on Monash University's statistical analysis of police-reported crashes for more than 8.8 million vehicles. You can then use these ratings to compare vehicles to help choose the safest vehicle that meets your needs.
Some simple safety checks that you can complete prior to a professional inspection include:
Ensuring seatbelts are in good working order.

All airbags are intact.

All brakes and brake lights function efficiently.

Tread on tyres is sufficient - stick a 20c piece in the tread; if the platypus' bill is obscured then you have enough tread.

Headlights are functioning.

Vehicle comes with a spare tyre and tools.

Dashboard is in working order.
Private seller vs dealership vs auction
Three out of four vehicles purchased in Australia are used vehicles, meaning it can be a tricky decision to make when considering who to buy your used car from.
Private seller
One of the strongest arguments for buying from a private seller is that you, the buyer, can haggle for the best possible price. The downside is what you sacrifice in peace-of-mind from a reputable dealership can ultimately result in a cheaper price through a private seller.
When you buy a car from a private seller, you and the seller must handle all the details yourselves. Few, if any, private sellers will accept a trade-in, so if you want to sell your current car, you'll have to sell it privately. Completing the paperwork, transferring title and registration, and paying the various fees will be up to you and the seller.
Allianz Australia research notes the majority of Australians (97%) who purchased through private channels experienced some form of confusion when buying a second-hand car. Further, Australians who purchased through a private seller had more concerns than those who went through dealerships, including:
Purchasing a car from someone trustworthy and safe - 40%

The lack of warranty on a second-hand car – 30%

Having to take a test drive with someone I didn't know – 22%

Having to share my personal details with someone I didn't know – 21%
These concerns are likely due to a lack of trust arising from the limited interactions between yourself as the buyer and the private seller.
By staying on your toes, there's a good chance you can find a mechanically sound, carefully driven used car for a great price via a private sale. Car Sales has recently added a handy feature to their website based on RedBook data which details to the buyer if the car advertisement is a low, good, or great price. This is something to look out for on your used car hunt.
Dealership
Buying through a dealer removes some of the pressure of a used car sale because it's something they do on the daily. The dealer knows the ins-and-outs of a sale and understands the paperwork, including transfer of title and registration, and can organise a trade-in on your old vehicle. There's enough going on in the world around us - the last thing you want is more stress, right?
Used cars sold through licensed dealers are typically less likely to break down immediately after purchase, and if they do, the repairs are in most cases covered by a statutory warranty. This means repairs are guaranteed on parts for a period of time. Statutory warranties are covered under consumer law, yet can vary state-to-state.
Dealerships will generally try to sell used cars at a higher price because after all they are in the money-making business of profits. It's therefore important to prepare yourself if you go down the dealership route by understanding the current market price of the used car your eyes are on. As mentioned earlier, this can be done through the likes of RedBook.
Auction
Buying a car at auction has the potential to save you thousands if you manage to find a car in great condition with a great reserve price with minimal bidders taking part. While the hustle and bustle of car auction houses can keep you on your toes, there are a few things to consider before registering to bid in the hope of snagging a bargain on a new set of wheels.
Unable to test drive - inspections are allowed and you may be able to start the engine, but with car auctions there are no test drives allowed.

May lack true condition reports - By law, cars not deemed to be written off must come with a roadworthy and other legal certificates but as mentioned previously, these may not uncover the true story of the vehicles history and how it was previously used.

Unable to return - Unlike dealership sales where there is generally a cooling-off period, once bidding is complete you are unable to return the vehicle unless it has been damaged in transit.

May result in a bidding frenzy - It's easy to get carried away in the heat of the moment, yet with auctions getting carried away can result in paying more than you originally budgeted for - that's a no from me!
Used car hurdles
Lying within the used car buying process you may encounter several hurdles that need to be overcome both before and after the keys to your 'new' car are placed in the palms of your hands.
These hurdles outlined by Allianz Australia can include:
Research not meeting expectations prior to and post-inspection.

Private sellers sharing little or no information about the car, making it hard to understand the car's history.

Private sellers failing to understand the process of handing over details and documents to do with the sale – it's much more than just swapping cash for keys!

The used vehicle requiring immediate repairs and attention from a mechanic as it turns out to be 'a lemon'.
Pros and cons of buying a used car
Pros
Cheaper than buying new – We are all about saving money, so by simply opting to buy a used car over a new car that will depreciate anyway as soon as you leave the dealership, you can potentially save thousands.
Transfer the original warranty - If you're looking at cars ten years or older, this unfortunately will not apply to you. However, in today's market a lot of new cars come with a five to ten-year manufacturer warranties. This means if the used car that catches your eye still has its original warranty, you may transfer this into your name and protect yourself in case of unexpected breakdowns.

Dealership security – Used car dealers are required by law to check and perform necessary repairs or maintenance to the car prior to sale.
Cons
History can remain a mystery - Knowing the complete history of a used car can usually remain a bit of a mystery. Undertaking a PPSR search serves as your best chance at recovering this information, yet you may never know with certainty how carefully the previous owners have driven the car.
Potential to break down sooner – There are simply no guarantees that the car is going to run well for the next year let alone five, ten or twenty years. You can never know how the previous owner drove the car, that's why a mechanical check is important.

Repairs can hit your back pocket hard - If staying in budget was a key factor to your used car purchase decision, the savings you made could quickly go towards continued repairs and maintenance. Generally, these are things you will need to perform sooner than if you had purchased new, including new tyres and new brakes.

Drawn out process of a private sale – Private sales have the potential to be lengthy based on your location, schedule and ensuring your ducks lie in a row.

Seller may agree, then sell to someone else – Yes, believe me it does happen. You may agree verbally to a sale, then the private seller receives a better offer and instead the used car you were set to drive away in is no more. Ensure you have an agreement in writing following a verbal or hand-shake agreement, or better yet it can be in your best interest to make a small holding deposit for the used car.
Check out Allianz's Private Buyers Manual for further information about buying a used car.
Savings.com.au's two cents
With the used car market running hot, it's important to stick to your guns and avoid being rushed into a sale – there will always be another deal! Research and mechanical inspections are critical to avoid purchasing a lemon and hurting your back pocket down the track. Consider using all the tools at your disposal including RedBook, PPSR and CarFacts checks. Even if they do cost a small amount of money, the piece of mind you can take away from them is worth the weight off your shoulders. Know your budget, stick to it, and arm yourself with a pricing guide to ensure you are paying a reasonable amount for your next new car. Always be prepared to walk away from both a private seller and dealership to clarify your thinking, and don't be afraid to ask for another opinion from a family member or friend.
---
Image by Parker Gibbs via Unsplash.