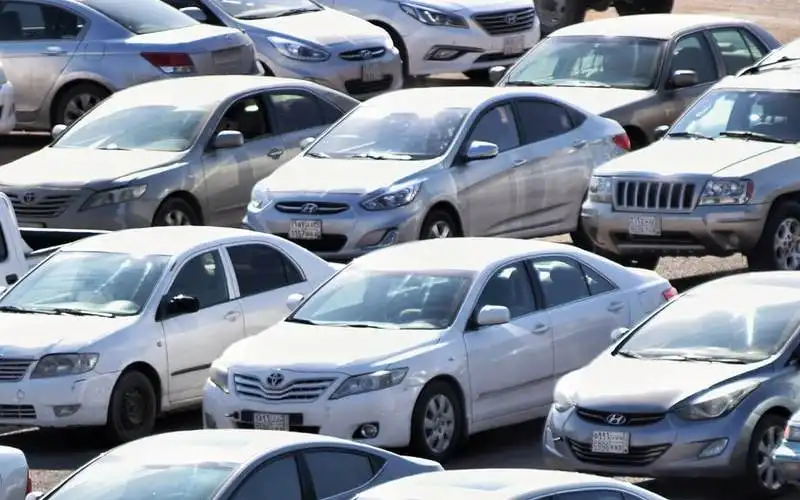 You can auction a house, so why not a car? Car auctions can be one way to buy a cheap set of wheels, but there are a few things you should know before sticking your hand up.
While stories of bidding wars for houses are common, they're less common at car auctions. That's because no one really knows what's ticking under the bonnet. Auction sites do all the checks and balances, but it's still a pressure situation where you don't really have time to think about your potential purchase.
Still, an auction can be a useful way to get into a set of wheels under its market value.
In the market for a new car? The table below features car loans with some of the lowest fixed and variable interest rates on the market for new car buyers.
Approval in 24 hours
Balloon options to reduce repayments
No ongoing fees, no discharge fee
Rates based on a loan of $30,000 for a five-year loan term. Products sorted by advertised rate. *The Comparison rate is based on a $30,000 loan over 5 years. Warning: this comparison rate is true only for this example and may not include all fees and charges. Different terms, fees or other loan amounts might result in a different comparison rate. Rates correct as of January 18, 2022. View disclaimer.
Buying cars at auction: what to know
A car auction warehouse can be an exciting place, like a late-night Chinese market or the share trading floor in New York City, but there are a few things to consider before you bid.
1. Inspections
Cars are usually listed online with photos and a condition report, and you can also visit the branch ahead of time to inspect. Cars come with lot numbers, so it's important to remember this number or bring it along with you, as the number will be on the windscreen.
An auction house floor can be a sea of ex-Government cars that all look the same, so it can be tough to tell which one is your model. Many auction houses permit you to bring along your mechanic for an inspection, but you can't do a test drive before purchasing.
2. Register for the auction
Many bidding houses require you fill out a form along with your photo ID so you can head to the auction floor. You can also do this online. You will then get a bidder number that you bring with you on the day.
3. The bidding process
Once you know the day and time your target car is going up for auction, bidding is a fairly straightforward process:
Stick your hand up at a price you like and position yourself where auction staff can see you.
If you are the highest bidder, staff will approach you so you can pay your deposit.

If the car fails to reach its reserve price you can likely negotiate with the seller directly.
If you're unfamiliar with the bidding process, auction houses are usually happy for you to witness other auctions taking place so you can get a gist of what to do. From there you'll need to sort out registration, insurance and finance.
4. Registration
By law, cars sold at auction must have a clear title, meaning there should be no finance owing on it. You can usually do a little bit of homework to see if a car you like has previously been stolen or written off through doing a check on the Personal Properties Securities Register (PPSR) for about $2. If your bid is successful, it's usually just a case of signing over the registration papers at the auction house and then these are submitted to your traffic authority.
5. Insurance
Insurance can be a tricky one, as you want to be covered as soon as you drive off the lot. You don't want to run into a pole within five minutes of hopping in your new car, but crazier things have happened.
Usually, this involves a quick call to an insurer to explain your situation - that you've purchased a car at auction - so you can get coverage and a quote, either for the day or for longer.
This ensures you're covered as soon as you drive off the lot. Auction houses may partner with insurers so you can get a policy straight away, but it could still be a good idea to shop around and find out what a fair price is.
6. Finance
If you don't have the cash to pay for your vehicle upfront, your option is to get a loan of some sort. There are various ways you can do this: finance organised through the auction house, an unsecured (personal) car loan, or a secured car loan.
Auction house car loans are usually underwritten by a large financing company or partner.

Unsecured car loans likely attract a higher interest rate as they aren't using the car as collateral in case you default on the loan.

Secured car loans use the car as collateral so if you default on the loan, the financier takes your car, but the trade-off is you could be able to get a much more competitive interest rate.
With car loans, you can sometimes get a pre-approval limit so you can walk into the auction house with a budget in mind.
Pros and cons of car auctions
Buying a car at auction can be exciting, and a good way to find a bargain. However, there are a few things you should know.
You can't test drive the car: You can give the car a good inspection and a mechanic can come along - you may be able to start the engine, but no test drives.

Condition reports may not tell the whole story: By law, cars not deemed as salvage or written off must come with a roadworthy and other legal certificates, but these may not tell the whole story and may not be a good indicator of reliability - this is where an inspection by a mechanic can be useful.

Government cars can be a mixed bag: If it's an ex-duty police car, it's likely been driven hard and idled for a long time. Though, if it's been a fleet car or an officer's car, it may have had a relatively easy life.

You can't return it: With dealer sales there's usually a cooling-off period if you have a change of heart. However, once the bidding is done, you usually can't return the item unless it's been damaged in transit.
How much do cars go for at auctions?
Auction house Pickles estimates you can save between 10% and 30% through buying a car at auction, as opposed to if you bought privately or through a dealer.
This would bring down, say, a $30,000 car in usual circumstances, to $21,000-$27,000.
The potential cost-benefit is tempting, but with auction cars you might need to do a bit of extra legwork to make sure what you're buying is reliable, such as inspecting the vehicle thoroughly as auction houses usually do not allow test drives.
Are salvage or damaged car auctions worth it?
Buying a wrecked vehicle might seem like a good idea, however you might want to think twice. That cheap price is often for a good reason! It's also important to note there's usually a distinct difference between a repairable write-off, and a total write-off.
A repairable write-off simply means a car that costs more to repair than the insurer deems it's worth. From there, the insurer will usually pay out the previous owner the market or agreed value, and on-sells the wreck to an auction house.
In many states it's legal to sell and buy a repairable write-off, provided it meets conditions to get back on the road in your state. A total write-off, however, is usually not road-legal under any circumstances. Repairable write-offs might look okay, but they'll almost never been as good as they once were, and structural integrity could have taken a huge hit, making the car less safe.
Popular car auction sites
There are two major auction houses that are popular for in-person used vehicle auctions. They are:
Pickles: Pickles has 28 sites Australia-wide, yet only 16 are listed as holding vehicles. Sites encompass capital cities, as well as major regional centres such as Wagga Wagga and Townsville. Deposits are required for general or Government car sales are $500, prestige cars $1,000. EFTPOS deposits are available up to $500 only, otherwise cash or bank cheques are required.

Manheim: Manheim has sites in all capital cities, as well as Newcastle and Townsville. On its website, you can look for cars available, as well as upcoming auctions. Many auctions are also simulcast online, so if you can't make it in-person, you can still see all the action. Deposits are required - the greater of $500 or 10% applies, and payments can be made by cash, EFTPOS, bank cheque or credit card.
There are likely numerous other state or region specific auction houses dotted around Australia, but Pickles and Manheim are some of the largest with a national presence.
Popular online car auction sites
The good news is that many of the familiar car auction sites also host online auctions. Users are usually able to live in to a live stream of the auction and even place bids. Popular online car auction sites include:
Grays Online
Lloyds Auctions
Pickles
Bids Online
Is buying a car online a good idea?
The good news is buying a car online is often as easy as going to an auction in-person, and potentially even easier. Condition reports are usually available online, so you can get a better idea of what you're actually purchasing. However, for peace of mind, it might be more ideal to inspect the car in-person, but that's what a trusted mechanic is for.
And from there, the process is similar to bidding in person. You usually need to make an online account with credit card or bank account information, tune into your stream of the bid, and from there if you win the bid, the auction house will usually make contact with you to collect the vehicle.
Do the police have auctions in Australia?
The short answer is yes they do. However, most of the time stolen goods that haven't been claimed are passed onto third party online auction sites such as Grays Online auctions. Chief Wiggum probably won't be doing the auctioneering.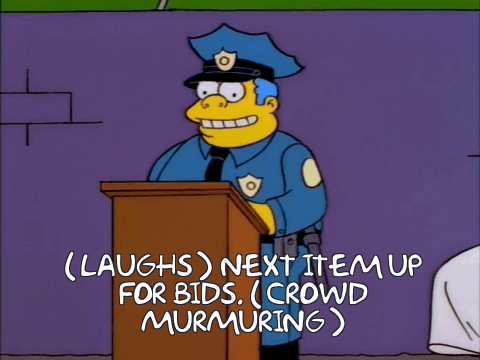 Oh no, that's Little Bandit! Source: Frinkiac
You may not even know the object you are buying has come from the police, though if it's an ex-police car it may be advertised as such. Ex-police cars can include ex-duty cars used to chase bad guys in, or a stately town car used to ferry around the commissioner to important meetings. The lights and sirens and important equipment are removed of course, but you may still see evidence it was once a cop car such as holes drilled where computers and cameras used to sit.
Savings.com.au's two cents
Auction sites can be a great way to get a set of wheels, potentially for cheaper than the market rate. However, auctions are a whole new experience that can be overwhelming for the uninitiated.
In this case, it's important to do your homework. Auction sites usually post details about their cars online so you can research. You can also inspect the car before the auction and bring a mechanic along with you. However, you can't do a test drive, which is a big turn off for a lot of people.
If you haven't had much luck on car sales websites or at dealerships, it might be worth checking out auction sites - just make sure you do your homework beforehand.
---
Photo by Haidan on Unsplash