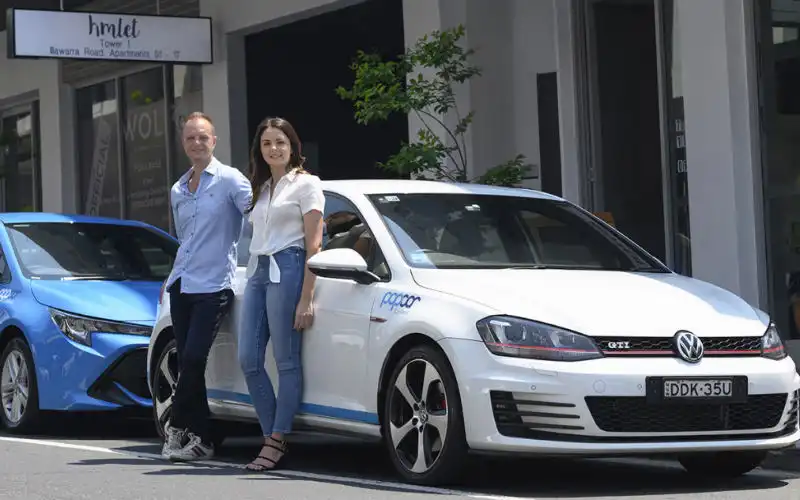 Image source: Popcar
There are car-sharing apps (such as Popcar or Car Next Door) and there are house-sharing apps like Airbnb, but for the first time in Australia, two of these share-economy platforms are teaming up to trial a new affordable way of living.
Car sharing service Popcar has announced a long-term partnership with Hmlet, Australia's largest co-living company which allows tenants in between permanent accommodation to lease apartments and rooms with other people.
It operates in more than 90 locations in Singapore, Hong Kong, Australia and Japan and has plans to offer 2,400 rooms by the end of 2019.
The arrangement will see Popcar – which allows users to rent cars via a monthly subscription fee – place one of its vehicles at one of Hmlet's properties in Marrickville, West Sydney, in order to provide an "affordable, hassle-free and sustainable transportation alternative" to Hmlet members.
While this is only one example of such a co-sharing agreement, it does have the potential to save users even more money compared to traditional car ownership and rental methods.
Popcar Director Anthony Welsh said the share economy is thriving, and combining sustainable living and sustainable transport is a natural fit.
"We are thrilled to be partnering with Hmlet as we are both aligned in our approach of wanting to provide a flexible, community-led experience while maximising value for our customers," Mr Welsh said.
"We know that the sharing economy is a buzz word, but the reality is that Sydney is becoming more and more congested and we need to start looking at alternatives to traditional home and car ownership."
"We see this kind of community-driven and cost-effective access to accommodation and transportation as the future of the sharing economy."
Mr Welsh also said trends within the share economy show transport and accommodation are the top sourced services.
"Community-driven ownership is gaining popularity and allowing convenience while targeting sustainability and providing a cost-effective alternative."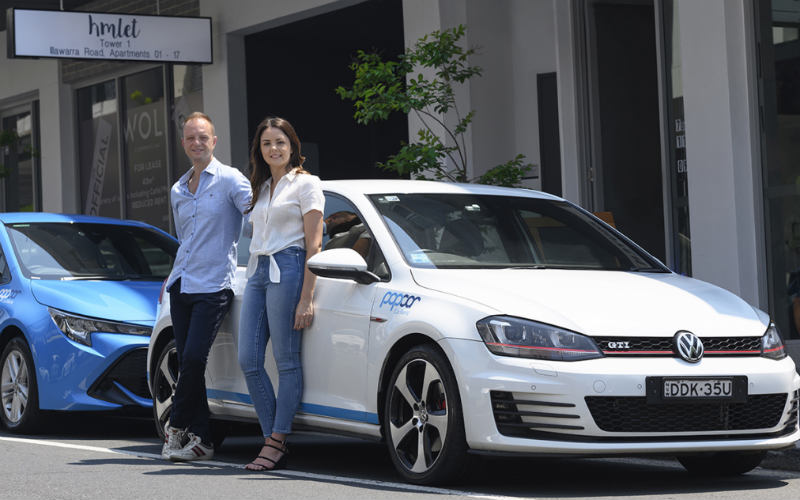 Popcar Director Anthony Welsh and Operations Manager Kristy Wells
Hmlet Australia Managing Director Chrystan Paul meanwhile said the partnership will enhance Hmlet's offering by addressing the requirements of its members.
"We think it will become a real alternative to the traditional rental model and the way people view traditional ownership, with easy access to a wide variety of vehicles to suit their changing needs," he said.
Hmlet is currently only available in Sydney but is soon launching in Brisbane and Melbourne.
According to both Mr Welsh and Mr Paul, the one property this partnership is available is just the start, with more properties to be added later on.
"The intention is to combine Popcar's car share with Hmlet's shared living to all of Hmlet's properties. The property in Marrickville is only just the first location where Popcar's service will be located," Mr Welsh told Savings.com.au.
"Popcar is highly excited at the growth plans of Hmlet throughout Australia and look forward to bring car share to the residents of all their properties where practical to do so."
How affordable are these solutions, really?
Domain's Rental Report for September 2019 shows the median rent price across the combined capitals is $441 per week, while units cost slightly more at $453 per week.
Looking purely at Sydney, which is where Hmlet's current properties are located, the median rent is $525 per week for houses and $520 for units, according to Domain's report.
Comparatively, Hmlet has properties available in Sydney from:
$325 per week (380 Illawarra Rd)
$330 per week (16 Rees Street)
$425 per week (240 Moore Park rd)
$450 per week (5/11 William street)
$450 per week (Curlewis street, Bondi)
$525 per week (113-115 Crystal street)
Hmlet's most expensive Australian options meanwhile can cost upwards of $1,000 a week, so there's a good mix of properties available, many of which are below the average rent in Sydney.
A Popcar subscription, on the other hand, costs:
A joining fee of $10
A monthly subscription fee of $19.90
Hourly usage rates from $5.50
A cost-per-kilometer fee of $0.40
This can work out to be much cheaper than simply owning a car, which according to previous research by Popcar can set the average car owner back $7,232 per year.
Once car loan repayments are factored in, a typical car can cost as much as $13,600 per year.
That's despite Popcar's research that 72% of us spending less than four hours a week actually driving the things.
So while these two platforms are not yet mainstream in Australia yet, they could represent a cheaper and more sensible option for those who want it.

---
Latest Articles