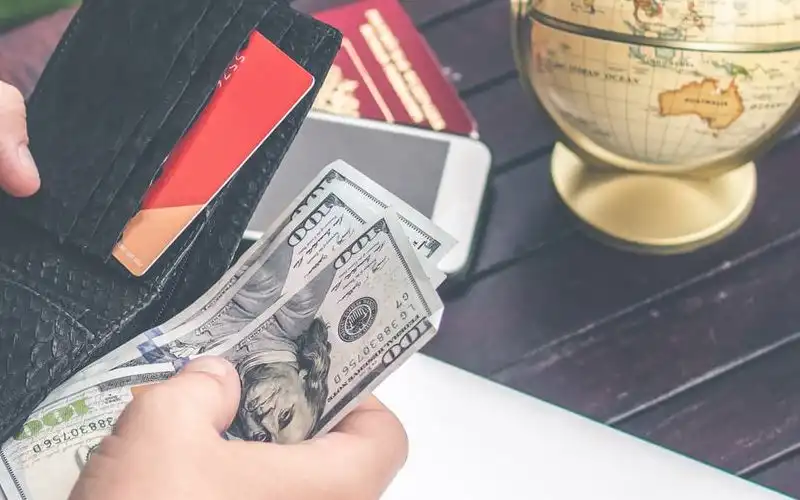 Photo by Artem Beliaikin on Unsplash
Whether you are heading to Bali or Brussels, you'll need foreign currency, either via cash, credit, or debit, and the costs can add up if you're not careful.
Aussies love a good dose of overseas travel. Gone are the days when a camping trip to Yamba would suffice - we are now found in all corners of the globe thanks to a thirst for foreign experiences, and cheap airfares. Whether you're Nigel, the banker on a business trip to London, or Faith, the student finding herself in Ecuador building schools for the poor, you'll need some way to pay in the local currency - whether that's cash, credit, debit or all three.
Debit cards for foreign travel
Seven banks stand out as having transaction accounts with debit cards that feature low or no foreign exchange fees or ATM fees when you're overseas.
With some, certain conditions must be met to get the perk, while with others you can hit the ground running.
Note that foreign ATMs may still charge a fee to use their machine, but in many cases there are fee-free machines scattered across many popular destinations that Aussies visit.
All product info below was sourced from the various providers' websites and correct at the time of writing. Be sure to confirm all info with the provider before signing up for any financial product.
Up Bank
Up Bank is a neobank that recently slashed its foreign ATM withdrawal fee. This used to cost $5 and is now $0. It also features 0% fees to use your card overseas. On top of that, there are no conditions to be met - these perks are available straight out of the box.
ING Everyday + Savings Maximiser
ING's product is a popular one with 0% fees to use your card overseas, and no ATM withdrawal fees. Another major bonus is that ING will refund any ATM fees you encounter on your trip, even in places such as Las Vegas where ATMs can cost around $8 to use. There are conditions you have to meet however: deposit at least $1000 per month and make five settled (not pending) card purchases per month.
UBank Travel Debit
UBank is another bank offering a transaction account and linked debit card that features $0 foreign ATM withdrawal fees, as well as 0% transaction fees, along with no conditions that need to be met.
HSBC Everyday Global
HSBC offers a slightly different product. It still features the $0 ATM withdrawal fees and 0% foreign transaction fees, but it also allows you to buy and lock in currency from nine different countries: US Dollar, Great British Pound, the Euro, Hong Kong Dollar, Canadian Dollar, Japanese Yen, New Zealand Dollar, Singaporean Dollar, and the Chinese Yuan. So, if you have a good rate or you think the Australian Dollar's value will soon drop against these currencies, you can lock in your rate.
Macquarie
Macquarie's transaction account features a debit card with 0% transaction fees overseas, and $0 ATM withdrawal fees with no conditions that need to be met. As usual, the ATM operator overseas may still charge a fee.
Citibank Plus
Citibank offers another transaction account that features $0 foreign ATM withdrawal fees, and 0% foreign transaction fees. You may also dodge host-based ATM withdrawal fees by withdrawing money from Citibank ATMs around the world - commonly found in 7/11s in the US for example. There are no conditions that need to be met to attain these perks.
Xinja
Xinja's transaction account features $0 foreign ATM withdrawal fees and 0% foreign transaction fees. Xinja also has a feature in its app where you can instantly see the rate in both AUD and the foreign currency amount. The neobank recently introduced a competitive interest rate with no conditions that need to be met.
Overall, with all of these cards, you'll either be using Mastercard or Visa payment platforms, and both brands offer foreign rates pretty close to the spot rate (the rate you see on the news and on Google).
At the time of writing the Mastercard rate was AUD 1 = USD 0.6912, while the Visa rate was AUD 1 = 0.6825, but that's not to say it won't fluctuate in the future.
Other than foreign transaction and ATM fees, it could also be worthwhile looking at the interest rates on the savings accounts offered by these banks for when you're stashing money while saving for your next overseas trip. You'll note that Xinja, Up Bank and UBank each have competitive savings account interest rates, paired with 0% foreign transaction fees and $0 foreign ATM withdrawal fees on their transaction accounts. Note that not all providers are compared and that some have conditions you need to meet to attain that interest rate.
No international fee debit cards
Travel credit cards are potentially also a handy addition to your overseas payment arsenal. While in many scenarios they operate the same way as debit cards, obviously there's a line of credit you're taking on, and if you don't make that repayment by the due date, you could be faced with steep interest rates. There are also often cash advance fees when you withdraw money at an ATM overseas using your credit card, sometimes in the realm of 2-4%.
However, credit cards can be useful in scenarios such as damage deposits for hotels and rental cars and other places where they may place a hold on some your funds - if you use a debit card in this scenario they'll be holding some of your own cash, while with credit they're holding your financial institution's 'cash'.

Travel credit cards may also offer perks such as included travel insurance (make sure to read the product disclosure statement - PDS - to see what you're covered for), frequent flyer point bonuses and other travel perks.
Below are some popular travel credit cards, but keep in mind we aren't endorsing them and we aren't representing the whole market.
All product info below was sourced from the various providers' websites and correct at the time of writing. Be sure to confirm all info with the provider before signing up for any financial product.
Bankwest Zero Platinum
Bankwest's Zero Platinum card comes with 0% foreign transaction fees, along with complimentary travel insurance and a $0 annual fee. Its interest rate is 17.99% p.a., and its cash advance fee is $4 or 2%.
Coles Rewards
Coles Rewards Mastercard features 0% international transaction fees, and you can convert flybuys points into Virgin Velocity points, as well as earn two flybuys points for every dollar spent with the card. It comes with a 19.99% p.a. interest rate and $99 annual fee, and for cash advances it's $5 plus 2.5%.
Latitude 28 Degrees
Latitude Financial's 28 Degrees Mastercard features no international transaction fees, no currency conversion fees, and no annual fee. While Latitude doesn't include complimentary travel insurance, the card does come with a 'Flight Delay Pass', where if you purchase flights using the card, you can get free access to select airport lounges. You can however purchase travel insurance through the card via Southern Cross Travel Insurance. The card's interest rate is 21.99% p.a. and its cash advance fee is $4 or 3%.
How much does foreign cash exchange cost?
Foreign currency branches can charge for both the exchange itself, and offer a lesser rate, so the cost to get some foreign bucks can add up quickly, though some offer both a competitive rate and zero fees so it pays to do your research. Below is a list of some popular foreign exchange companies and fees they charge, using the US Dollar as a yardstick - at the time of writing this was 0.69 at the spot rate. Please note, exchange rates can and do change all the time - this is an indicative guide only. Also note that if you buy more currency, you may get a more competitive rate.
Travelex: Travelex offers more than 50 currencies at more than 1,400 outlets in 26 countries. Travelex also often has stands in Australia Post locations. At the time of writing the Aussie dollar was buying in US Dollars 0.6647.

Travel Money Oz: Travel Money Oz has more than 140 locations Australia-wide, as well as more than 60 currencies on offer. There are no fees, and at the time of writing you could buy USD with Travel Money Oz at 0.6654.

UniMoni: UniMoni has a presence in more than 170 countries and has multiple locations in most capital cities in Australia. There are no fees, however at the time of writing the AUD to USD exchange rate through UniMoni was 0.6725.
The Big 4 and their foreign currency exchange fees
The humble 'Big 4' banks all offer currency conversion services, and an indication of their value is below.
Westpac foreign currency exchange
Westpac has access to 26 currencies, and there is easy access to do so through the Westpac app if you're a customer. There are also a few foreign cash ATMs scattered throughout capital cities where you can withdraw USD, GBP, EUR and NZD - these contribute to your daily card withdrawal limit. Westpac uses Travelex for its exchange rates.
ANZ foreign currency exchange
ANZ currency exchange currently has a presence in four capital cities, and has a wide range of currencies available. At the time of writing its exchange rate for the US Dollar was 0.6696.
NAB foreign currency exchange
NAB currency exchange is available online, as well as in most branches. If a denomination isn't available, the bank can usually order it in next business day, with more than 50 currencies on offer. At the time of writing the current rate for the US Dollar was 0.6601.
Commonwealth Bank foreign currency exchange
Comm Bank allows you to order currency in-branch or online using ExpressFX, with nine currencies available in-store, and more than 30 online. At the time of writing the rate for US Dollar was 0.6611.
Overall, when it comes to travelling, it's important to reiterate that currency rates can and do change all the time. Certain banks and exchanges may offer better value in one currency over the other, so it's important to do your own research with your destination in mind.
Savings.com.au's two cents
Worrying so much about your currency exchange rate that it ruins your holiday probably isn't healthy, but it's worth being armed with information when you're planning your next international jaunt. While a few cents' difference in an exchange rate may not seem like much on the surface, the effect is magnified when you're exchanging thousands of dollars - which is not atypical for an overseas trip.
There are a number of providers out there that offer debit and credit cards with low or no fees for foreign exchange, minimal hurdles to jump through and maybe even a competitive savings account rate to help you save for your holiday faster. Still, arming yourself with a mixture of cash, a debit card and a credit card could be a good way to navigate a foreign country.
---
Latest Articles