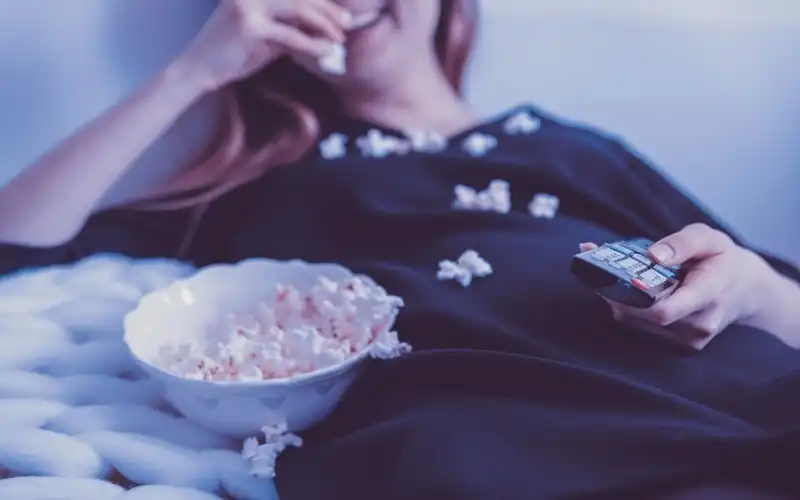 Household bills have always been a concern for Australians, but new research shows just how expensive your phone, internet and streaming services can be.
New research from Reviews.org, based on a survey of 1,000 Australians and bill data from the Australian Competition and Consumer Commission (ACCC), shows internet, mobile, and streaming services cost just under $140,000 over the average Australian's lifetime of 82.5 years.
This assumes they start paying for them at 18, and extrapolates these costs until the average age of death.
Need somewhere to store cash and earn interest? The table below features savings accounts with some of the highest interest rates on the market.
Lender

---

4

0

0

0

$product[$field["value"]]

$product[$field["value"]]

$product[$field["value"]]

More details

FEATURED

Savings Account (Amounts < $24k)

4

0

0

0

$product[$field["value"]]

$product[$field["value"]]

$product[$field["value"]]

More details

High Interest Savings Account (< $250k)

4

0

0

1

$product[$field["value"]]

$product[$field["value"]]

$product[$field["value"]]

More details

0

50

0

$product[$field["value"]]

$product[$field["value"]]

$product[$field["value"]]

More details

0

0

0

$product[$field["value"]]

$product[$field["value"]]

$product[$field["value"]]

More details
Rates based on a savings balance of $10,000. Sorted by total interest rates. Refer to providers' websites for bonus rate conditions and for any applicable fees and charges. Rates correct as of May 25, 2022. View disclaimer.
Broken down into categories, the average Australian will pay $78,000 for internet, $41,000 for mobile services and about $19,300 for the various streaming services.
On a yearly basis, internet is the most expensive bill at nearly $1,000 on average.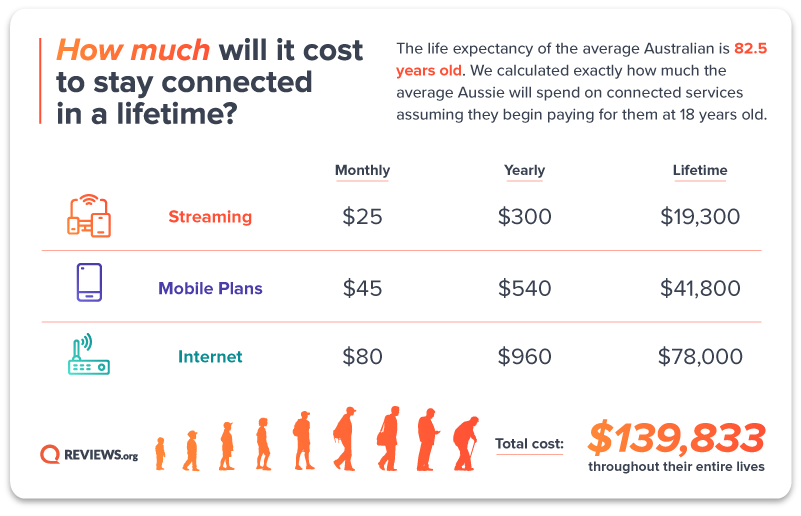 Image source: Reviews.org
Aussies pay just a fraction more than Americans, who pay US$107,066 per year for such services, or about $137,600 Australian dollars at the time of writing.
Spokesperson for Reviews.org Victoria Schmid said these services are a necessity for everyone, but they don't need to take such a big chunk out of your weekly pay.
"The best advice if you're looking to save money is to sit down and do an audit of your streaming subscriptions. You might be surprised how with how many you're paying for every month, and how the cost adds up over a few years," Ms Schmid told Savings.com.au.
"If you want to save on mobile bills and internet bills, look into different plans for a more competitive price."
Reviews.org's research also put this annual figure into context: Based on the average weekly income of $1,713.9 (the Australian Bureau of Statistics), a year's worth of internet, mobile and streaming costs can be paid for with roughly a week of work.
Although based on the median (middle) income of $48,360 per year, it isn't quite as affordable, and Women With Cents Founder Natasha Janssens told Savings.com.au that smaller providers can be more affordable.
"A quick look online will tell you that there is a lot of competition out there and that you can easily shave another $40-$60 a month ($480-$720 a year) without compromising on your lifestyle," Ms Janssens told Savings.com.au.
"Make it a habit of shopping around on your bills once a year and cancelling services you don't use.
"For example, companies like ALDI Mobile, Kogan and Amaysim still give you the ability to use the main service providers like Telstra, Optus and Vodafone but at a fraction of the cost."
Content streaming booms during the coronavirus pandemic
Previous data from the 2019 Australian Entertainment Subscription Study found Australians paid at least $30 per month for video streaming services, while REST Super discovered three in five (62%) are wasting money on services they don't use, to the tune of $3.9 billion per year.
More than one in 10 (11%) pays more than $100 a month for subscriptions.
This trend is only likely to continue, given the sheer number of Australians who now stream content online.
New data from Roy Morgan shows the COVID-induced lockdowns in March saw 17.3 million Australians (82.1%) watch a subscription TV service in an average four weeks, up 2.4 million (+16.2%) from the year prior.
All the major streaming services like Netflix, Foxtel, Stan, Disney+ and Amazon Prime won in 2020, as Australians stayed inside and more content traditionally reserved for theatres moved to TVs.
Netflix is easily the most popular with 14.2 million viewers in an average four-week period, up 19% from the previous year, while Amazon Prime (3.3 million viewers) rose an astonishing 190%.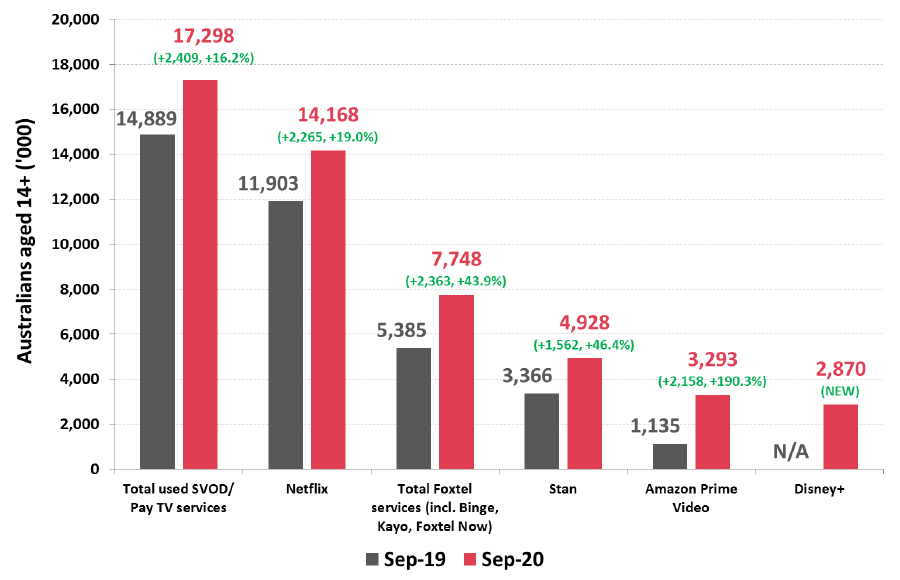 Source: Roy Morgan
Roy Morgan CEO Michele Levine said two thirds of Australians now watch Netflix at least once in any given four weeks.
"The strong growth for the leading services in the market shows Australians are increasingly viewing multiple services to find new and interesting content. For example over 5.6 million Australians watch both Netflix and Foxtel services in an average four weeks and nearly 4.7 million watch both Netflix and Stan," Ms Levine said.
"After a bumper year in 2020 the outlook for 2021 presents a new challenge as Government stimulus programs are progressively reduced and the ability to travel domestically (and in time internationally) without restriction is regained as border barriers come down and COVID-19 vaccines are rolled out."
See also: Aussies to be questioned over streaming services when applying for a home loan
Meanwhile, cutting down on streaming services you no longer watch can save a decent amount each year as well.
"If you have multiple streaming services, take a close look at how much you use each of them and try to stick with just one," Ms Janssens said.
"I am a fan of Amazon Prime Video as it also gives me free shipping in Australia as well as streaming services for less than $5 a month on their annual plan."
---
Photo by JESHOOTS.COM on Unsplash