Photo by Raj Eiamworakul on Unsplash
A new report has identified Australia's top 20 strongest growth markets for home building in 2019, with Melbourne suburbs dominating the list.
he Housing Industry Association's (HIA) Population & Residential Building Hotspots report highlighted hotspots in all states and territories which offer growing employment opportunities for builders and tradies.
Areas qualify as a 'hotspot' if at least $150 million worth of residential building work was approved there over the 2017/18 financial year and if the population growth rate was faster than the national average of 1.6%.
According to the report, this year's number one hotspot was the Rockbank – Mount Cottrell area in Melbourne's West near Melton.
The area experienced a 59.4% population growth explosion during the 2017/18 financial year and $224.2 million in building approvals.
HIA's Chief Economist Tim Reardon said the area is likely to remain as a residential building hotspot next year.
"Major infrastructure projects including upgrades to the train station and train lines as well as a new six-lane arterial road connecting the area are expected to maintain the momentum," Mr Reardon said.
Last year's number one, Mickleham – Yuroke, which is just north of Melbourne's Tullamarine airport, slipped down to second place.
Third spot went to Queensland suburb Pimpama, which sits in the fast-growing corridor between Brisbane and the Gold Coast.
Suburbs around Victoria's capital dominated the top 20 list, occupying 12 spots.
Mr Reardon said this is not surprising, given the Melbourne region's growing professional services sector and significant investment in infrastructure.
"The majority of the growth is in the fringe of Melbourne as the city expands, although inner city suburbs such as Southbank and Docklands are also enjoying strong growth as they change to accommodate higher density living," he said.
Five of the remaining hotspots were in Queensland, while three were in NSW.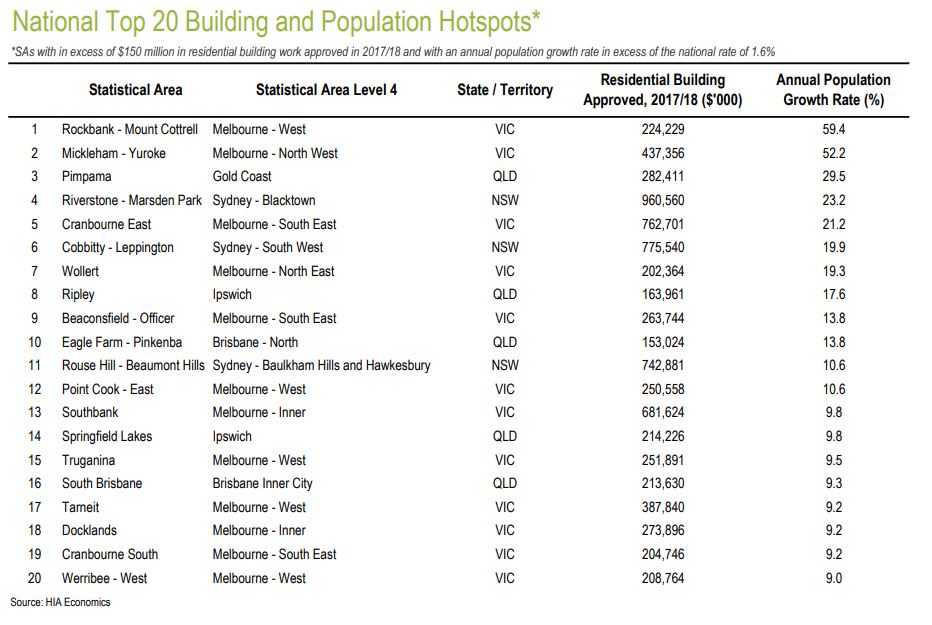 "Because the residential building industry is cooling, the number of future hotspots is likely to be more centralised to major capital cities such as Melbourne and Sydney," concluded Mr Reardon.
---
---
Latest Articles