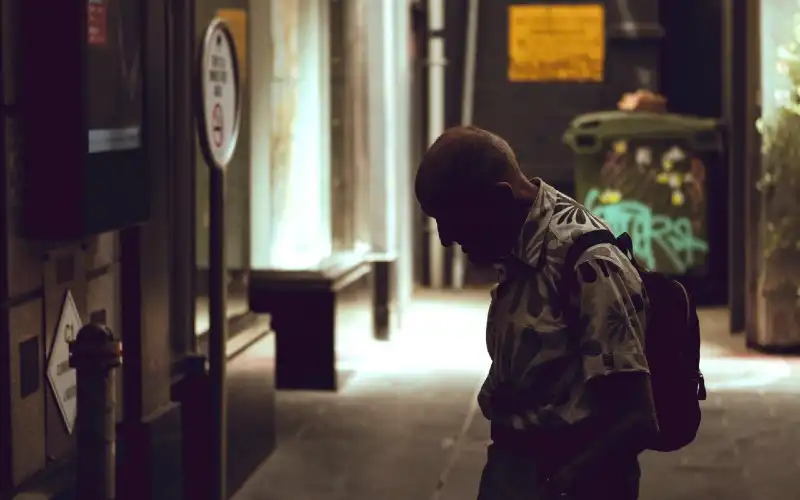 Photo by Bulkan Evcimen on Unsplash
While there's been much positive talk of a housing boom amidst rising house prices, the reality is many older Australians are being forced out onto the street.
According to a new report by the Australian Housing and Urban Research Institute (AHURI), older Australians are increasingly experiencing financial and housing insecurity and the demand for homeless services for this age group is rapidly growing.
The results show the proportion of homeless people in the 65-74 age group grew by nearly 38% in the five years to 2016, with researchers saying this is mainly due to rents increasing much faster than incomes.
Of particular note is the increasing rate of homelessness among women.
While older women are a relatively small group within the total population of homeless persons in Australia, it is a group that has grown rapidly over the past decade, and per the report, will continue to grow without government intervention.
The total number of homeless women Australia wide aged 55 and over increased from 4,764 in 2006 to 6,845 in 2016, an increase of nearly half.
"Many women have had lower lifetime earnings than men as a consequence of lower wages for work performed, poor access to paid employment, part-time employment, care responsibilities and limited access to higher-paid occupations," the report said.
"For many, this has resulted in few assets in older age, including superannuation."
Blokes don't fare much better, although numbers of older homeless men have seen a slight decrease.
Men represent 58% of homeless people in Australia – they still form a majority despite their contribution falling from 65.2% to 63.1% for 55+ year olds.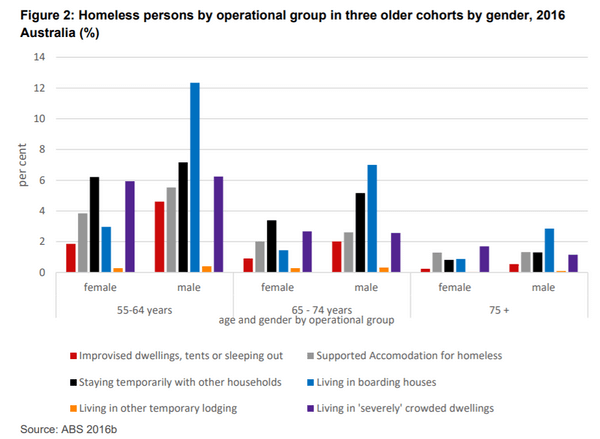 Overall, homeless numbers for people aged 75 and over rose by 14% from 2006-2016, while 55-64-year-olds saw a 26% rise.
Professor Andrew Beer, one of the report's co-authors, said there are too many Australians who are just one or two missed paycheques away from being made homeless.
"There's one particular chap we interviewed … who worked through his life. Then in his 50s his wife left him. He lost the house through the divorce, and then he lost his job," Professor Beer said.
"And before he knew it, even though he continued in part-time employment, he was living in a boarding house that was a pretty scary space."
Older Australians generally tend to face three broad pathways into homelessness, according to the report:
People with conventional housing histories who experience a financial or other 'shock' late in life
People who had experienced long-term exclusion and homelessness
People with transient work and housing histories.
Elderly over-represented in rental poverty too
Multiple recent studies have confirmed older Australians are facing high levels of rental poverty and stress, which is something that could be contributing to increasing homeless numbers.
The Centre of Excellence in Population Ageing Research (CEPAR) found 65+-year-olds have the highest rental poverty rate in the OECD, thanks to both the housing boom and an "inequitable" retirement system.
The results show 42% of older Australian renters are in rental poverty, 1% above the United States in second.
Israel (36%) Lithuania (34%) and Ireland (33%) round out the top 5.
The "poverty rate" is the proportion of people aged 65+ who have equivalised disposable household income (plus imputed rent) below 50% of the population-wide median.
Another study conducted by National Shelter, Community Sector Banking, SGS Economics & Planning and the Brotherhood of St Laurence also found rental affordability is extremely low in most Australian capital cities.
This applies to both pensioners and Newstart recipients.
| | | | |
| --- | --- | --- | --- |
| Region | RAI score | Share of household income spent on rent | Affordability rating |
| Greater Sydney | 119 | 25% | Moderately unaffordable |
| Greater Brisbane | 127 | 24% | Acceptable |
| Greater Adelaide | 112 | 27% | Moderately unaffordable |
| Greater Hobart | 93 | 32% | Unaffordable |
| Greater Melbourne | 128 | 23% | Acceptable |
| Greater Perth | 143 | 21% | Acceptable |
| ACT | 129 | 23% | Acceptable |
Source: National Shelter, SGS Economics and Planning, 2019.
The table above shows moderate affordability levels across multiple different profiles – when you look at pensioners, things are a bit more dire.
"Rental affordability for single pensioners is alarmingly poor. Across the nation, the single pensioner household is facing severely unaffordable and extremely unaffordable rents," the report said.
"Housing pressures on this household type are likely to be compounded by a range of other pressures, including healthcare costs associated with ageing.
"The need for walkable access to transport, and local shops and services may also place limitations on this."
| | | |
| --- | --- | --- |
| Region | RAI score | Rent as a share of income |
| Greater Sydney | 34 | 88% |
| Greater Melbourne | 43 | 69% |
| Greater Brisbane | 47 | 64% |
| Greater Adelaide | 60 | 50% |
| Greater Perth | 46 | 65% |
| Greater Hobart | 54 | 56% |
| ACT | 40 | 75% |
Source: National Shelter, SGS Economics and Planning, 2019.
Pensioner couples fare slightly better, although they still tend to face unaffordable rents across the capital cities.
"The couple pensioner household generally faces unaffordable to severely unaffordable rents in metropolitan areas. Regional areas remain moderately unaffordable for this household, with only the rest of SA and rest of Tasmania offering some areas with acceptable rents," the report said.
"Most areas within a 10-kilometre radius of the Sydney CBD and some of the inner areas of Melbourne are extremely unaffordable to the pensioner couple, meaning that they would have to pay 60 per cent of their total income or more on rent."
This report states that rents requiring 30% or more of income can be classed as unaffordable.
With more Australians delaying the purchasing of a home until later in life, there could be more older Australians either paying off a mortgage or renting in the future, thus leading to more homeless Australians unable to meet the rental obligations.
---
Latest Articles