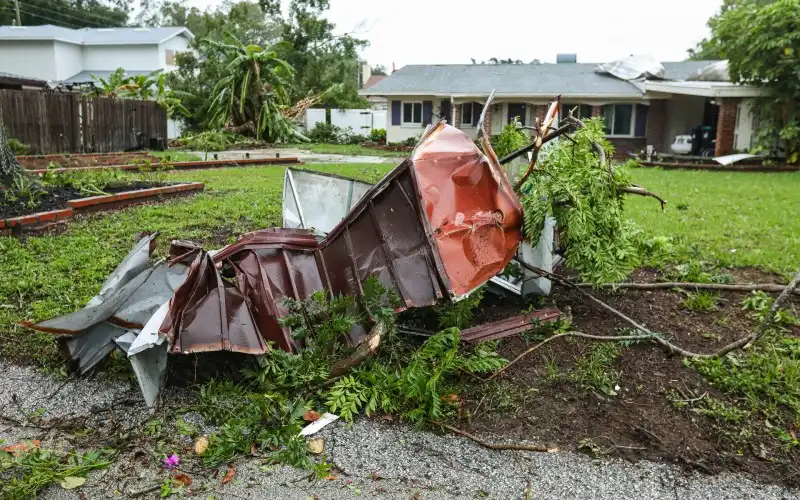 What would summertime in Australia be without scorching hot summer days followed by the sweet relief of an afternoon thunderstorm?
While those storms are great at cooling things down after a disgustingly hot day, they can also get really dangerous - especially in Queensland.
January's 2020 hail storms caused an estimated $1.8 billion worth of damage to homes and with La Niña already wreaking havoc across most parts of the country, the Bureau of Meteorology (or BOM as we like to call it) has forecast a wet summer ahead, with flooding, storms and cyclones likely.
However, only 26% of Australians have checked what their insurance policy covers them for and just a third (29%) are planning to check their insurance policy is up to date, according to research from Allianz.
Meanwhile, three quarters of the population (74%) have no idea what their insurance policy covers them for, despite BOM warnings that this year's summer season is set to be one of the most extreme wet weather events in the last seven years.
According to Allianz, last year's storm and flood season cost Australians $2.8 billion in damage. It's inevitable that we'll see some bad storms this year so rather than adopting the old 'she'll be right mate!' attitude we're known for, start protecting your home against storm damage now.
Buying a home or looking to refinance? The table below features home loans with some of the lowest interest rates on the market for owner occupiers.
Lender

Advertised rate
Comparison rate*
Monthly repayment
Rate Type
Offset
Redraw
Ongoing Fee
Upfront Fees
LVR
Lump Sum Repayment
Additional Repayments
Pre-approval

---

Variable

More details

FEATURED

LIMITED TIME OFFER

Smart Booster Home Loan Discounted Variable - 2yr (LVR < 80%)

Fast turnaround times, can meet 30-day settlement
For purchase and refinance, min 20% deposit
No ongoing or monthly fees, add offset for 0.10%

Variable

More details

FEATURED

100% FULL OFFSET ACCOUNT

NO APPLICATION FEE OR ONGOING FEES

Low Rate Home Loan - Prime (Principal and Interest) (Owner Occupied) (LVR < 60%)

No upfront or ongoing fees
100% full offset account
Extra repayments + redraw services

Fixed

More details

FEATURED

USE A MARKET LEADING APP TO HELP YOU PAY OFF YOUR LOAN SOONER

Fixed Home Loan 1 year (Principal and Interest) (LVR < 80%)

Make up to $20,000 additional repayments per fixed term
Redraw available – lets you access any extra loan repayments you've made
Choose to rate lock for 90 days (fee applies)

Variable

More details

FEATURED

REFINANCE IN MINUTES, NOT WEEKS

Nano Home Loans Variable Owner Occupied, Principal and Interest (Refinance Only)

No application or ongoing fees.
100% free offset sub account.
Fast online application, approval in minutes not weeks.
Mobile app, Visa debit card, Apple and Google Pay
Refinance loans and variable rates only.

Variable

More details

FEATURED

ZERO APPLICATION FEES

FEE FREE OFFSET

Owner Occupier Accelerates - Celebrate (LVR < 60%) (Principal and Interest)

We lower your rate based off how much you've paid down your loan
Automatic rate match
No upfront or ongoing fees
Fast turnaround times, can meet 30-day settlement
For purchase and refinance, min 20% deposit
No ongoing or monthly fees, add offset for 0.10%
How to storm-proof your property
1. Trim your trees regularly
In heavy winds, trees can get blown around and if the winds are bad enough, completely uprooted. The last thing you want is a tree as an unwanted house guest so make sure you trim your trees regularly and get rid of any loose or unstable branches. Not only are they a threat to your property, they also threaten neighbours' properties - not to mention your life if you get impaled by one.
2. Keep your gutters clear
If your gutters are full of debris, they can get blocked in heavy rain and that rain has nowhere else to go except back down the roof or the walls. That can lead to damage to the foundations of the home which means expensive repairs. At least twice a year you should aim to clean out the gutters or pay an expert to come over and do it for you, especially if your home is more than one storey high.
You can also buy gutter guards that keep leaves and twigs out of your gutters and downpipes.
3. Make sure your roof is in good condition
It's easy to forget the roof of your home but you shouldn't because in a severe storm, it can cop major damage if it hasn't been looked after.
If your roof is showing any signs of damage, such as missing or damaged tiles, the roof is sagging, there's corrosion around the gutters, the roof flashing is loose, there's discoloured areas on the roof or the timber is rotting below the roofline, it means you could be at increased risk of getting a leaky roof in a severe storm.
Depending on how bad the damage is, a quick repair could be all it takes to fix the roof. As a general rule of thumb, if your roof is under 20 years old most issues can probably be repaired or restored, which can add on another 10-15 years to the life of your roof. If your roof is over 20 years old, you should book in a professional to inspect it. Roofs generally don't last beyond 30 years so if yours is nearing the end of its life, it may be time to completely replace it.
4. Consider cyclone-proofing your home
Speaking of roofs, if you live in North Queensland or any other area of the country prone to cyclones, you may want to consider getting cyclone straps for the roof. Made of galvanised steel, cyclone straps can be 'doubled up' for twice tie down capacity requirements to keep your roof firmly in place in strong winds.
You may also want to consider installing cyclone shutters. Cyclone shutters are very similar to the shutters that shops use to close their stores at night. Most are made of aluminium and you'll want to make sure they have been tested to withstand Category 3 and 4 cyclones.
5. Secure loose items
Before a storm hits, bring inside or secure any loose items such as outdoor furniture, kids toys, and trampolines which can all become missiles in bad storms.
6. Secure your car
If you know there's a storm coming, protect your car by parking it inside your garage or carport if you've got one. If you don't, you could ask a neighbour if they've got room in their garage, or you could park your car undercover at your local shopping centre. You could even buy a hail cover for your car if you have no other choice but to leave it outside.
Make sure your home and contents insurance policy is up-to-date
During Queensland's 2011 floods, many homeowners were devastated to discover their insurance claims were rejected because of ambiguous policy clauses regarding what constitutes a flood (most policies don't cover flooding caused by riverine or inland floods, only flash or storm water floods).
Make sure this doesn't end up happening to you by checking your insurance policy covers storm-related events and what terminology your insurer uses to regard what constitutes a flood. While policies will vary from provider to provider, many policies won't cover storm surge-related damages if you live in a coastal area (excluding tsunami damages). Read the product disclosure statement (PDS) thoroughly so you know what you are - and aren't - covered for. Keep in mind that if you live in or near a flood zone, your premiums are likely to be much higher.
See also: What is flood insurance and how much is it?
While you're at it, don't forget to check your contents insurance policy is up-top-date and that you're covered for outdoor items, such as the barbeque and outdoor furniture.
It's not just your home you need to protect in a storm - your car also needs to be insured against storms. If you've got comprehensive car insurance, most providers will provide flood cover as a standard, but it's best to double check your policy to make sure you're covered.
Savings.com.au's two cents
Storms in Australia are no joke but if you take steps to storm-proof your home now and check your insurance is up to date you'll be right as rain.
---
Photo by Mick Haupt on Unsplash