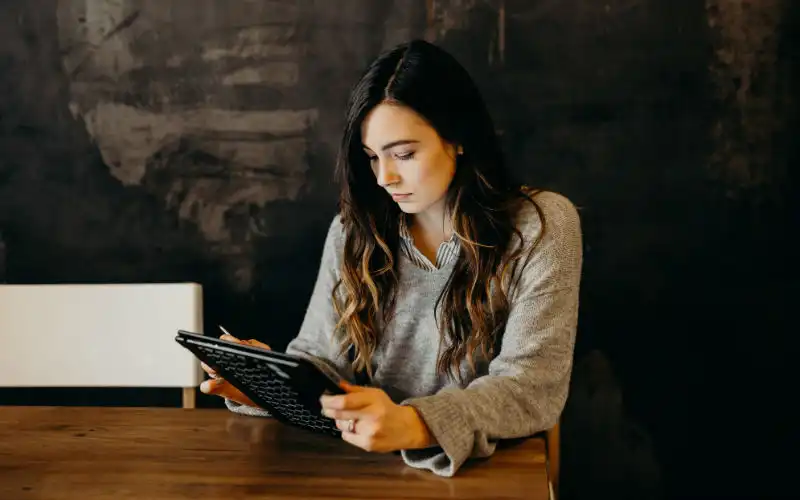 Photo by Brooke Cagle on Unsplash
Women wield a huge amount of power when it comes to household finances, with four in five saying they're responsible for the purchasing decisions at home. Yet a number of barriers continue to hold women back from investing, widening the 'investment gender gap'.
More than half of Australian women say a lack of trust in banks and financial advisers stops them from seeking out investment advice.
Those are the findings from a study of 800+ women from corporate women's news publication Women's Agenda and online investment adviser Stockspot.
While 56% of women said they had seen a financial adviser at some point, for the 57% of those who hadn't, a "lack of trust in the advice they offer" was the biggest reason why.
Stockspot Head of Advice and Customer Care Sarah King said women trust their own online research more than the advice offered by a financial professional.
"The results indicate a serious trust deficit between women and the traditional sources of financial advice. So much so that above anything else, (57%) of women trust their own online research more," Ms King said.
"Perhaps, unsurprisingly, the 2018 Royal Commission into the banking sector had eroded some trust women held for traditional banks, with 66% of respondents declaring they agreed or strongly agreed that revelations from the commission had damaged their trust in financial institutions and advisers."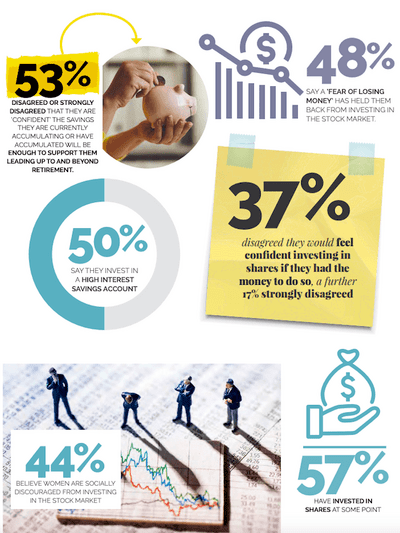 Other leading barriers to investing were a lack of money to invest with (59%), fear of losing money (48%), lack of knowledge (48%) and a lack of confidence (56%).
Ms King said these barriers may present lost opportunities for women to get the most out of their savings.
"These barriers, perceived or otherwise, are concerning, given women are already disadvantaged when accumulating wealth and establishing financial freedom.
"It is well documented that the gender pay gap, the motherhood penalty, career breaks, caring responsibilities and long stints of working part-time contribute to women falling behind men when it comes to wealth accumulation.
"It's also common knowledge that women retire with significantly less superannuation than their male counterparts… any gaps in investing could signal missed opportunities for women to help bridge this divide."
Where are women investing?
When asked where they currently invest their money, 60% said their home was their primary investment. According to ABS statistics, 60% of women own their own home (either with a mortgage or debt-free) compared with 56% of men.
Meanwhile, half (50.4%) of respondents said they were investing their money in a high-interest savings account, while 39% reported making additional superannuation contributions.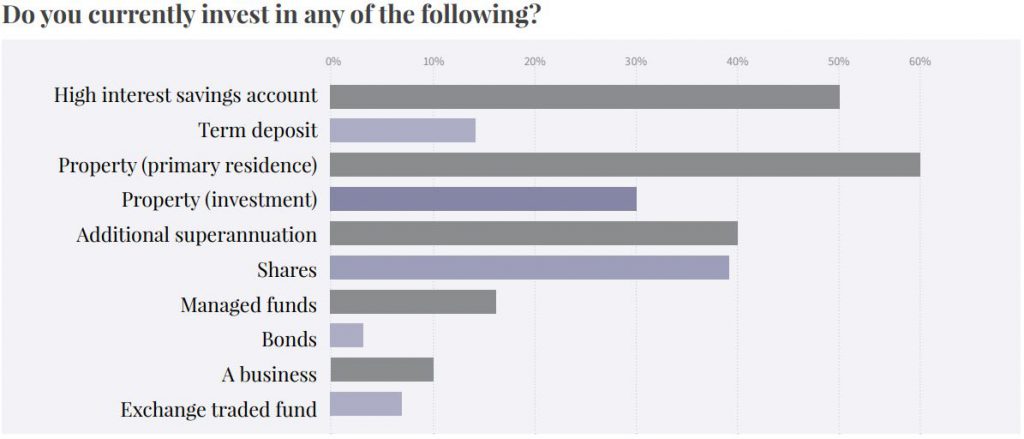 Only 38% said they invested in shares, while 29% are putting their money into an investment property.
That number drops even lower for other investment options like term deposits, managed funds, bonds and ETFs.
Just 36% of women under the age of 35 have invested in property compared with 69% over the age of 35. Those under the age of 35 were more likely to be concerned about the risks involved with investing in the stock market.
"While these results for younger women may speak to a lack of experience investing, they could also point to the fact that younger women are more concerned about the risks," Ms King said.
"At any rate, these findings prove the need for a greater level of financial education."
Ms King said movies like the Wolf of Wall Street aren't an accurate depiction of investing.
"Fears around losing money and the risks involved are understandable. We think some of this comes from the unfortunate portrayal of 'investors' depicted in films like the Wolf of Wall Street. These characters are not really investors. They're speculators, and as crude as it sounds, they're hoping to make a quick buck in the short term. That is risky.
"Obviously there are fears of market crashes as well. But when it comes to investing, the chance of losing money is greatly diminished as long as you're investing for at least a few years and are broadly diversified across different investments.
Ms King said that when women do invest, they do it well.
"A fascinating study out of the UK's Warwick Business School found that women's annual return was 1.80% better than the average man's return market return. The biggest difference? Women traded less, were less attracted to highly speculative shares and better at staying calm and not reacting to short term news events."
---
Latest Articles