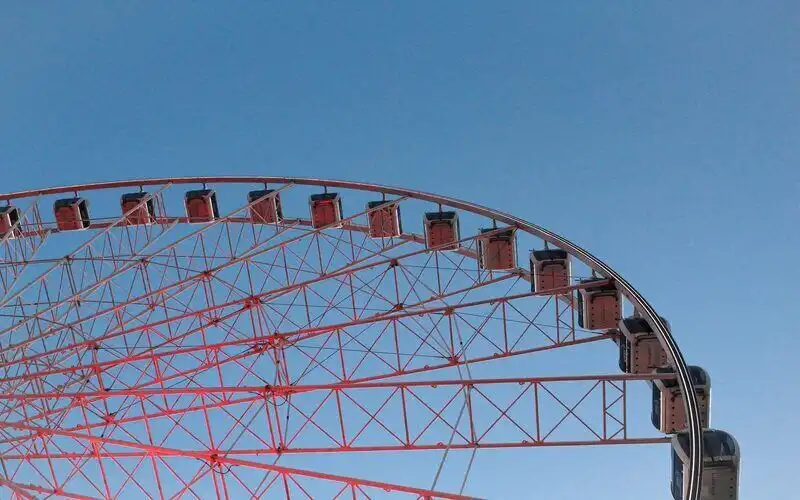 Australian housing values rose 1.6% in July, according to CoreLogic, as the market's record-breaking growth tapers.
The latest increase takes values 14.1% higher in the year to date, and 16.1% higher over the past year.
The yearly lift in prices is the fastest pace of annual growth since February 2004, but the monthly growth rate has trended lower since March when values rose 2.8%.
However, growth remains substantially higher than previous years, with the average rise in monthly values sitting at just 0.4% in the past decade.
Tim Lawless, CoreLogic's research director, said the recent tapering of growth could be attributed to a range of factors.
"With dwelling values rising more in a month than incomes are rising in a year, housing is moving out of reach for many members of the community," Mr Lawless said.
"Along with declining home affordability, much of the earlier COVID related fiscal support (particularly fiscal support related to housing) has expired.
"It is however, encouraging to see additional measures being rolled out for households and businesses as the latest COVID outbreak worsens."
Mr Lawless added demand was far outstripping supply, with dwelling sales 40% above their five-year average, while active listing were 26% under their five-year average.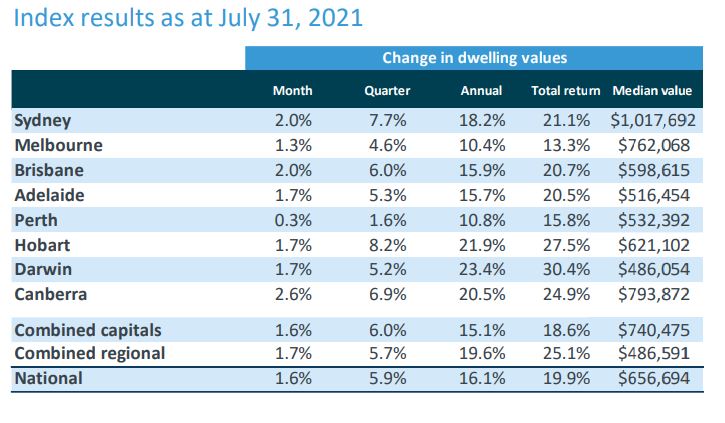 Source: CoreLogic
All capital cities saw a rise in values, with Canberra the best performer, up 2.6%, followed by Sydney and Brisbane, both up 2.0%.
Sydney's pace of growth has slowed significantly in recent months, compared to values rising 3.7% in March, and Mr Lawless attributed this largely to affordability constraints and the latest COVID outbreak and ensuing lockdowns.
Perth lagged behind the rest of the nation, with values rising just 0.3%, with Melbourne the next softest, rising 1.3%.
After much of 2020 saw regional markets outperform the capitals, there has been somewhat of a return to normalcy, with the first seven months of 2021 showing an almost equal rate of growth, with regional markets increasing by 14.5% and capital city markets up 14.0%.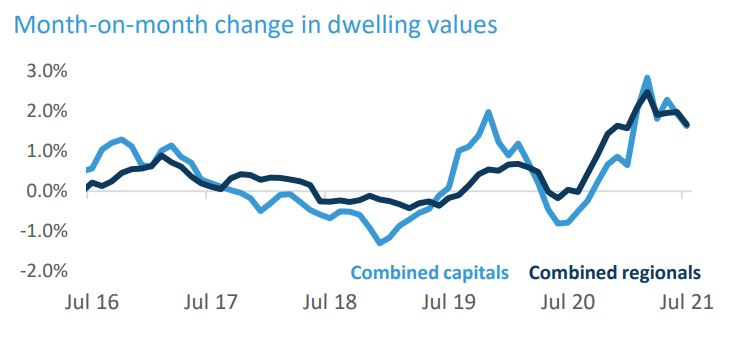 Source: CoreLogic
Houses continued to out-perform units, with national house values up 18.4% in the year to July, while unit values have risen by 8.7%.
Lockdowns have heavily influenced supply on the market, with advertised listings remaining well below average across most of the nation.
In the week to 27 July, the monthly number of new listing fell by approximately 30%, taking total active listing to 13.7% below their five year average.
In the weeks ending 11 July and 25 July, the number of new listings added to the Melbourne market dropped by 27%.
"We have seen the same trend through earlier lockdowns, where both buyer activity and vendor activity reduce before recovering to pre-lockdown levels once restrictions are eased or lifted," Mr Lawless said.
"With stock levels remaining tight, selling conditions have been skewed towards vendors."
National rent prices increase sharply
CoreLogic found the annual pace of growth in national rents lifted to 7.7%, the fastest rental appreciation since 2008.
However, Mr Lawless noted beneath the headline figure, rental conditions remained diverse.
"Rental conditions across Darwin and Perth are the tightest amongst the capitals reflecting low vacancy rates and high rental demand," he said.
"Both cities saw a substantial reduction in investment activity from 2014 which has likely contributed to the short supply of rental accommodation.
"At the other end of the spectrum are the apartment sectors of Melbourne and Sydney, where rental conditions have been substantially looser."
---
Photo by Mica Lavandera on Unsplash