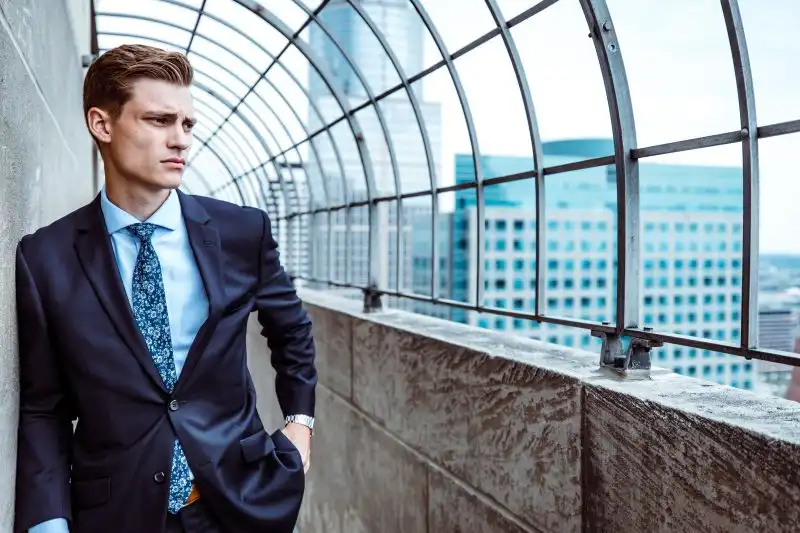 Photo by Gregory Hayes on Unsplash
The number of unemployed Australians has skyrocketed to 10.9% according to Roy Morgan Research.
Despite an increasing workforce, fewer Australians are being employed.
Roy Morgan research shows that despite an extra 65,000 Australians joining the workforce, 216,000 fewer Australians were employed in March than a year ago.
The fall in employment was driven by a significant decrease in part-time employment. This is also what's known as 'underemployment'.
Roy Morgan defines the under-employed as "those people who are in part-time work or consultants who are looking for more work". The ABS does not release this figure in their monthly unemployment survey results.
Uber drivers, those who advertise their services on Airtasker, and others who do similar sorts of jobs are considered 'underemployed'.
According to Roy Morgan, an extra 203,000 people are now considered underemployed, bringing the total number of underemployed people to 4,228,000.
Compare that with a fall in full time employment of 13,000 workers down to 7,930,000.
The number of underemployed people brings a record high of 20.6% of the workforce classified as being either unemployed or underemployed in March.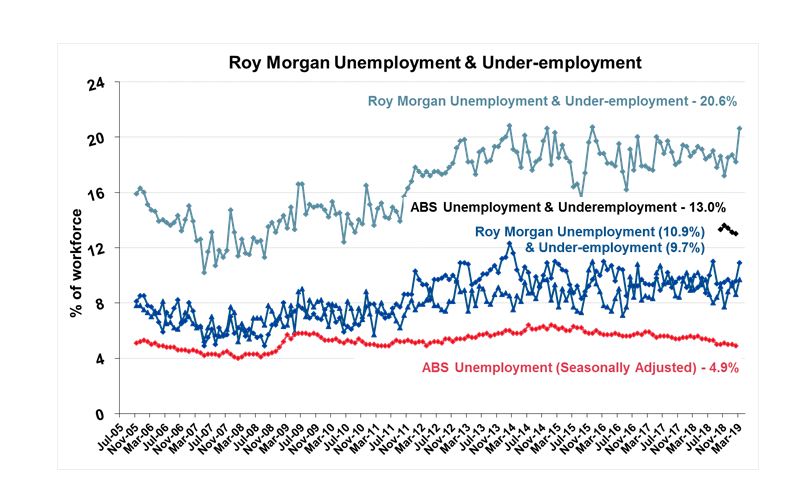 As you can see from the graph above, Roy Morgan's 'real unemployment' figure of 10.9% is significantly higher than the ABS's headline rate of 4.9%.
That's mostly because Roy Morgan classifies a person as unemployed if they are "looking for work, no matter when", whereas the ABS figure is based on whether a person has been actively looking for work in the past four weeks and if they were currently available for work.
Roy Morgan CEO, Michele Levine, said the overall result of these changes is a substantial increase in the level of labour under-utilisation in the workforce.
"Now a record high are either unemployed or underemployed. This is the first time over a fifth of the Australian workforce have been looking for work for nearly two years since May 2017," she said.
She said the rising levels of unemployment were not surprising given the lackluster results of the Roy Morgan Business Confidence survey.
"The low Business Confidence has been caused by significant uncertainty in large parts of the economy as Australia's two largest states of NSW and Victoria deal with a slowing housing market as well as the uncertainty to businesses caused by an imminent Federal election.
"These factors have clearly impacted on confidence in the broader economy which will not be resolved until Australians have elected a new Government in just over a month's time.
"Today's disappointing employment figures suggest the real problem facing the Morrison Government has been an inability to solve Australia's continuing problem of high unemployment and under-employment. Roy Morgan has consistently shown over 2 million Australians looking for work or looking for more work since the L-NP Government was first elected in September 2013, and that problem remains a large one to this day."
Cash rate cut imminent?
The figures come amid news that members of Australia's Reserve Bank Board said they would strongly consider cutting the cash rate if the unemployment rate were to rise.
The minutes of the RBA's April monetary policy meeting provided a clear signal that the Bank would be prepared to cut the cash rate from the 1.50% it's stood at since August 2016.
Members "discussed the scenario where inflation did not move any higher and unemployment trended up, noting a decrease in the cash rate would likely be appropriate in these circumstances".
For cash-strapped households struggling to meet mortgage repayments, a rate cut would be welcome news.
---
---
Latest Articles