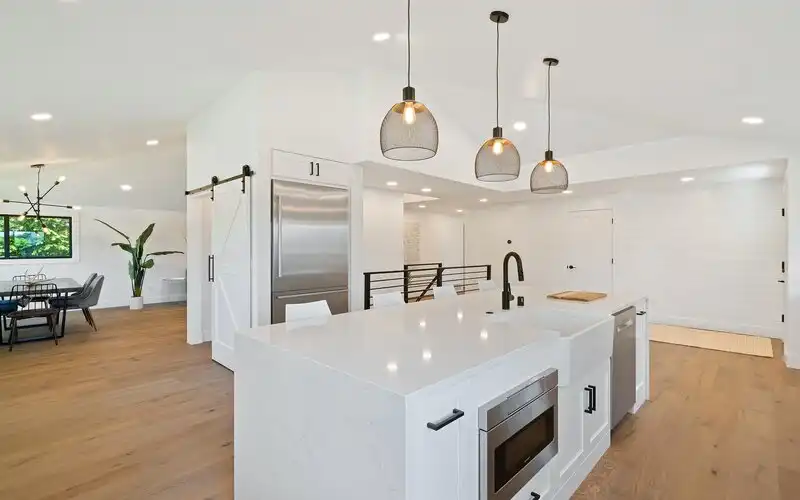 Is your home in need of a little TLC? It might be time to embark on a renovation project. But first - how will you pay for it?
Buying an older home with character can be a great doer-upper project if you've got an eye for detail. But unfortunately, real life isn't like The Block, so making your DIY dreams come true will come with a price tag.
The cost to renovate your home is often too much for your savings account to handle. The average Aussie homeowner spends between $60,000 to $70,000 on their home renovations according to Suncorp Group. Hence why there are quite a few options to choose from when looking into financing your renovations.
In this article, we'll discuss:
---
Advertisement
Building a home? This table below features construction loans with some of the lowest interest rates on the market.
Lender

---

Variable

More details

FEATURED

GET A DISCOUNTED GREEN RATE

Green Construction Home Loan (Interest Only)

Interest Only during construction
No monthly, annual or ongoing fees
Get Australia's lowest rate construction loan when you go green

Variable

More details

FEATURED

FREE REDRAW FACILITY

Basic Investment Loan (Principal and Interest) (LVR < 60%)

Pay more to reduce the amount of interest you pay
Easily access additional funds in your redraw
Great rates and low fees

Variable

More details

BUNDLE YOUR HOME LOAN AND YOUR INVESTMENT LOAN FOR MORE SAVINGS

Yard Investor Bundle Loan (Bundled with Home Loan)

Pay more to reduce the amount of interest you pay
Easily access additional funds in your redraw
Great rates and low fees

Variable

More details

100% FULL OFFSET ACCOUNT

Offset Package Home Loan (Principal and Interest) (LVR < 60%)

Variable

More details

100% FULL OFFSET ACCOUNT

Offset Package Home Loan (Principal and Interest) (LVR 60%-70%)

Variable

More details

AN EASY ONLINE APPLICATION

Yard Investment Loan (Principal and Interest) (LVR < 80%)

Variable

More details

GREAT FLEXIBLE LOAN OPTIONS

Basic Home Loan (Principal and Interest) (LVR 70%-80%)

Variable

More details

Yard Investment Loan (Principal and Interest) (LVR > 80%)
Interest Only during construction
No monthly, annual or ongoing fees
Get Australia's lowest rate construction loan when you go green
Base criteria of: a $400,000 loan amount, variable, fixed, principal and interest (P&I) home loans with an LVR (loan-to-value) ratio of at least 80%. However, the 'Compare Home Loans' table allows for calculations to be made on variables as selected and input by the user. All products will list the LVR with the product and rate which are clearly published on the Product Provider's web site. Monthly repayments, once the base criteria are altered by the user, will be based on the selected products' advertised rates and determined by the loan amount, repayment type, loan term and LVR as input by the user/you. *The Comparison rate is based on a $150,000 loan over 25 years. Warning: this comparison rate is true only for this example and may not include all fees and charges. Different terms, fees or other loan amounts might result in a different comparison rate. Rates correct as of May 22, 2022. View disclaimer.
---
What are considered home renovations?
You might hear home renovation and think: does it have to be a complete tear-down-the-walls-and-start-fresh situation to qualify for a renovation loan? The answer is usually no, but it can also depend on what you're applying for.
Generally speaking, the bigger the scale of your renovation, the more doors open for you in terms of financing the project. For example, you can't exactly apply for a construction loan if you're just repainting the living room.
The popularity of home renovations has surged since the COVID-19 pandemic began, as people have more time on their hands and more money in their pockets. A recent survey of 2,000 people by Houzz revealed renovation spending is up 5% in 2021. From December 2019 to December 2020, there was an increase of $1.27 billion on home renovations according to the Australian Bureau of Statistics (ABS).
Where are people starting, you might be asking? Well, a kitchen revamp seems to be on the minds of many, with 54% of respondents planning a kitchen renovation. An additional 40% plan on improving plumbing, electrical or HVAC systems according to Houzz.
To give you some possible starting points, here are some renovation destinations you might like to visit:
| Home feature you don't like | Possible renovation |
| --- | --- |
| Old stove and hotplates from the 70s that's always too hot, not working, or smoking for no reason | Kitchen refurbishment |
| Bathroom has daggy flower-printed tiles and a tiny sink you can't fit your things on | Bathroom renovation |
| Ugly yellow walls throughout the house | Fresh paint job |
| Shaggy carpet in the living room leading onto tacky vinyl in the dining room | New flooring throughout |
| Massive backyard, but no place to BBQ | New back patio |
| House itself is too small and kids are always screaming in your ear | House extension |
How much does a renovation project cost?
As we mentioned earlier, the average renovator forks out between $60,000 and $70,000 on their home improvements. But to see where exactly all this money goes, let's get into the granular costs of renovating a home including the kitchen, bathroom, bedroom, and more.
The kitchen
The kitchen seems the be the most popular renovation spot, so how much do people spend? Seemingly, people are pouring the majority of their funds into a new kitchen, with the renovation spend ranging from $25,000 to $50,000 according to Suncorp Group.
What are they doing with this money? you might be wondering. Well, Suncorp has this information, too.
New kitchen cabinetry and benchtop

Demolition of existing structures

Modification of electricity and plumbing points

Structural works to remove walls and open up kitchen into open plan

Fixtures and appliances
The bathroom
The next popular renovation site seems to be the bathroom, with people spending between $15,000 and $30,000 according to Suncorp. With this money, renovators are focusing on:
Stripping the existing bathroom

Adjusting wall frames

New flooring and wall tiles

New taps and vanity

Updating shower screen and mirror

Floor coverings and fresh coat of paint
The living/dining room
Other than the obvious kitchen and bathroom renovations, some people choose to update their living and/or dining rooms. On average, $10,000 to $15,000 is being spent on:
Removing load bearing walls (for an open plan space)

Upgrading lights and power points

New floors and fresh coat of paint
The bedroom
Most of us spend a lot of time in our bedrooms (because it's where we sleep, of course) so it's no surprise some renovators choose to spruce up their sleeping spaces. However, the budget to do so is much more modest (because there's less involved in doing so). A bedroom reno costs anywhere from $2,000 to $5,000 according to Suncorp.
Some bedroom modifications include:
Storage space installation (such as a wardrobe)

Upgrading power points and lights

New floors and fresh coat of paint
Home extensions
For the average small, medium, and large house extension project, Suncorp Group also gave its pricing estimates.
Small house with small extension/internal refurbishment: $150k+
Medium house/post-war house: $250k - $350k
Large house with house lift, extension, built under: $500k+
What are your renovation loan options?
If you have an idea of how much you need to borrow, your next step would be to look into your renovation loan options. Particularly if you're going to tackle a kitchen or bathroom (the most expensive renovation destinations), you'll need quite a bit of money on hand to do it right.
You have a few options when looking at finances: you could take out a personal loan, access home equity, get a construction loan, or even use your credit cards. There's not really a right or wrong way to go about it - but you might want to look into a handful of options before making up your mind.
Tap into your equity
If you've owned your home for some time, tapping into your home's equity could be an easy option. You'd need to do this by refinancing and accessing a chunk of the equity you'd built up to finance your home renovations. This can be a particularly good option if you're intent on your renovation increasing your home's value, as by doing this, your equity essentially goes back up. In short, you don't need to 'borrow' as much.
Of course, the amount of equity you take from your mortgage needs to be paid off eventually, and you'll have to start making higher repayments to account for the money you've borrowed back.
To illustrate with an example, if you took out $40,000 from your home's equity to renovate but it increased your home's value by $60,000 - you've essentially made $20,000.
Construction loan
If you're making structural changes to the property, a personal loan or credit card likely isn't going to cut it. A construction loan can be a good option if you're doing a large-scale renovation, like gutting it or adding onto it, as it functions quite differently from most other loans.
Typically, when you take out a home loan or personal loan, you receive the money straight away in a lump sum. With a construction loan, the money trickle feeds to you so that as renovation expenses arise, the money comes through to cover it.
These 'progress payments' will be according to your building contract, which you'll need beforehand, so that when you need the money, it's there.
A personal loan
On the other hand, a personal loan might be better suited if you're looking for a relatively short-term repayment option, but not so short term that it can be put on a credit card.
When considering a personal loan, you'll need to decide whether to go for a secured or unsecured option. A secured loan will likely have a lower interest rate, but requires an asset for security. An unsecured loan will usually have a higher interest rate, but no asset is needed for collateral.
You can also choose between a fixed or variable rate, and could take out a personal loan with features like a redraw facility, no early repayment fees, or the ability to make extra repayments at no cost. The repayment terms for personal loans generally range from three to seven years, but depending on the lender and how much you borrow, this period can be longer or shorter.
Credit card/s
If the renovations are quite small and can be paid off within the month, a credit card might be an easy option, especially if you already have one (or a few). A credit card allows you to pay for expenses up to your credit card limit (e.g. $5,000 each month), but you'll need to meet at least the minimum repayment amount on the due date (usually the end of the month). After the month ticks over, you then have access up to your credit card limit again, and the cycle continues.
If you can pay off the balance of the credit card by the due date, this can be a great option as you typically won't incur any interest charges or late fees. However, if you don't think this will be possible, you might encounter high interest rates and additional fees involved.
While it can be an easily accessible option and might not require you to take out extra credit, whether it's the most suitable option will depend on the scale of your renovations and your capacity to pay it back quickly.
Line of credit
Lastly, a line of credit is a pretty common way many people choose to renovate. Similarly to refinancing your home loan, once you have enough equity in your home you can refinance to use a line of credit loan. This facility is similar to a credit card, given that it's a form of revolving credit, and it allows you to access money whenever you need it. This can be helpful if, for example, you're renovating in stages and need money as the renovations take place.
This can sometimes be a more suitable option if you're not exactly sure how much you're going to need, because you're only charged interest on the money you use. However, you're likely going to encounter a higher interest rate to use this facility, and there might also be other fees and charges involved.
Why people choose to renovate
As more and more people take on renovation projects, it could be helpful to have a look at why some people are choosing to renovate. A study of 2,000 Australian homeowners by The Blue Space revealed more than one in three (37%) homeowners planned to renovate in 2021 and were ready to spend, on average, $26,000.
Stay at home orders seemed to be driving this renovation charge, as one in four were inspired to renovate to better enjoy their living spaces.
Specifically, the top three reasons to renovate were the following:
45% wanted to refresh an old or outdated room

38% wanted to add more value to their home

11% had a growing family and needed to alter their homes to accommodate this
How to successfully renovate a property according to the experts
Renovating a property is a big job, and isn't necessarily an easy one. We reached out to some property experts for their tips on how to successfully renovate a property - from finances to finishing touches - to make the process just a little bit easier.
Adding the most value to your home
Martina Hayes, Building Designer, Interior Designer, and Colour Consultant, gave us her two cents on how to add the most value to your renovation.
Ms Hayes' first tip is to renovate with your suburb in mind.
"A renovation in Sydney's expensive suburb Mosman must reflect this level of sophistication, whereas a renovation in creative Surry Hills can be a bit more experimental," Ms Hayes told Savings.com.au.
Another tip she provided was to renovate with the buyer demographics in mind.
"If your home is a typical family home, the master bedroom should be close to the kids' bedrooms," Ms Hayes said.
"You might also wish to include a bathtub (ideally an inbuilt one which is low enough to bathe a toddler)."
Lastly, she said it's important to get a professional building designer to help with the planning, even if you're intending on mostly DIY ventures.
"Mistakes are always cheaper on paper," Ms Hayes said.
"During the planning stage, crunch points are identified and can be resolved way before you start swinging the hammer and potentially waste your money."
The best way to finance a renovation
In terms of finance, a few experts chimed in to give their opinion on the best way to go about it.
Diaswati Mardiasmo, PRD Chief Economist, said that it of course depends on your individual situation, and that renovators need to spend time with their financial planner or accountant to strategise the best way forward.
"However broadly speaking, a home equity or construction loan is the go-to loan type, as they generally have a lower interest rate and can cover higher loan amounts," Dr Mardiasmo told Savings.com.au.
"Credit cards and personal loans can have less favourable conditions such as higher interest rates, shorter pay window (before penalties), and higher penalty fees. However they might be easier to exit without fees."
Dr Mardiasmo said many renovators would use a combination of these loans.
"For example a home equity or construction loan for the main renovation or build, and credit cards for anything ADHOC and of smaller value," she said.
Kev Tilley, Managing Director of Mortgageable, said there's no 'one-size-fits-all' approach to financing a renovation.
"There are many ways to finance a renovation project but the best one would be determined by the type and the size of the modifications you want to make," Mr Tilley told Savings.com.au.
"For example, your renovation can only be financed by a construction loan if you are making any structural changes to the house.
"The lender will calculate the value of your post-renovation property and subtract the amount of any current mortgage, which will be to your equity."
Mr Tilley said if you can borrow up to 80% of this amount and, if it's viable, then you can go for it. He also pointed out that this way, you only pay interest on the amount you end up using on the renovations.
"Home equity loans are essentially the same, but you can only borrow on the current value of your house which might lower the available amount," Mr Tilley told Savings.com.au.
On the personal loan and credit card front, he said these have higher interest rates than the other options.
"Having said that, they are still cost-effective for small-scale renovations in the short term since the fees for establishing home equity or construction loans are higher for the same," Mr Tilley said.
Overcapitalising and how to avoid it
The goal of renovating is to add value to your home, right? What happens if this doesn't end up happening? Usually, the culprit is what's called 'overcapitalisation'. When you overcapitalise on renovations, you have essentially overspent on your improvements and they haven't added enough value to the property to make your money back. Essentially, your renovation didn't add the value you might have thought it would. For example, if you spent $30,000 on a new kitchen, but it only added $10,000 in value to your home - you likely overcapitalised.
According to Dr Mardiasmo, overcapitalisation happens when:
Renovators invest in creating a home that they would like (i.e. their dream home), as opposed to a home that would sell (quickly) and profit in the market

You have not performed a cost-benefit analysis. This means asking questions such as: is it worth us renovating this house from three bedrooms to four bedrooms? Is it better for us to just do cosmetic renovations as opposed to going to the next home type (i.e. extra bedrooms) bracket?

You have not involved all the right people (build & pest, engineer, builder) prior to purchasing. It is not uncommon for renovators to think they only need to do cosmetic renovations, turns out it need to be structural. Structural renovations can cost double or triple, and outweighs the value or re-sale price of the home.
Her main piece of advice to avoid overcapitalisation is to ensure you've done your calculations based on comparables (homes that are comparable to yours).
"Many renovators make the mistake of using the median price or the latest sale in the area, as opposed to like for like - number of bed/bathrooms, square metre, features (pool, backyard, number of garage), kitchen size, location within the suburb (closer to the road, in a cul de sac, etc)," Dr Mardiasmo said.
Jane Slack-Smith, Property Expert and Mentor, also said there are a number of things people do that leads to overcapitalisation, and seconds using comparable properties as the 'easiest way' to not overcapitalise.
"Obviously we could try to warn home owners about not being emotional, but this is the where most budgets go wrong - that is if there is a budget. Which there should be," Ms Slack-Smith told Savings.com.au.
---
Image by Im3rd Media on Unsplash