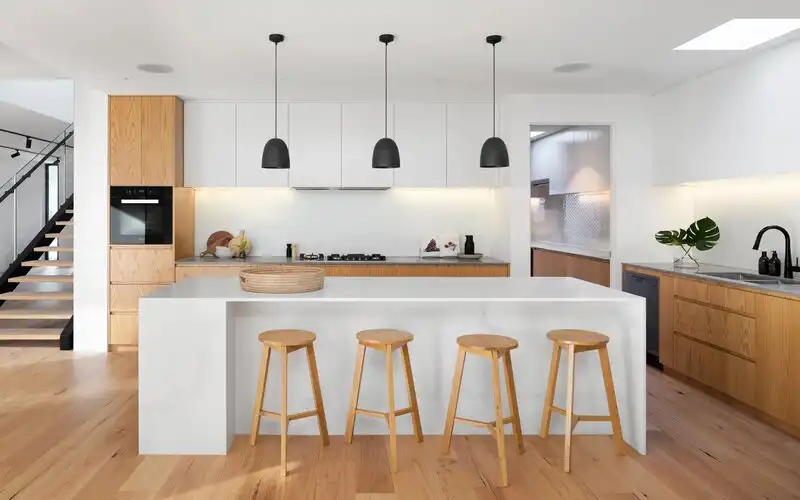 Struggling to get your Gordon Ramsey on? It might be time to renovate your kitchen, but first, you should know how much it could cost.
We all know how challenging it can be to cook without enough bench space, you panini head. Or worse, to cook on an old kitchen stove that smokes every time you turn it on (just me?).
If you live in an older home, you may find that your cooking space simply doesn't cut it. Whether you want to replace an appliance here and there or completely gut it and start over, you may be looking at a kitchen renovation project.
Kitchen renovations are pretty common, but it will come with a cost. According to a survey from online bathroom specialist The Blue Space, 35% of homeowners planned to spend $25,000 on a kitchen renovation project in 2021.
Budgeting for a kitchen renovation project can be tough and dependent on a few factors. Let's figure out how you can make it happen without it costing an arm and a leg.
In this article…
---
Advertisement
Building a home? This table below features construction loans with some of the lowest interest rates on the market.
Lender

---

Variable

More details

FEATURED

GET A DISCOUNTED GREEN RATE

Green Construction Home Loan (Interest Only)

Interest Only during construction
No monthly, annual or ongoing fees
Get Australia's lowest rate construction loan when you go green

Variable

More details

100% FULL OFFSET ACCOUNT

Offset Package Home Loan (Principal and Interest) (LVR < 60%)

Variable

More details

BUNDLE YOUR HOME LOAN AND YOUR INVESTMENT LOAN FOR MORE SAVINGS

Yard Investor Bundle Loan (Bundled with Home Loan)

Variable

More details

AN EASY ONLINE APPLICATION

Yard Investment Loan (Principal and Interest) (LVR < 80%)

Variable

More details

100% FULL OFFSET ACCOUNT

Offset Package Home Loan (Principal and Interest) (LVR 60%-70%)

Variable

More details

GREAT FLEXIBLE LOAN OPTIONS

Basic Home Loan (Principal and Interest) (LVR 70%-80%)

Variable

More details

FREE REDRAW FACILITY

Basic Investment Loan (Principal and Interest) (LVR < 60%)

Pay more to reduce the amount of interest you pay
Easily access additional funds in your redraw
Great rates and low fees

Variable

More details

Yard Investment Loan (Principal and Interest) (LVR > 80%)

Pay more to reduce the amount of interest you pay
Easily access additional funds in your redraw
Great rates and low fees
Interest Only during construction
No monthly, annual or ongoing fees
Get Australia's lowest rate construction loan when you go green
Base criteria of: a $400,000 loan amount, variable, fixed, principal and interest (P&I) home loans with an LVR (loan-to-value) ratio of at least 80%. However, the 'Compare Home Loans' table allows for calculations to be made on variables as selected and input by the user. All products will list the LVR with the product and rate which are clearly published on the Product Provider's web site. Monthly repayments, once the base criteria are altered by the user, will be based on the selected products' advertised rates and determined by the loan amount, repayment type, loan term and LVR as input by the user/you. *The Comparison rate is based on a $150,000 loan over 25 years. Warning: this comparison rate is true only for this example and may not include all fees and charges. Different terms, fees or other loan amounts might result in a different comparison rate. Rates correct as of June 29, 2022. View disclaimer.
---
What counts as a kitchen renovation?
Does installing a new microwave count as a renovation project? No, but if you're building a brand new set of shelves, one of which is the new designated microwave spot, then yes.
A kitchen renovation project doesn't have to mean you're completely gutting the kitchen and starting from scratch. You could go for a more cosmetic renovation where you're just making it look pretty, or a structural renovation where you could look at knocking down walls, moving cupboards, benches - everything and the kitchen sink, pun intended.
Structural kitchen renovations
Structural renovations involve changing the actual structure of your home. Whether that means knocking down and building new walls, changing the locations of the sink, the benches, the cupboards, or even the doorway leading into or out of the kitchen - that is totally up to you. Anything that involves changing the foundations of the home, the framing or even the roof would be considered structural.
Cosmetic kitchen renovations
On the other hand, cosmetic renovations are more surface level. Cosmetic renovations can add a new feel to the kitchen and make it look different without making substantial changes to the structure of it. For example, replacing the benchtops, painting the room/cupboard doors, redoing the floors, and so on would be considered cosmetic. This is because it's more for a visual effect than a structural one, and won't require any major changes to the home.
What can influence the cost of a kitchen renovation?
Of course, the cost of your renovation project will depend on the scale of the renovations planned. If you're only replacing the benchtops and the cupboard doors, you'll face a cheaper job than if you plan on redesigning the entire shape and structure of the kitchen.
To speak from personal experience, I took on a very basic kitchen renovation project back in 2020. The main changes I made were some new wooden benchtops I bought from Bunnings, which I had cut to size and installed. I also had new cupboard doors made to fit onto the existing hinges. The whole house was painted and I replaced all the flooring (Bunnings really came in clutch). By the end, I'd estimate that renovating the kitchen cost around $1,000 to $1,500.
But this was just to make the kitchen usable and more visually appealing, and I did some of it myself which helped cut costs. If I were to renovate the kitchen properly (which it really needs), I would probably gut it and start over. Realistically, I'd need to spend a lot more than $1,500 to do up the kitchen.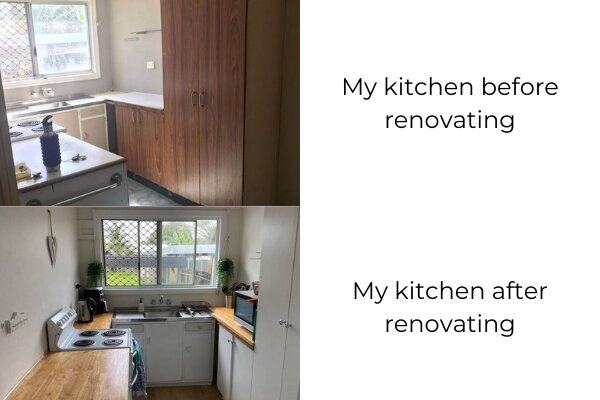 Factors that can influence the cost of a renovation project can include:
Labour costs (hiring a cabinet maker, electrician, plumber and so on)

The scale of the renovation (i.e. is it cosmetic or structural?)

Cost of materials

Size of the kitchen
Costs of common kitchen renovations
When it comes down to the dollars, kitchen renovations can vary greatly. Your costs will depend on exactly what you're having changed. For example, are you doing a basic renovation like I did, or are you doing what I wish I did and completely starting over? Regardless, let's talk about how much you can expect to pay.
Service.com.au said the average cost of a kitchen renovation in 2021 can fall into three categories based on a project with all new appliances, installations, plumbing, electrical work.
Basic: $17,000

Budget: $28,000

Luxury: $40,000
In earlier research (2015) from Domain, estimates within these groups varied but were still similar:
Budget: $10,000 to $25,000

Mid-range: $20,000 to $45,000

Luxury: $45,000 to $100,000 or more
With this in mind, let's discuss how much you could expect to pay different tradies for renovating your kitchen according to estimates from Services.com.au.
Electrician
Electricians typically charge by the hour, which can range from $80 to $130. The cost of an electrician can also vary depending on the complexity of the work, size and nature of the work, and if they will need to install appliances such as new lights, an oven, or stove tops.
If you're hiring an electrician, you'll probably also need to pay for new appliances. The cost of a new oven can range from $500 to $3,000 while a new gas cooktop can range from $250 to $2,000 according to Oneflare.
Plumber
If you're moving around your sink or installing a new one, you'll need a plumber. A plumber can cost anywhere from $60 to $120 an hour depending on the characteristics of the job.
According to hipages, the cost of a basic sink is $150, $400 or more for an above counter basin or around $950 for an under-mount sink.
Cabinet maker
If new kitchen cabinets hold appeal to you, you may need to hire a cabinet maker to measure up the place, design, make and install them for you. Again, the cost of a cabinet maker can vary depending on the size of the job, the materials used, and so on.
As an estimate, most cabinet makers charge $55 to $110 an hour but for custom cabinetry, you could be looking at $120 an hour.
Painter
You may need a painter at some stage, especially if you're redoing your whole kitchen, to chime in on what colours won't clash with the rest of your cabinetry/keep the new cabinets undamaged. You could potentially paint your kitchen yourself, but most painters are quite experienced in picking colours and ensuring that the job is neat and clean.
Painting your kitchen walls will, on average, cost 50% less than most other rooms due to the space taken up by cabinets, drawers, and so on.
Services.com.au said to expect to pay around $1,000 to paint your kitchen, or roughly $30 to $60 per linear foot.
Flooring
You could also potentially do the flooring yourself depending on what you want installed, how much time you have, your budget and so on. But let me speak from experience and say, if you want your floors to look amazing, just pay someone else to do it. Paying someone to install your flooring - whether it's tiles, floorboards, vinyl, concrete or any other material - could be worth it.
Your costs will vary depending on the type of flooring you want installed, but floor installers charge on average $35.50 per square metre.
How has COVID affected the cost of renovating?
You may have heard about the supply chain issues and high demand for construction workers to build brand new homes, not to mention HomeBuilder bringing forward demand for tradies.
Most tradies are in short supply at the moment when it comes to kitchen installations - whether it's for a brand new kitchen being built or one that's being renovated. Unfortunately, odds are you'll be waiting quite a while before you can finish off a kitchen renovation project. Not only are the labour costs higher - so are the costs of goods.
Bernadette Janson, Host of She Renovates Podcast, said trade prices have risen significantly as a result of shortages. Having renovated three kitchens in the past year, she experienced first-hand just how bad the shortages have been across Australia.
"Toward the end of 2021 we were doing a project in Newcastle and found the shortage worse there. Leading into Christmas we were looking at a four month wait - minimum," Ms Janson told Savings.com.au.
Ms Janson said that she would usually go 'flat pack', but that she was faced with similar wait times from joiners and IKEA was unable to supply all the kitchen components she was looking for.
"In the end, I bought a new display kitchen from a developer," she said.
"[I purchased a] full Miele kitchen including an integrated fridge and dishwasher, oven, microwave, cooktop and range hood with Carrera Marble benchtops and an island for $8,000.
"We needed to adjust our plan and colour scheme slightly to accommodate the new changes, but it delivered a quality kitchen instantly."
Kitchens renovated by Bernadette Janson, images supplied.
Tips to manage the costs of a kitchen renovation
Ms Janson shared her tips to manage the costs of renovating a kitchen.
"If you go to a one stop kitchen or bathroom company, you will pay a premium to cover their overheads including a full time designer, showroom and so on," she said.
"You will also pay a mark-up on the trades, materials and cabinetry plus some padding which can all add up to quite a lot of money.
"Instead, we organise our trades and cabinet maker individually. This means we have to coordinate the work but to be honest, it's how I like it because it gives me full control of the project."
Ms Janson also provided us with her top seven tips for a successful renovation project.
Be super organised. Get your tradie quotes and source materials as early as possible so you can detect problems early and have time to find a solution.

Source sanitary ware, tapware, appliances and tiles yourself so that your tradies don't have to waste precious time sourcing.

Have your materials on site early so when the tradies turn up, you are ready to go; you're not wasting their time (or your own).

If possible, seek fixed price quotes, although that has been challenging as the tradies haven't wanted to spend the time quoting. Sometimes you have to go with a day or an hourly rate. If you do, monitor and supervise as much as you can.

Often a good handyman can be invaluable for doing all the little jobs that pop up at a reasonable rate

If your budget is really tight, you can watch the renovation auctions for job lots of tiles, tapware, and so on.

Some tradies I couldn't get at all so I organised accommodation and brought them up from Sydney and the Central Coast to get the job done.
Savings.com.au's two cents
Clearly, there is no 'one size fits all' approach to renovating a kitchen. Chances are, no matter what you're doing to your kitchen, there's no way we can estimate how much it will cost you. But hopefully you can use this article as a starting point when it comes to budgeting, getting ideas, and finding out how you could get the job done.
From experience, refreshing your kitchen doesn't need to be a super expensive endeavour. It will come down to you and your home - what it looks like now, what you want it to look like, and how much you're willing or able to spend.
---
Image by R ARCHITECTURE on Unsplash