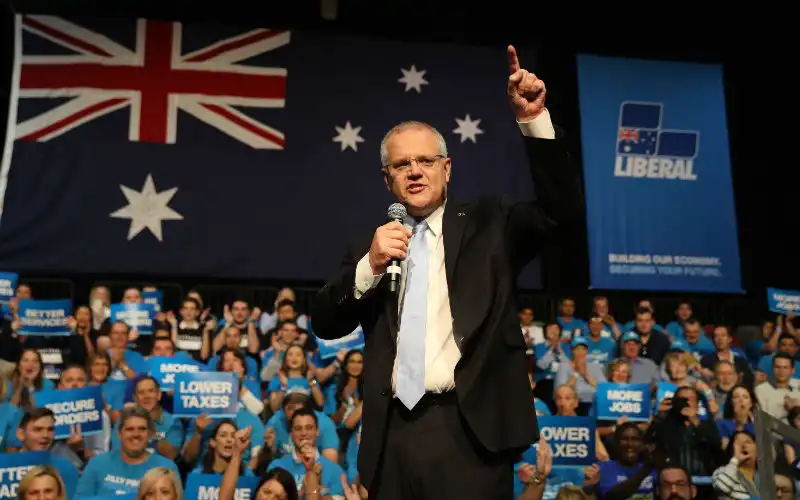 Photo source: twitter.com/ScottMorrisonMP
The election is over and the Liberals have retained government in a somewhat surprising result. Will this cause house prices to rebound, or will they continue to fall?
The Labor opposition – who were favourites to win prior to the election – had promised some big taxation changes to housing, including limiting the tax benefits of negative gearing to new properties and halving the capital gains tax discount from 50% to 25%.
But with the LNP's victory, these changes will not go ahead, an outcome that has been celebrated by many in the housing and real estate markets.
Property Council of Australia chief executive Ken Morrison said the election results showed Australians had "rejected risky taxation changes at such an uncertain time in the property cycle".
"A key plank of the Opposition's policy agenda were big changes to negative gearing and big increases to capital gains tax, and the election result can only be seen as a repudiation of this policy," Mr Morrison said.
"Construction activity is falling sharply, house prices are declining and economic growth is slowing – this was the wrong policy and the wrong time."
Both house prices and home lending have fallen in recent months and years.
According to Core Logic, the national average dwelling value fell by nearly 7% from March 2018 to March 2019, while the latest Australian Bureau of Statistics home lending figures show a 10.5% annual fall in lending to households.
Will we see a post-election rise in house prices?
Simon Pressley, Head of Research at property market research firm Propertyology, is of the opinion that house prices generally won't be affected too much by Saturday's election result.
"I've always maintained that whether it's an election, whether it's tax policy like negative gearing or stamp duty, the things that have the biggest influence on property markets are local economic conditions," Mr Pressley told Savings.com.au.
"When there's an event like an election, it dominates all our devices and the masses assume it's the most important thing but it's not.
"The election being out of the way means we've now got some certainty, which will give a general lift in confidence, but markets over say the next 12 months won't be determined by Saturday's result.
"It might add an extra 1-2% increase across the board to median house prices."
When asked whether Labor's proposed changes to negative gearing and capital gains tax had a significant effect on recent falling house prices, Mr Pressley said it wasn't the biggest factor.
Again, I don't agree proposed negative gearing changes will slash property values. Some genuinely believe it will, others saying it in attempt to influence election result. This isn't first & won't be last time I'm in minority. We all agree investors will enjoy much higher rents

— Simon Pressley (@SimonPressley) May 15, 2019
"While there's no doubt they didn't help, the fundamentals of property markets in large parts of Australia are still better than what they have been before the GFC," he said.
"What's stopped markets reaching their potential has been credit supply – there are plenty of people in this country with clean income and credit who can't get finance whether it's for residential or investment properties.
"I guarantee it, our ridiculously tight credit supply will push Australia into a recession if it doesn't change."
The very first thing for ScoMo and Frydenburg to do on Monday morning is to storm in to APRAs office and demand that their economic plan be given a chance to propel Australia forward

Cut the loan assessment rate 6.25%

— Simon Pressley (@SimonPressley) May 18, 2019
The loan assessment rate in Australia is currently 7.25%, meaning loan repayments are assessed at their capacity to meet repayments at an interest rate nearly 4% above some of the lowest current home loan interest rates.
Mr Pressley believes this loan assessment rate should be cut down to 6.25%, which he said is still very high.
"That still means they're assessing loans at a 2.25% rate above the absolute highest a borrower will be paying – that's nine cash rate rises," he said.
"That's the single most important thing, even more so than negative gearing or who's in office."
According to Real Estate Institute of Queensland General Manager Josh Callaghan, a Labor election victory may have actually caused a short-term bounce in the market.
"I suspect that we may have seen a more direct increase in property prices if Labor were elected as investors scramble to take advantage of the last of the negative gearing benefits before they were due to be scrapped in January 2020," Mr Callaghan told Savings.com.au.
"Long term though, their proposed policies would have shut out much of the investor market from established dwellings which would, in turn, soften property prices across Australia."
"Destiny back in your hands now"
Whether it's investors or first home buyers, Mr Pressley believes there's no time to buy like the present.
"I think there'll be more people with a spring in their step today. The people who were looking to buy property can no longer use Labor's changes as an excuse," he said.
"You're only harming yourself if you don't invest – your destiny is back in your own hands, it's up to each Australian what they do with it."
First home buyers are also set to benefit thanks to the Morrison government's proposed 'First Home Loan Deposit Scheme'.
This involves the government guaranteeing the additional amount needed to reach the 20% threshold, helping 10,000 first home buyers per-year avoid Lenders Mortgage Insurance.
First home buyers will get a significant leg up with our new initiative to slash the size of a home loan deposit. We want to help make the dreams of first home buyers a reality.
Read more: https://t.co/NkOjWVOSu1#BuildingOurEconomy pic.twitter.com/mECCJgwemD

— Scott Morrison (@ScottMorrisonMP) May 12, 2019
Unlike negative gearing and capital gains, this was not dependent on the winner of the election, as Labor had promised to match this scheme despite calling it a "desperate" attempt by the Coalition to try and relate to struggling first home buyers.
Mr Pressley described the scheme as a "wonderful thing", and said it's surprising no one has done something like it before.
"It's a genuine wonderful initiative to help first home buyers," Mr Pressley said.
"I've always been critical of the so-called 'First Home Owners Grant', which is really just a construction grant for new homes and mainly benefits developers."
"This is a genuine first home owners grant, and someone contemplating that life-changing decision now has a genuine date and call to action to break themselves into the property market."
There are some concerns this scheme could lead to first home buyers leading themselves into negative equity due to borrowing more of the property's value, and some industry experts, such as EY chief economist Jo Masters, believe it will drive prices up.
"Policies like this tend to drive up prices. First-home buyers will be able to borrow more than they would have done otherwise, it will generate more demand in a sense and bring prices up," Ms Masters said.
---
Latest Articles