That's according to the latest Household Impacts of COVID-19 survey by the Australian Bureau of Statistics (ABS) for January 2021.
The monthly survey of almost 5,000 households asked if people's household finances had stayed the same, improved or gotten worse due to COVID-19, and found 77.6% said they'd been unchanged in January.
That's compared to 14% saying their finances had worsened and just 8% saying it had improved.
This is a notable change from the first of these surveys in April, in which 31.4% of respondents reported worsening finances.
Back then, 55% said things were unchanged and 13.7% improved, which was mainly thanks to the influx of stimulus payments to poorer Australians.
See also: 20% are receiving more on JobKeeper than their regular income (June)
In September 2020:
72% had no change in finances
16% said it was worse
12% said it was better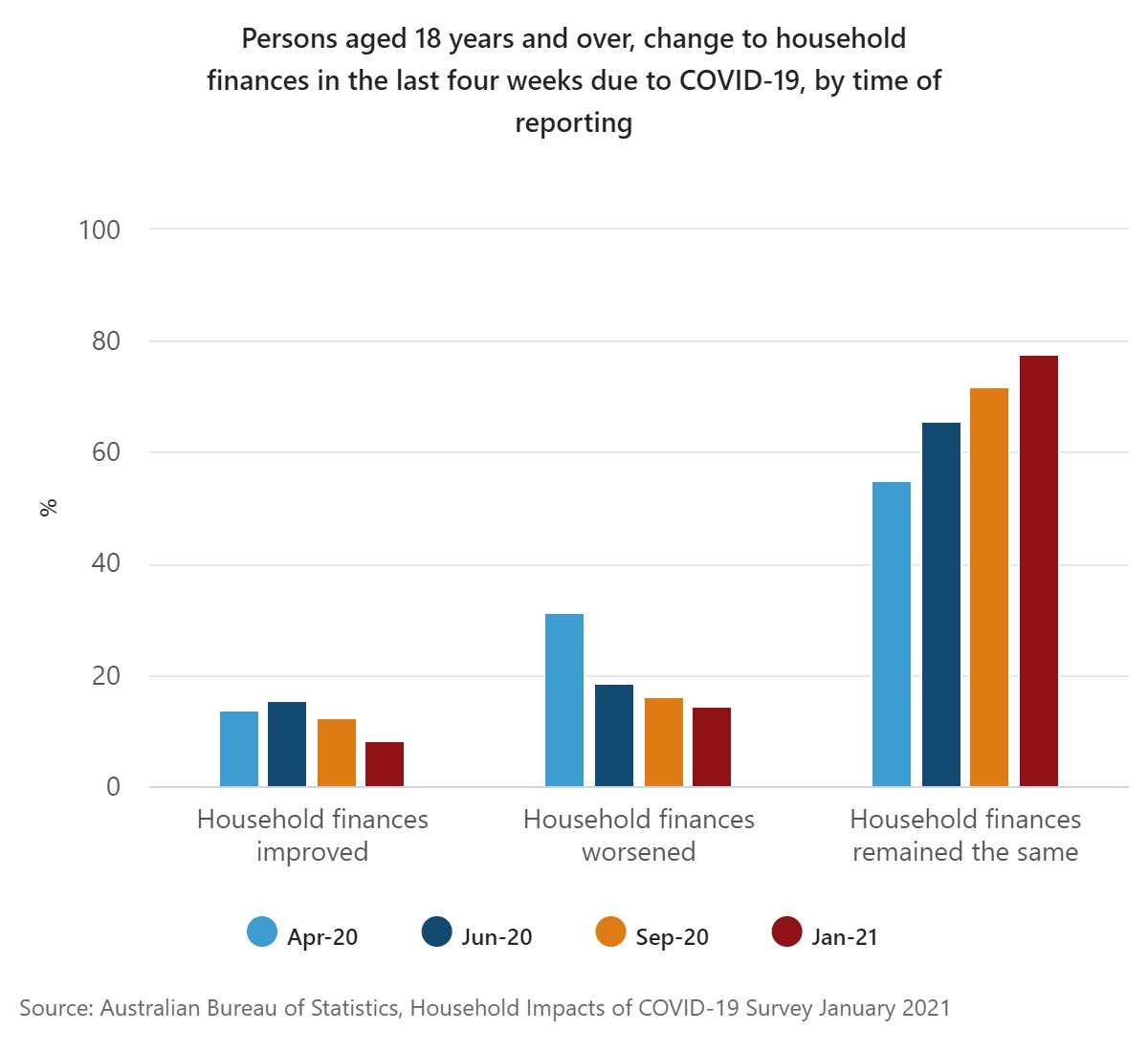 Source: Australian Bureau of Statistics
Broken down by age, household finances got worse for 18-34 year olds (17%), while interestingly, 44% of those who reported worse finances said it was not because of coronavirus at all.
Of those whose finances had worsened, three in five (61%) reported it was due to a change in income. Meanwhile, 60% of those with improved finances also reported a change in income.
Nearly a quarter (21%) put their financial status changes entirely down to the virus.
In what might be a promising sign, 80% reported they would be able to raise $2,000 for an emergency within a week, and just one in 13 (8%) said they were unable to pay one or more bills on time due to a lack of money.
Just 6% reported being unable to raise even $500 for an emergency in a week.
See also: A summary of how coronavirus has changed our economy
Spending set to increase on food and fun
Respondents were also asked what they were likely and unlikely to spend more or less money on in the next four weeks, in categories like clothing, transport, and other essentials as well as non-essentials like eating out.
Across all categories, 'expect to stay the same' was the most common answer, but the incidence rate of this answer was relatively low for household furnishings at 62.8%.
But some are likely to see an increase in spend as Australia continues to transition back to normal ahead of the national vaccine rollout to start this week.
Australians plan to increase their spending in the coming weeks on recreation and leisure (17.2%), motor vehicle costs (16.2%), eating out (11.4%) and household furnishings (10.4%).
The latter is also set to see the biggest fall in spending (21.1%), while takeaway meals (16.1%) and drinking in public venues (19.5%) may see large decreases.
| | | | |
| --- | --- | --- | --- |
| | Expect spending to stay the same (%) | Expect spending to decrease (%) | Expect spending to increase (%) |
| Personal care | 83.0 | 8.3 | 5.8 |
| Take-away or delivered meals | 77.5 | 16.1 | 4.4 |
| Motor vehicle costs | 74.4 | 6.8 | 16.2 |
| Taxi and ride-sharing fares | 73.1 | 15.6 | 5.5 |
| Public transport | 71.0 | 15.0 | 9.6 |
| Clothing or footwear | 70.2 | 15.9 | 8.0 |
| Drinks in pubs, hotels or bars | 68.4 | 19.5 | 7.0 |
| Eating out | 67.7 | 18.4 | 11.4 |
| Recreation or leisure activities | 65.0 | 13.2 | 17.2 |
| Household furnishings and equipment | 62.8 | 21.1 | 10.4 |
Source: ABS
According to the survey, those most likely to increase their spending were Victorians, who were most likely to boost spending on:
recreation or leisure activities (e.g. going to cinemas, playing sports, gym) (31%)

motor vehicle costs (e.g. fuel, repairs) (25%)

eating out at cafés, restaurants, pubs or bars (23%).
"At the time of the survey, Victoria had eased or lifted most of the restrictions which had been in place since their second wave of the COVID-19 pandemic from June," the report said.
"Other states and territories had already eased most restrictions with the exception of targeted lockdowns put in place to manage the spread of cases from local transmission."
Photo by processingly on Unsplash