Australians are saving 36% more than they were five years ago and debit card usage has increased 30% over the same period, new research from ANZ shows.
The ANZ Roy Morgan Financial Wellbeing Indicator, released today, shows how the financial behaviour of Australians has improved over the last five years.
From December 2014 to June 2019, the financial wellbeing indicator rose from 57.4 to 59.7 (on a scale of zero to 100).
"While this might look like a small increase, a 4% rise in financial wellbeing is notable, particularly amid challenging economic conditions, such as Australia's recent period of low wage growth," the report said.
The overall increase in Aussie financial wellbeing was driven by improved financial behaviours, including saving more, restraining spending, not borrowing money for everyday expenses, and tracking spending.
ANZ Deputy CEO Alexis George said the results were promising.
"We are encouraged to see Australians are generally meeting more of their daily financial commitments and are more financially resilient than they were five years ago," Ms George said.
"We want to help Australians to continue to improve their financial wellbeing and we believe the Indicator will provide the data and insights needed to ensure we're helping our customers to adopt the habits and behaviours that will make the biggest difference."
Aussies are saving at their highest level in five years, with median savings rising from $4,110 in 2014 to $5,640 in December 2018.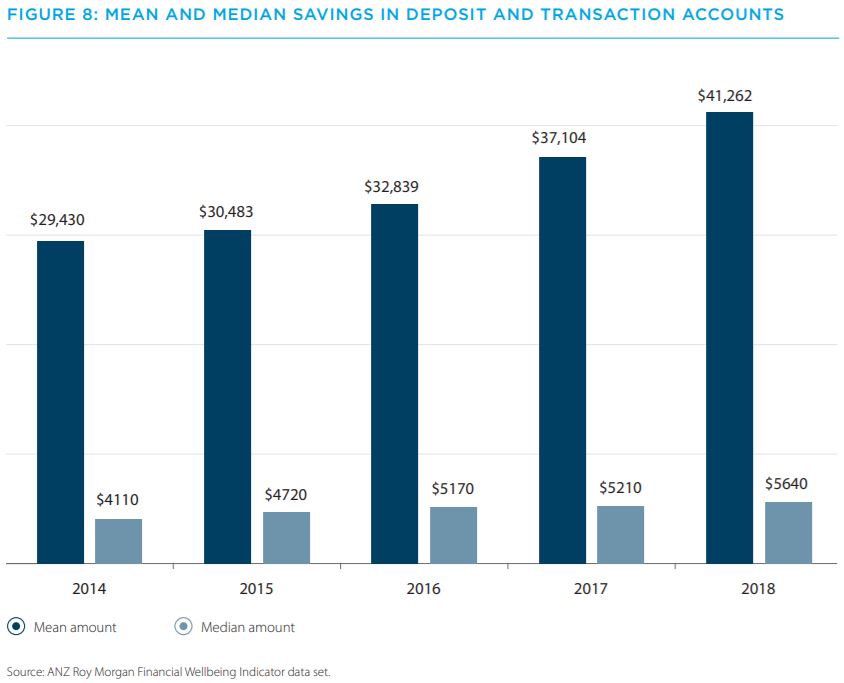 Source: ANZ Roy Morgan Financial Wellbeing Indicator
The research also found that Australians are less likely to borrow on credit, with credit card ownership dropping by 4.2% in the last five years while debit card ownership has soared 13.3% in the same period.
"It is important to acknowledge the increasing use of instalment-plan loan services such as those from Afterpay and Zip," the report said.
"Use of these products is not included in the official statistics because they are not considered loans from a regulatory perspective."
Australians are also cutting back on their spending, with the percentage of income spent on living expenses dropping by 4% over the last five years.
"Another behaviour that drives financial wellbeing is spending restraint. This can be defined as moderation of spending to ensure an individual does not run short of money due to overspending, and does not buy things they cannot afford. Australians have adapted to lower wage growth in recent years by restraining their spending," the report said.
Less young people have home loans
Perhaps unsurprisingly, the number of young people with home loans has dropped significantly.
The number of people aged between 30 and 34 with a home loan has dropped by 2.1% in the last nine years.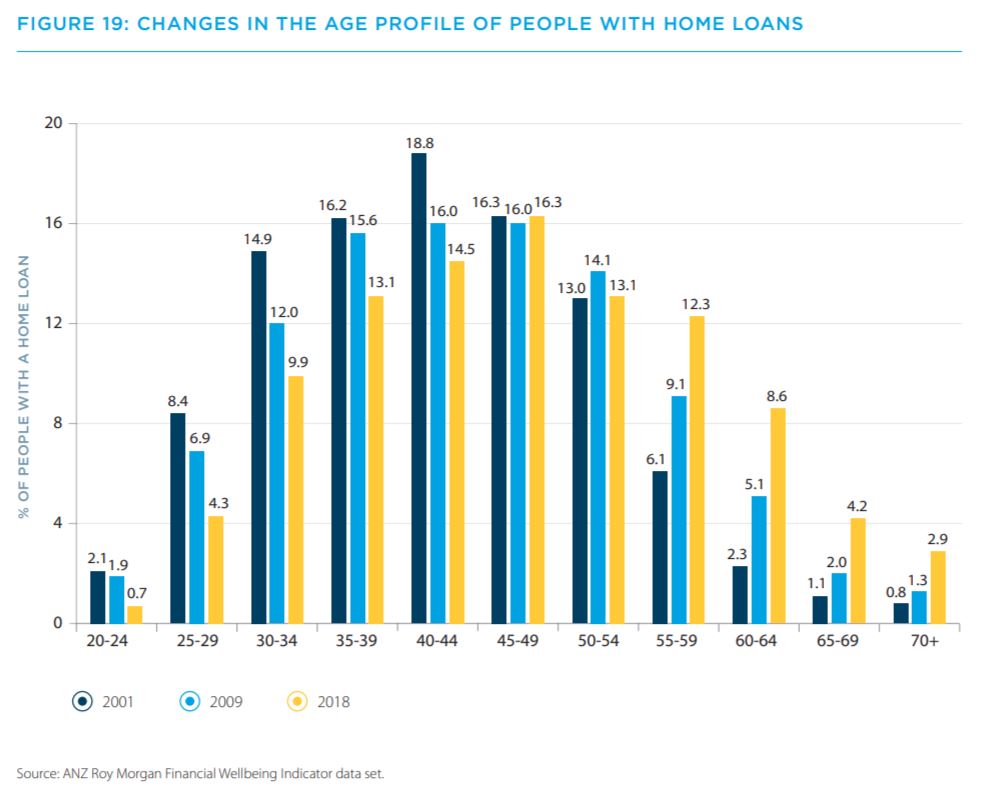 Source: ANZ Roy Morgan Financial Wellbeing Indicator
Australians are also taking longer to pay off their home loans, with the time increasing by 7.1% since 2001.
"While paying off a home loan leads to outright ownership, which is good for financial wellbeing, paying them off later in life is a reflection of how social and economic factors are changing as people pursue financial wellbeing," the report said.
The number of people living in share houses increased from 8.1% to 8.7% over the last five years, while the number of people living with their parents increased from 10.3% to 11.9% in the same period.
"Some economic factors, such as the decline in wages growth, can make financial wellbeing more difficult to achieve. Australians have adapted to this by restraining their spending and living in larger households: younger people are staying at home longer and there are more people living in share households."