Accenture's research, commissioned by NBN Co, analysed the relative affordability of Australian broadband when compared with a selection of peer countries with similar broadband products.
According to the report, between the 2018 and 2020 financial years, Australia saw the largest improvement in internet affordability among the countries analysed.
Of the 2,420 customers surveyed, more than 85% reported no concerns with NBN affordability.
Average monthly spend equated to $78.
The average weekly household spend on NBN services was only 1.1% of household income, cheaper than water (1.3%), and electricity (1.6%).
Dr Andrew Charlton, Managing Director at Accenture Australia, said bills for major household essential services may be at the forefront of personal finances now that people are spending more time at home.
"Our analysis of the customers surveyed has found that the current perception of the cost of services over the NBN network is predominantly positive, especially with consumers spending more time online than ever before," Dr Charlton said.
"This research builds on previous research from Accenture which revealed customers derive $1,920 in value from their service every year, more than twice what they currently pay for their service.
"This equates to $15.7 billion in the total value that connected Australian households derive from the NBN network per annum."
Lockdowns and internet
According to the Australian Competition and Consumer Commission (ACCC), NBN services make up 89% of total residential broadband internet.
Additionally, the latest ACCC internet activity report shows that lockdowns have strongly impacted internet usage.
The total volume of data downloaded over mobile networks increased by 23% over the past year, and are up 60% over the past two years.
Total volume of data downloaded for retail NBN, retail non-NBN fixed and mobile services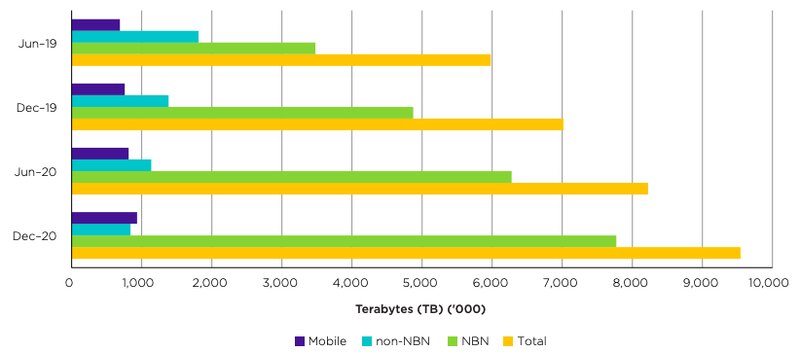 Source: ACCC Internet Activity Report
NBN rebate launched this month
From September, NBN Co will give internet retailers access to a new monthly wholesale rebate of $15 per new premise connected between 1 September and 28 February 2023.
The rebate is designed to help internet providers encourage additional eligible households in both regional and metropolitan areas across Australia to connect to the NBN.
Jane McNamara, NBN consumer experience expert, said that the initiative is designed to help reduce the affordability gap for unconnected households, across Australia.
"We want to ensure unconnected Australians, especially those questioning whether they can afford the benefits of connectivity, are aware of the great deals in the market," Ms McNamara said.
Image by Maik Wi via Unsplash