Commonwealth Bank's Household Spending Intentions (HSI) Series released yesterday indicates there's been subdued responses to Australia's economic policy stimulus, with consumers reluctant to spend money on consumer goods.
The HSI series covers about 55% of Australia's total consumer spend across various different sectors, and CBA's research found retail spending intentions "are bouncing back but seem stuck below the zero line".
According to CBA's report, the government's tax cuts have improved household ability to spend, but most people seem to be saving this money instead of splashing it.
CBA Chief Economist Michael Blythe said there's been a "modest response" to policy stimulus.
"The weakness in the HSI indicators is centred on spending on 'goods', which continues to track sideways at low levels. In contrast, spending on 'experiences' is generally trending higher," Mr Blythe said.
"Retail sales spending intentions are bouncing around at low levels – with the recent increase in disposable income finding its way into savings, rather than spending."
Other recent data supports Commbank's view.
The Westpac-Melbourne Institute Index of Consumer Sentiment fell by 1.9% in November, with Wesptac Chief Economist Bill Evans saying poor consumer confidence is driven by a generally poor outlook on the economy.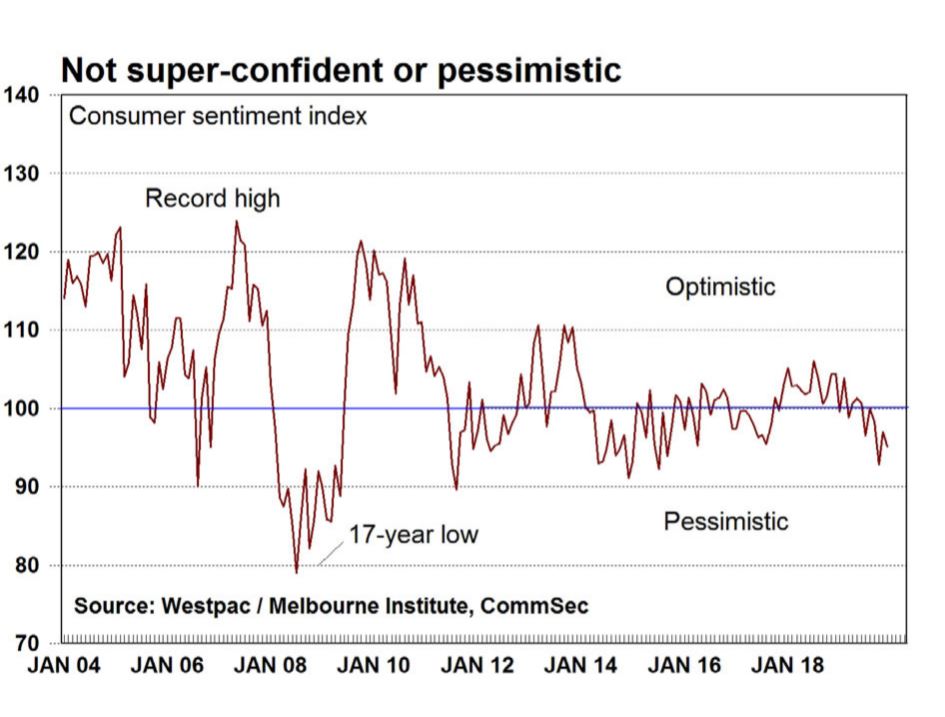 NAB's Chief Economist Alan Oster meanwhile said in NAB's latest Cashless Retail Sales Index for November 2019 that the retail sector will continue to underperform.
"Higher unemployment, sluggish wage growth and elevated debt will keep the brakes on spending growth, interest cuts notwithstanding," Mr Oster said.
"Ultimately, more stimulus is needed to fundamentally change this equation."
Black Friday sales to boost retail figures (sort of)
According to CBA, its series is yet to see a decisive break that means better times are ahead for consumer activity, but recent Black Friday and Cyber Monday figures should boost November's official retail figures from the ABS somewhat.
The National Retail Association forecasted $1.3 billion would be spent over the four days (29 November to 2 December) these shopping days take place in, while retail expenditure on Commbank branded cards increased by 87% compared to the three weeks prior.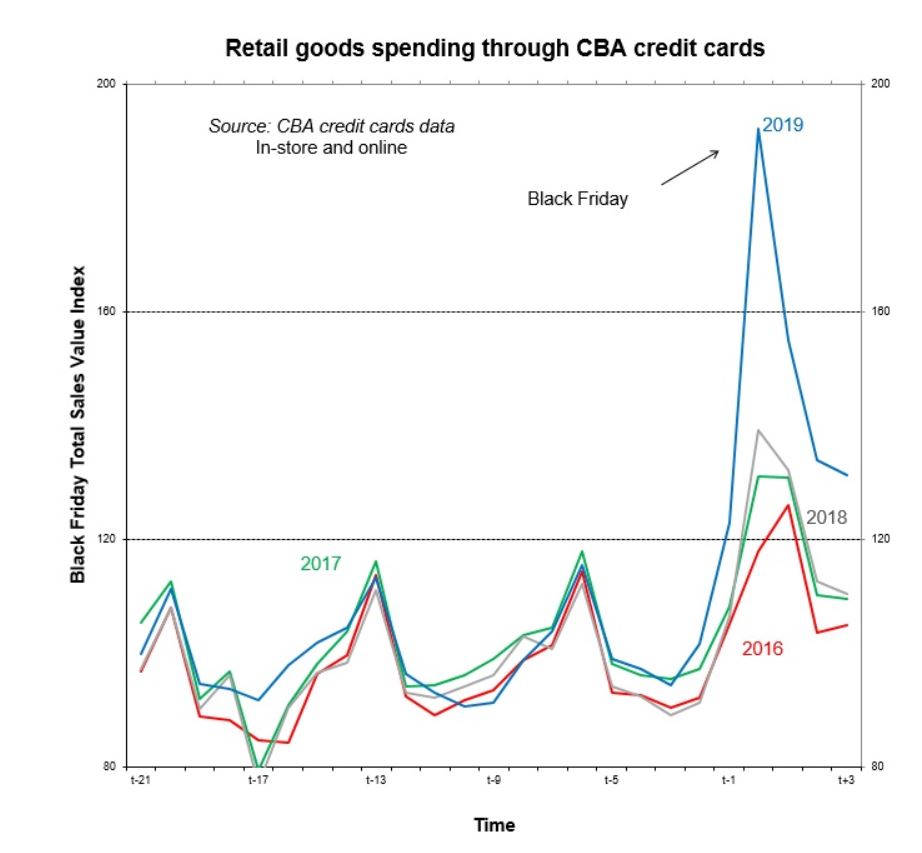 CBA says while incentives like Black Friday sales can encourage spending, it generally just shifts the timing of this spending from one point to another rather than increasing overall sales.
Black Friday splurging may result in weaker December figures, according to Mr Oster.
"Our forecast points to a solid ABS retail headline figure for November (+0.6%) – the strongest result since February this year if it transpires. However, there are reasons to doubt this represents a return to strength for the sector," he said.
"The much-expanded Black Friday –Cyber Monday retail sales are important because they are a reasonably new, and increasingly important, phenomenon, which means that the ABS's seasonal adjustment processes may not fully capture them.
"If this at least partly represents Christmas spending being brought forward, December may have some downside risk."
We want to spend more on travel
CBA's data shows there was a slight increase in travel spending intentions, although the series is yet to re-enter positive territory.
"Entertainment spending intentions are rising quickly. Travel spending intentions are inching higher. Education spending intentions are tracking at an elevated rate of growth. While intentions to spend on health & fitness have levelled out, the levelling is occurring at a solid rate of growth," Mr Blythe added.
Spending on 'experiences' is generally trending higher, although the low Aussie dollar is still causing overseas holidays to cost 5.8% more on average.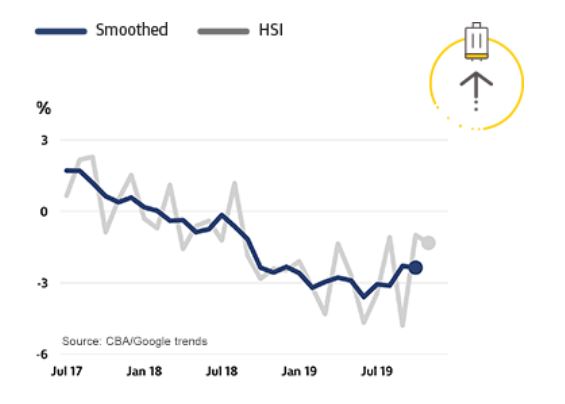 Source: CBA
There's been a pause meanwhile in the sharp upward trend in home buying intentions seen in recent months, although the home buying intentions series is still at near record highs.
Mr Blythe said rising dwelling prices and the subsequent positive wealth effect could be causing people to stash their savings.
"Dwelling prices have moved far enough that the retail spending HSI should be improving from here," he said.
HSI readings point to an ongoing pick up in dwelling prices and the historical experience is that retail spending intentions tend to follow dwelling prices with a two-month lag."
---
---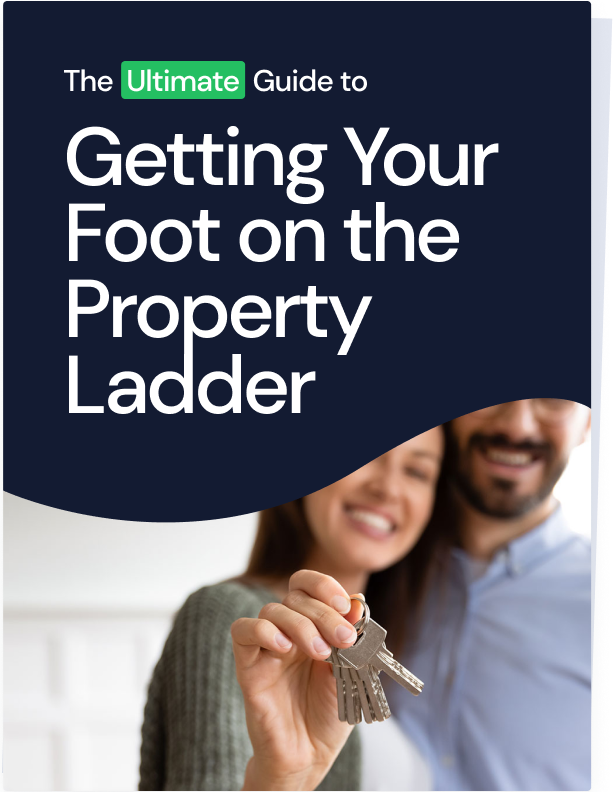 Ready, Set, Buy!

Learn everything you need to know about buying property – from choosing the right property and home loan, to the purchasing process, tips to save money and more!

With bonus Q&A sheet and Crossword!