The figures from the Australian Bureau of Statistics (ABS) were well above the forecasts of a 2.5% increase, however, GDP still remains lower than a year earlier.
Head of National Accounts at the ABS, Michael Smedes, said it was the first time in the 60 year history of GDP records that there had been growth of more than 3.0% in two consecutive quarters.
"The economy has continued to recover with activity increasing 3.1% in the December quarter following the 3.4% rise in September quarter," Mr Smedes said.
"However, despite the two consecutive quarters of strong growth, economic activity remained 1.1% lower than recorded in the 2019 December quarter."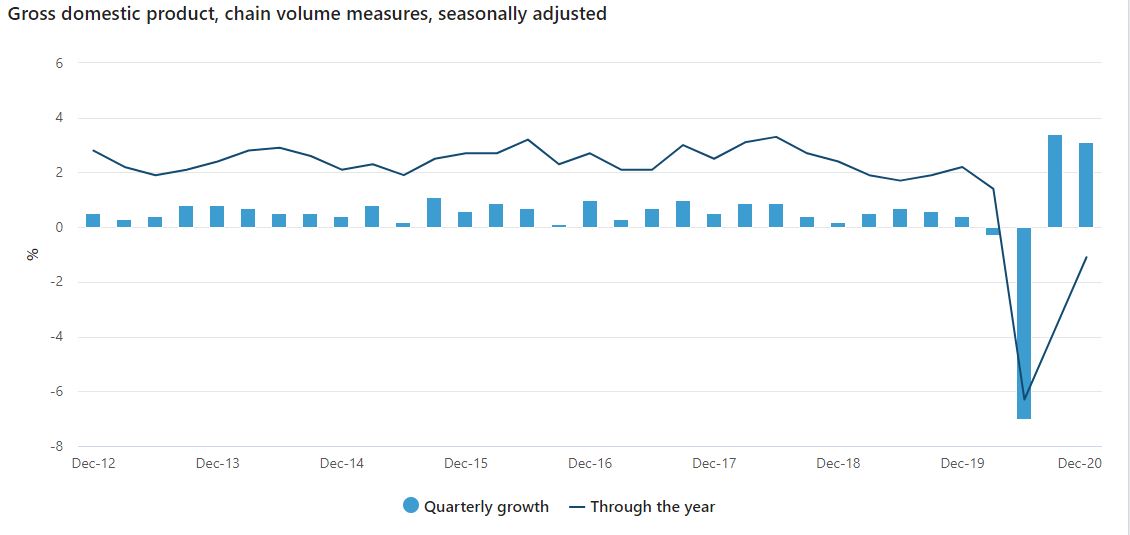 Source: ABS
Eased restrictions were a driving force behind the growth, with household spending increasing 4.3%, with Victoria experiencing the strongest rebound amongst the states and territories.
However, Mr Smedes said spending in Victoria was still significantly lower than prior to the pandemic.
"Despite growing at 10.4% for the quarter, household spending in Victoria was 7.2% below its pre-COVID level.
"Household spending for the rest of Australia, excluding Victoria, was 1.1% lower than pre-COVID levels."
Despite the strong growth in December, and a record rise of 7.9% in the previous quarter, household consumption remains 2.7% down through the year.
Purchase of vehicles increased 31.8% in the December quarter, the largest rise in the history of GDP, while spending in hotels, cafes and restuarants (+17.5%), and recreation and culture (9.1%), also drove recovery.
After falls in income and the increases in household comsunption, the household saving to income ratio declined from 18.7% to 12.0%, remaining at elevated levels.
Gross disposable income fell 3.1% in December, but was up 4.8% for the year, with the decline reflecting the rollback of JobKeeper, JobSeeker and other government support payments.
Westpac economist Andrew Hanlan said the economy had built serious momentum heading into 2021.
"Consumers and businesses are upbeat, state governments are spending up, the housing market is red hot and the vaccine roll-out is underway," Mr Hanlan said.
"Success on the health front has permitted the rolling back of most, but not all, COVID restrictions.
"Victoria emerging from a second lock-down boosted activity in Q4 and will do so again in Q1."
Mr Hanlan added the booming housing market and consumers being keen to spend had heavily contributed to the encouraging figures.
"Real estate activity (ownership transfer costs) surged a further 15.2%, after a 21.6% rebound in Q3, to be 15.3% higher over the year – with the established housing market booming.
"Consumer's ability and willingness to spend is the key dynamic – certainly the relaxing of covid restrictions provides consumers with more opportunities to spend."
Photo by Rose Lamond on Unsplash