Data provided by credit reporting agency Equifax highlights early indications of recovery following NSW 'freedom' recovery.
The Quarterly Consumer Credit Demand Index showed in the first week of NSW reopening after 15-weeks in lockdown:
Auto loans increased 33%;

Mortgages increased 15%;

Personal loans increased 10%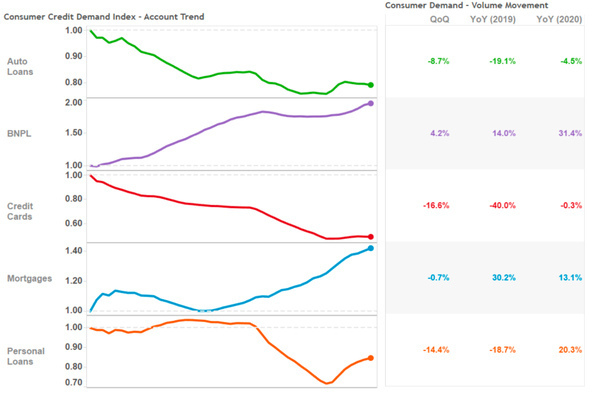 Consumer credit demand index. Source: Equifax
Driven by strong performance of buy now pay later (BNPL), mortgage and personal loan applications, the index reported consumer credit applications up 12.8% in the September 2021 quarter, compared to the same quarter in 2020.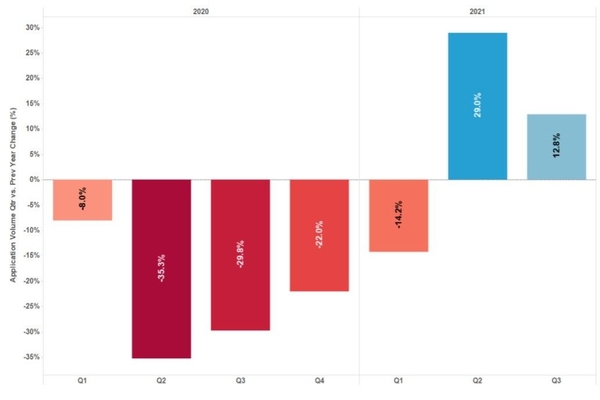 Quarterly year-on-year consumer credit demand. Source: Equifax
These gains aside, the index reported overall consumer credit demand remained 20.8% lower than its pre-COVID level.
General Manager Advisory and Solutions at Equifax, Kevin James, said mortgage and BNPL demand have remained strong in and out of lockdowns, but their gains haven't been enough to offset the drop in other categories of credit.
"Now that Australia is reopening, we can expect to see credit cards, auto loans and personal loans playing catch up," Mr James said.
However, international travel on the agenda again could see credit demand grow further.
"It should also hasten Australia's economic recovery that we're moving into a quarter that traditionally sees higher spending with Christmas approaching," Mr James said.
Lack of data leaves lenders shunning creditworthy customers
Launched today, the 'Risk Radar' report from credit reporting agency Experian highlights when it comes to consumer credit, the key challenge for lenders is to meet responsible lending obligations while remaining competitive.
The report shows lenders are taking a cautious credit risk approach while they invest in technology to analyse and assess applications accurately.
This comes as the report highlights two in three Aussie lenders say they are turning away creditworthy customers due to lack of data.
COVID impacts on loan deferrals, rising house prices and proposed changes to responsible lending regulations are key factors influencing lenders' conservative strategies.
Experian's General Manager of Decision Analytics Australia-New Zealand, Mathew Demetriou, said lenders may find themselves caught between a rock and a hard place.
"Lenders want to do all they can to help borrowers achieve their financial goals and avoid facing hardship or defaulting on loans, yet they must also balance this with the need to remain competitive," Mr Demetriou said.
"Decisioning technology that applies automation, data and analytics at the point of customer acquisition, can not only improve the speed of approval, but also ensures responsible lending obligations are met.
"This helps to reduce the risk of defaults and likelihood of hardship down the track."
---
Advertisement
In the market for a personal loan? The table below features unsecured personal loans with some of the lowest interest rates on the market.
Lender

---

Fixed

Unsecured

N/A

More details

APPLY ONLINE

Low Rate Personal Loan Unsecured (Excellent Credit)

No ongoing or early exit fees
Flexible repayment options
Get quick decision. Funds in 24 hrs if approved

Variable

Unsecured

N/A

N/A

More details
Simplified Borrowing - 100% online process makes it easy to apply for a loan anytime, anywhere
Personalised Rates - Get a fair interest rate that's personalised to you
More than a loan - Behind the scenes is a friendly and dedicated team ready to answer your questions
Important Information and Comparison Rate Warning
---
Image by Avery Evans via Unsplash