That's according to data from Roy Morgan's Gambling Currency Report, which evidences the gambling culture synonymous with Australia.
The report found that the Northern Territory contained the highest proportion of poker machine participants, with 23.6% of residents aged 18 plus having used a machine in an average three-month period.
This was followed by:
Queensland (14.9%),
New South Wales (including ACT) (14.2%),
Tasmania (13.5%),
South Australia (12.4%),
Victoria (10.6%), and
Western Australia (5.0%).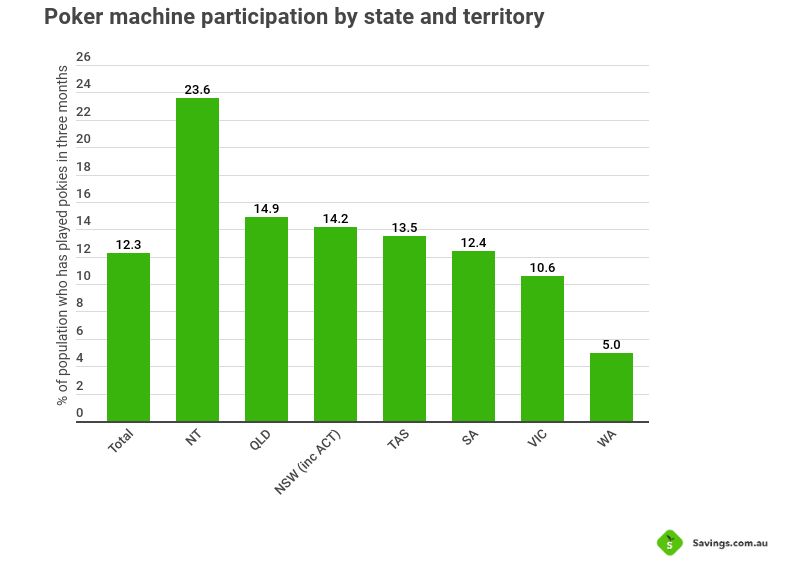 Source: Roy Morgan
Roy Morgan CEO Michele Levine noted that the poker machine participation rate in the Northern Territory was well above the national average.
"Over the past 18 years, the number of Australians using poker machines has halved, from 4.8 million to 2.4 million," Ms Levine said.
"When we look at the biggest users of poker machines, we see that the Northern Territory's participation rate of 23.6% - nearly one in four - is close to double the Australian average of 12.3%."
"That national average is pulled down by the low rate of 5.0% in Western Australia, where regulations prohibit poker machine use outside of casinos."
The report also analysed the rates of betting and found that in general, participation in betting has been in decline for many years.
"The exception is sports betting, which has experienced an increase over the past 12 to 18 months even as betting on racing has declined," Ms Levine said.
The Northern Territory also had the highest betting participation rate, with 15.3% of residents aged 18 plus having placed a bet in an average three-month period.
This was followed by:
Victoria (10.8%),
NSW (inc ACT) (10.0%),
WA (9.6%),
QLD (8.1%),
SA (7.4%), and
TAS (4.7%).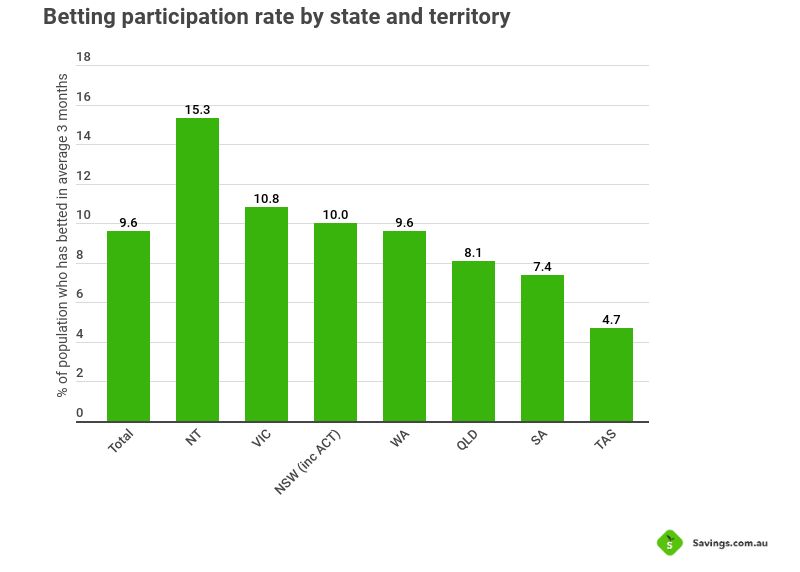 Source: Roy Morgan
Western Australia made up for its low pokie use by having the highest participation rate for lotteries and scratch tickets, with 52.8% of residents aged 18 plus having purchased a ticket in an average three-month period.
The Northern Territory wasn't far behind at 51.4% and was followed by Queensland and Tasmania, with the national average at a whopping 41.5%.
Despite these figures, Ms Levine said lottery participation had dropped since the turn of the century.
"Although the participation rates of both lotteries and scratchies have declined since the early noughties, both have remained fairly stable over the past five years," she said.
The Gambling Currency Report is compiled by in-depth face-to-face interviews with over 1,000 Australians each week in their homes.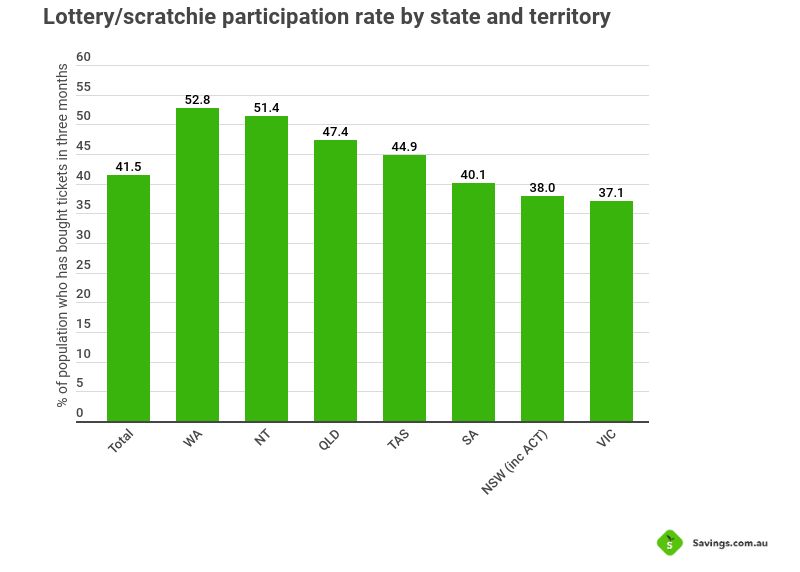 Source: Roy Morgan
Australians lose $25 billion on gambling
Despite the Roy Morgan figures showing a decrease in gambling overall, a report from the Queensland Treasury released in December found that Australians lost $24.887 billion on gambling in the year 2017 to 2018.
That was a 5% increase on the previous year, with New South Wales and Victoria the heaviest offenders.
Alliance for Gambling Reform Chief Advocate, Rev Tim Costello said the impacts of these disturbingly high losses could no longer be tolerated.
"Gambling harm encompasses everything from the loss of homes and relationships to the loss of lives through deaths by suicide associated with gambling harm," Rev Costello said.
"There are direct connections in some instances between gambling harm and family violence and mental ill-health.
"When you consider for every person directly experiencing gambling harm it is estimated at least six more people connected to those people experience some impact, we are talking about an issue that affects an extraordinary number of Australians."