Released by the Australian Bureau of Statistics (ABS), the new data follows a rise of 0.6% for the June 2019 quarter and largely matches forecasts from economists.
The result decreases the likelihood of a fourth cash rate cut next Tuesday when the RBA meets, with the numbers in line with the central bank's prediction for the year.
The most significant price rises for the September 2019 quarter were:
international holiday, travel and accommodations, up 6.1%,
tobacco, up 3.4%,
property rates and charges, up 2.5%,
and childcare, up 2.5%.
The most significant price falls for the quarter were:
ABS Chief Economist, Bruce Hockman said it wasn't all good news for food product prices.
"Despite the price falls for fruit and vegetables this quarter, the drought is impacting on the prices for a range of food products," Mr Hockman said.
"Prices rose this quarter for meat and seafood (+1.7 per cent), dairy and related products (+2.2 per cent) and bread and cereal products (+1.3 per cent)."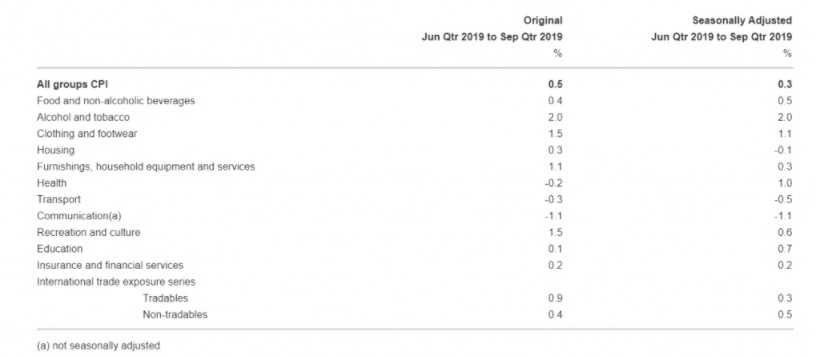 Source: ABS
Mr Hockman said the subdued quarter on quarter inflation growth could be attributed to lower housing costs.
"Annual inflation remains subdued partly due to price rises for housing related expenses remaining low, and in some cases falling in annual terms.
"Prices for utilities (-0.3 per cent) and new dwelling purchase by owner-occupiers (-0.1 per cent) both fell slightly through the year to the September 2019 quarter, while rents (0.4 per cent) recorded only a small rise."
In the capital cities, Adelaide and Canberra saw the biggest rise in inflation, at 0.7%, driven mainly by travel and tobacco.
Darwin saw the lowest rise in inflation, at 0.3%, with high rental vacancy rates, homeowner and sports participation concessions offsetting strong results in the international and domestic travel sector.
How will the Reserve Bank react?
RBA Governor Philip Lowe has previously stated that rate cuts have been aimed at reaching an inflation target of 2-3% and reducing unemployment to 4.5%.
The trimmed and weighted medians of inflation rose by 0.33% to be up to just 1.4% for the year, well below that target.
With unemployment marginally falling to 5.2% in September, from the previous month's result of 5.3%, it's extremely unlikely the central bank will cut the cash rate next week on Melbourne Cup Day.
Initial market reactions saw the odds of a rate cut drop to just 5%.
In a speech on Tuesday, Dr Lowe said the board was confident that rate cuts were supporting economic growth and recognised the need for balance and continuity.
"The Board is prepared to ease monetary policy further if needed," Dr Lowe said.
"Having said that, it is extraordinarily unlikely that we will see negative interest rates in Australia.
"It is likely though that we will require an extended period of low interest rates to reach full employment and for inflation to be consistent with the target."
Annual inflation has drifted up to 1.7% over the past year. But core inflation - the RBA's preferred measure - eased modestly to 1.4%. No signs of an inflation breakout pic.twitter.com/7dkAOIRbDX

— Callam Pickering (@CallamPickering) October 30, 2019