That's according to the Australian Competition and Consumer Commission's (ACCC) August 2019 electricity market report released today.
The reforms, based on recommendations in the ACCC's Retail Electricity Pricing Inquiry report, reduce and cap the excessive prices of electricity plans for customers who aren't on competitive market offers.
As a result, around 800,000 household customers and 160,000 small businesses on standing offers have been placed on newer, cheaper ones.
For small businesses, savings of up to $2,050 have been projected on average.
ACCC Chair Rod Sims said although the changes are a step in the right direction, more needs to be done.
"We are pleased about the positive changes in the electricity market so far, including a recent announcement of free energy advice tools for small businesses, but urge that other key recommendations be implemented if costs are to come down further," Mr Sims said.
"Prices of many standing offers have already fallen significantly, providing immediate and automatic savings for some households and small businesses.
"We estimate households on standing offers will save an average of between $130 and $430 a year, which is good news for these consumers, while for small businesses, projected savings range between $457 and $2,050."
The government will continue its crackdown on power companies as findings show tough pricing laws are working. pic.twitter.com/RU9wFgeiw2

— Sunrise (@sunriseon7) September 15, 2019
Smaller retailers offering the lowest prices
Consumers have been encouraged to shop outside of the 'big three' retailers (AGL, EnergyAustralia and Origin) to get the lowest price on their energy bill.
ACCC analysis found an average Sydney household could save around $100 per year by switching from the cheapest offer by one of the big three to the cheapest market offer available.
As of 12 July 2019, the annual cost of the cheapest market offer for average households depending on distribution zone was:
$290 to $380 lower than the standing offer price in New South Wales
$260 lower in south-east Queensland and
$300 lower in South Australia.
In Victoria, the cheapest market offer was $250-$300 a year below the maximum price.
"Our report shows that households can find an even better deal, potentially saving hundreds of dollars a year, by shopping around and looking at the offers of some of the smaller retailers in the market," Mr Sims said.
Advertising changes benefit consumers
The reforms have made it easier for customers to compare energy prices because advertised prices must be compared to a common benchmark, known as the reference price.
"The new advertising requirements also replace previous advertisements with confusing 'discounts' which could not really be compared with one another," Mr Sims said.
For example, prior to the reforms, a South Australian retailer advertised a conditional discount of 9%.
This would have cost the average consumer $560 more than the cheapest offer without an advertised discount.
Following the reforms, the ACCC found retailers have moved away from offering conditional discounts, instead making offers that are easier for consumers to understand and compare.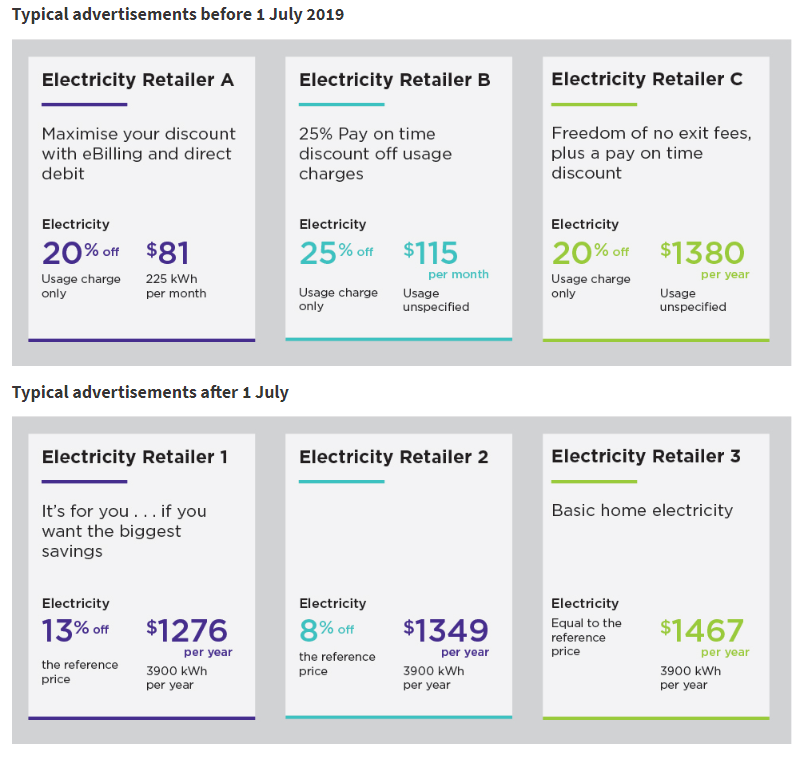 Source: ACCC