Research released Thursday by the Responsible Investment Association Australasia (RIAA), details the average performance of leading My Super responsible investment funds outperformed traditional super funds in their default products over a seven year span.
The increase in performance saw responsible funds grow returns by 87 basis points (0.87%) over three years, 74 basis points (0.74%) over five years and 56 basis points (0.56%) over seven years.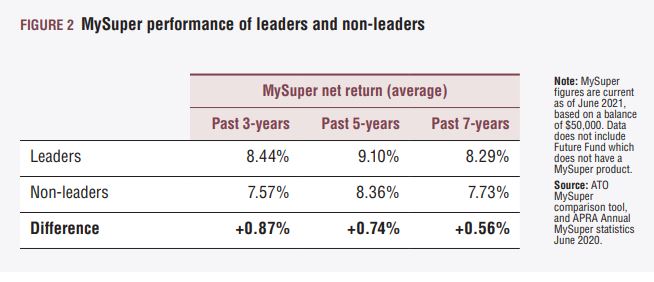 The Responsible Investment Super Study 2021 covers 53 asset owners, including the largest 48 superannuation funds in Australia regulated by the Australian Prudential Regulation Authority (APRA), as well as five other asset owners.
The study found for the first time responsible investment approaches are influencing strategic asset allocation for the majority of super funds, up to 55% from 39% in 2019.
This means that responsible investment is considered when allocation between different asset classes is rebalanced to meet financial return targets, reflect risk tolerance and time.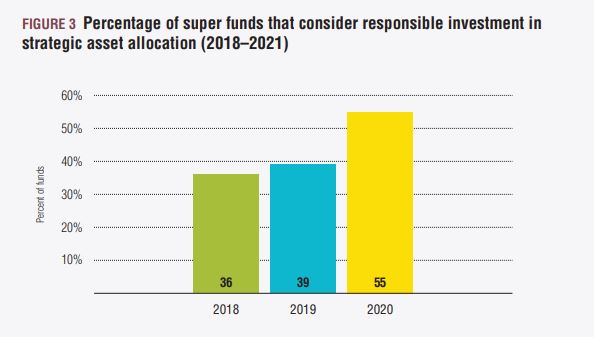 Source: RIAA
RIAA CEO Simon O'Connor said this year's report shows super funds that are doing responsible investment well, are seeing their funds grow, leaving 'laggards' at risk of losing market share.
"Australians are realising the often superior financial performance of leading responsible investment super funds and are moving their money to reap not only the benefits for society and the environment, but their retirement savings as well," Mr O'Connor said.
The study found Australian super funds are improving their responsible investment practices, with 42% of total super assets in Australia covered by funds with such practices in 2020.
Further, the study showed that in the face of rising public concern and increasing financial materiality of climate change, 92% of super funds show that climate risk is actively assessed at a trustee/board level; up from 74% in 2019 and 64% in 2018.
Global Head of Sustainability for investment management company PIMCO, Ryan Korinke, said asset owners in Australia and New Zealand are bellwethers for sustainable investing in the Asia region and globally.
"This makes the results of this study showing their increasing commitment to responsible investment practices, particularly encouraging," Mr Korinke said.
---
Advertisement
Looking to take control of your retirement? This table below features SMSF loans with some of the most competitive interest rates on the market.
Lender

---

Variable

More details

FEATURED

Includes NOV RBA Rate Increase

loans.com.au – SMSF 70

Refinance only offer. No application fee and no settlement fee
No monthly, annual or ongoing fees
Access your SMSF loan via our easy-to-use online app Smart Money

loans.com.au – SMSF 70

Refinance only offer. No application fee and no settlement fee
No monthly, annual or ongoing fees
Access your SMSF loan via our easy-to-use online app Smart Money

Variable

More details

WLTH – Ocean SMSF 60 P&I ($50k - $2m)

Fully functioning offset.
Rapid Refinance available - receive approval in as little as 48hrs
50m2 of beach & coastline cleaned with every loan settled.

WLTH – Ocean SMSF 60 P&I ($50k - $2m)

Fully functioning offset.
Rapid Refinance available - receive approval in as little as 48hrs
50m2 of beach & coastline cleaned with every loan settled.

Variable

More details

Reduce Home Loans – Capitalizer SMSF 70 Metro

Variable

More details

La Trobe Financial – SMSF Residential

Variable

More details

Firstmac – SMSF 70 (Refinance Special)

Variable

More details

Liberty Financial – Liberty Residential SMSF (LVR < 80%)

Variable

More details

Yard – SMSF Loan (Principal and Interest) (LVR < 80%)

Variable

More details

WLTH – Ocean SMSF 80 P&I ($50k - $2m)

Fully functioning offset.
Rapid Refinance available - receive approval in as little as 48hrs
50m2 of beach & coastline cleaned with every loan settled.

WLTH – Ocean SMSF 80 P&I ($50k - $2m)

Fully functioning offset.
Rapid Refinance available - receive approval in as little as 48hrs
50m2 of beach & coastline cleaned with every loan settled.

Variable

More details

WLTH – Ocean SMSF 90 P&I ($50k - $1.5m)

Fully functioning offset.
Rapid Refinance available - receive approval in as little as 48hrs
50m2 of beach & coastline cleaned with every loan settled.

Variable

More details

FEATURED

Includes NOV RBA Rate Increase

loans.com.au – SMSF 80

Available for Purchase and Refinance
No application fee and no settlement fee
No monthly, annual or ongoing fees

loans.com.au – SMSF 80

Available for Purchase and Refinance
No application fee and no settlement fee
No monthly, annual or ongoing fees
Refinance only offer. No application fee and no settlement fee
No monthly, annual or ongoing fees
Access your SMSF loan via our easy-to-use online app Smart Money
Important Information and Comparison Rate Warning
Image by Visual Storia - Micheile via Unsplash Visual Stories