The six-month cut to the fuel excise from 44.2 to 22.1 cents per litre (cpl) was a measure introduced by the previous federal government in its March 2022 Budget to ease price pressures.
With that cut now unwinding, the full fuel excise will be reinstated translating to an extra 25.3 cpl - an additional 3.2 cpl more than previously deducted in March.
The additional 3.2 cpl increase comes as a result of automatic fuel excise indexation in August, and the associated goods and services tax (GST).
The fuel excise forms one of three components to the price of fuel in Australia, the other two being the international costs of refined petrol and wholesale and retail margins.
This comes as a double-whammy for motorists with the fuel cycle on the east coast already at its peak with 91-unleaded prices pushing 190 cpl, as seen in the ACCC chart below.
Households spent more on fuel despite excise cuts
Transaction data from fintech Frollo released earlier this month revealed despite the cut to the fuel excise, the average household fuel spend has increased 19% in 2022 to $121 – up from $102 in 2021.
Of the 35,000 Aussies analysed, Frollo detailed Gen X appeared to be most impacted by the fuel price increases, spending 34% more on fuel per month in 2022 at $155 than in 2021 at $115.
The ACCC's latest petrol monitoring report for the June quarter detailed that despite the six-month cut in fuel excise, retail petrol prices could not be prevented from reaching 14-year highs due to international factors.
Further, the ACCC highlighted the June 2022 quarter was the sixth consecutive quarter in which petrol prices increased.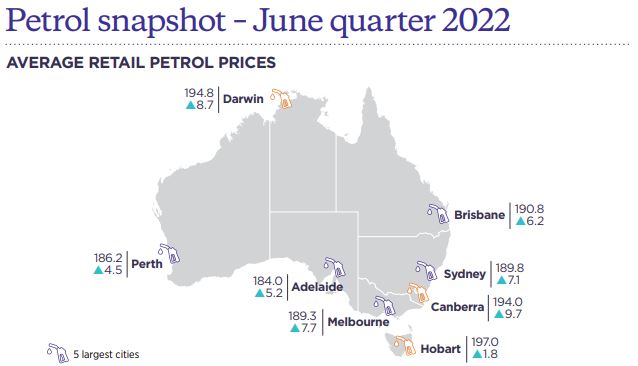 Source: ACCC June Quarter 2022 Petrol Report
RACQ spokesperson Nicky Haydon said a recent drop in global oil prices and large retail margins could potentially buffer the excise increase for south east Queensland.
"Fuel companies have already purchased the stock they have in the ground at the discounted excise, so they need to use that fuel first before purchasing new stock at the higher price," Ms Haydon said.
"In the next peak in October, we would expect prices - in south east Queensland - to sit between $2-$2.05 and fall to around $1.80 in the cheap phase."
With the full excise now back in play, ACCC Chair Gina Cass-Gottlieb said motorists are reminded that prices will continue to fluctuate with changes in international prices and the exchange rate, as well as petrol price cycles in the five major capital cities.
"Shopping around and using fuel price apps can help consumers find the cheapest petrol in their area," Ms Cass-Gottlieb said.
"Previous research has shown that buying at independent retailers and avoiding the top of the petrol price cycle in the five largest capital cities can save motorists a lot of money."
Recently CommBank launched a fuel finder feature in its app, which analyses a user's transaction data and nudges them to compare fuel prices in their area.
See Also: Fuel Finder Apps Compared
Was the fuel excise cut worth it?
AMP Chief Economist Shane Oliver said the fuel excise cut in March made political sense ahead of the election but was of dubious merit economically.
"It would have been better to use the $3 billion it cost to provide direct help to low- and middle-income earners," Mr Oliver said.
"It doesn't appear until recently to have led to fuel prices substantially lower than what otherwise would have been the case."
Mr Oliver noted the reversal of the cut to the fuel excise will push average petrol prices up to around $1.90 a litre.
"Some service stations look to have already started to anticipate it and fortunately, global oil prices have been falling and so this may offset some of the impact," he said.
Earlier this year, the Federal Chamber of Automotive Industries (FCAI) called for the removal of taxes and additional motoring costs to be replaced with a road user charge.
FCAI Chief Executive Tony Weber said a road user charge, unlike the fuel excise, is not an additional tax on motorists.
"Australians want a future that can provide clarity, simplicity, fairness and value to their wallet," Mr Weber said.
"We need this reform to move Australia's road tax system from last century and ready it for the future of motoring."
---
Advertisement
Need somewhere to store cash and earn interest? The table below features savings accounts with some of the highest interest rates on the market.
Provider

---

0

1000

0

$product[$field["value"]]

$product[$field["value"]]

$product[$field["value"]]

More details

FEATURED

Savings Maximiser (<$100k)

Deposit at least $1,000 + each month from an external source
Make 5 or more eligible transactions
Grow your savings balance each month

Savings Maximiser (<$100k)

Deposit at least $1,000 + each month from an external source
Make 5 or more eligible transactions
Grow your savings balance each month

0

200

0

$product[$field["value"]]

$product[$field["value"]]

$product[$field["value"]]

More details

No monthly fees

Save Account

Download the App to open your account
Get better visibility of your spending within App!
Deposit $200 per month to activate bonus interest

Save Account

Download the App to open your account
Get better visibility of your spending within App!
Deposit $200 per month to activate bonus interest

4

0

0

0

$product[$field["value"]]

$product[$field["value"]]

$product[$field["value"]]

More details

Savings Account (Amounts < $250k)

A high-interest online savings account with no monthly fees, easy withdrawals and award-winning digital banking
A great base interest rate of 4.75%

Savings Account (Amounts < $250k)

A high-interest online savings account with no monthly fees, easy withdrawals and award-winning digital banking
A great base interest rate of 4.75%

0

2000

0

$product[$field["value"]]

$product[$field["value"]]

$product[$field["value"]]

More details

HomeME Savings Account ($0 - $100,000)

0

200

1

$product[$field["value"]]

$product[$field["value"]]

$product[$field["value"]]

More details

0

1000

0

$product[$field["value"]]

$product[$field["value"]]

$product[$field["value"]]

More details

0

1000

0

$product[$field["value"]]

$product[$field["value"]]

$product[$field["value"]]

More details

For customers aged 14-35 years

Future Saver Account ( < $50k)

0

500

1

$product[$field["value"]]

$product[$field["value"]]

$product[$field["value"]]

More details

0

1000

0

$product[$field["value"]]

$product[$field["value"]]

$product[$field["value"]]

More details

0

0.01

1

$product[$field["value"]]

$product[$field["value"]]

$product[$field["value"]]

More details

Reward Saver Account (31 years +) ($0-$100k)

0

100

0

$product[$field["value"]]

$product[$field["value"]]

$product[$field["value"]]

More details

Bonus Saver Account (Amounts < $100k)

0

20

1

$product[$field["value"]]

$product[$field["value"]]

$product[$field["value"]]

More details

Reward Saver Kick Start (Amounts ≤ $1m)

0

0.01

0

$product[$field["value"]]

$product[$field["value"]]

$product[$field["value"]]

More details

Life (< 30 years) (Monthly deposit)

5

0

0

0

$product[$field["value"]]

$product[$field["value"]]

$product[$field["value"]]

More details

0

0

0

$product[$field["value"]]

$product[$field["value"]]

$product[$field["value"]]

More details

0

5

0

$product[$field["value"]]

$product[$field["value"]]

$product[$field["value"]]

More details

0

50

1

$product[$field["value"]]

$product[$field["value"]]

$product[$field["value"]]

More details

0

200

0

$product[$field["value"]]

$product[$field["value"]]

$product[$field["value"]]

More details

Bonus Saver (<$1 Million)

0

10

0

$product[$field["value"]]

$product[$field["value"]]

$product[$field["value"]]

More details

Smart Saver Account (Under 25)
Deposit at least $1,000 + each month from an external source
Make 5 or more eligible transactions
Grow your savings balance each month
Important Information and Comparison Rate Warning
Image by Kina via Unsplash