Emily Taylor and Tom Culver did, spotting a gap in the Australian investment market with an active group of Aussie millennials crying out for environmental and ethical stocks to invest their money in.
The pair founded ethical investment platform Goodments together in 2017, and claim that since its launch, investments made through their platform have led to over 114,000 tonnes of carbon emissions saved, over 52,000 non-renewable electricity savings, and over 32,000 tonnes of waste recycled.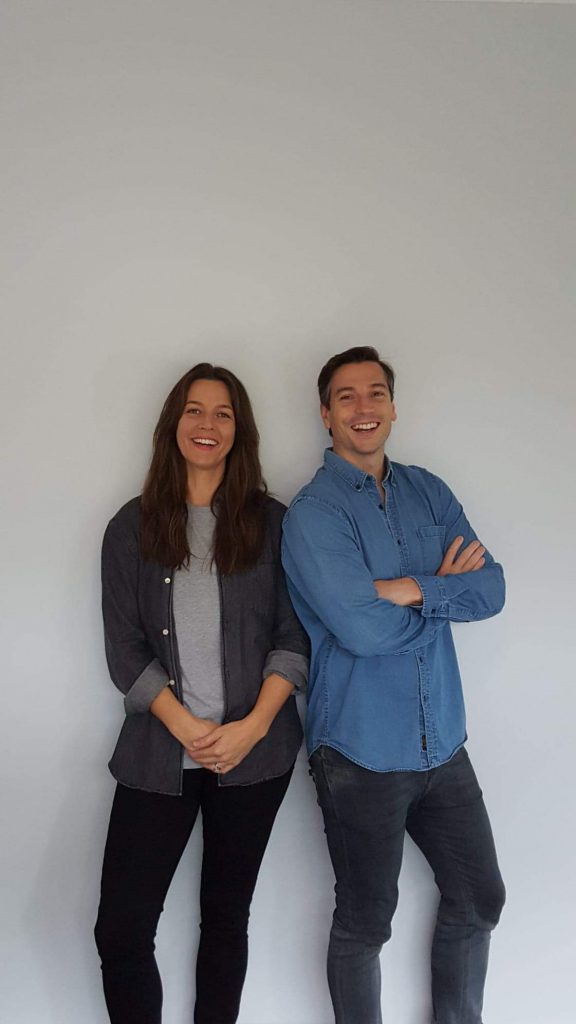 Emily Taylor and Tom Culver. Image supplied.
Goodments co-founder and CEO Tom Culver said they're aiming to help shape a more sustainable future – a mission they're clearly on track to achieve.
So how does investing in ethical stocks make an impact on the environment?
"The first thing to understand is that buying a stock is essentially lending a company money. In return, the company gives you stock, or equity, in that company," Mr Culver told Savings.com.au.
"The less money a company can 'borrow' the lower its share value becomes and the worse it performs. This works in reverse too.
"Based on a businesses' borrowing power there are two ways to consider impact: not placing your money into, or actively divesting from 'non-ethical' stocks such as mining companies, will help to reduce the negative impact on the earth; and investing in companies that are focused on positive environmental engagement will actively reduce things like waste or carbon emissions."
Based on activity in the app, Mr Culver said they can already see which issues are the most important to their young user demographic.
Local and global issues such as human rights and animal welfare rank highly, but these are trumped by the need to secure the future of the climate. A recent poll of investments by Goodments found some of the most traded companies on the platform are Tesla, First Solar and Beyond Meat.
Meanwhile, users are turning away from industries like tobacco, animal testing, predatory lending, fossil fuels, fur and leather products.
Aussie millennials putting their money where their mouth is
'Woke' millennials are the most active users on the platform, with over 5,000 saying the environment is their main focus when investing.
Goodments co-founder Emily Taylor says she wants to give a voice to these informed, savvy millennial investors.
"Millennials want to invest their money into companies and businesses they see have potential not just to make money but have an impact for the greater good," Ms Taylor said.
"While getting a return on your investment is important to investors on our platform, what we see most is their ethical conscience leads their investment decisions. With more than 90% focused on environmental impact and long-term effects on the world as the main determining factors to invest."
Ms Taylor said the finance industry is missing out by ignoring this demographic.
"There's a whole population that the finance sector are ignoring by not presenting them with ethical investment options. Millennials have a strong desire to cause positive change, they see investing in a company as a way of empowering that company to take action in the sectors they operate in."
Turns out millennials do give a sh*t. But not about smashed avocados.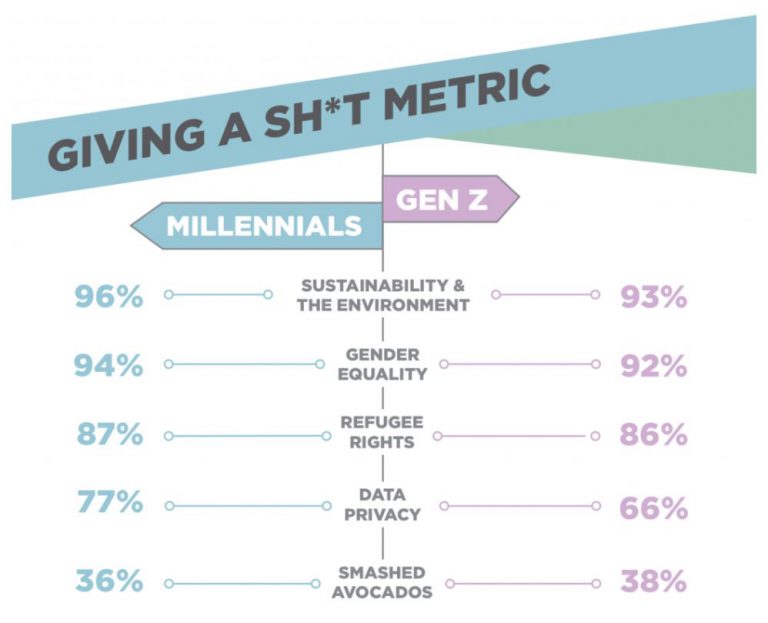 Source: Junkee media research

Failure by the government to take action on climate issues is leading many fed up millennials to take matters into their own hands, according to Mr Culver.
"For many, there is a disillusionment with inaction from many government bodies on key issues such as climate change, so ethical investing allows them to take matters into their own hands and put their investment behind brands and companies doing the right thing," he said.
"There's an increased understanding that positive sustainable impact and good financial returns are not mutually exclusive. In fact, responsible investing has been shown to outperform less reasonable investments over the long term."
But it's not just millennials who are embracing ethical investing.
"Although millennial investors are leading the charge, they are not the only ones who choose to invest responsibly. This movement is becoming multi-generational and we increasingly see it as part of the ethical mindset taking hold in our society," Mr Culver said.
Next year, Goodments will be launching 'Sustainable Funds' which Mr Culver says will focus on key sustainable goals.
How does the Goodments app work?
The app matches users to over 2,500 international shares and diversified ETFs that fit user's values.
All you have to do is choose the areas you care about, like recycling, human rights, waste reduction, renewable energy or animal welfare practices.
Then, you choose which areas you don't want to support, like animal testing, fossil fuels, gambling or palm oil.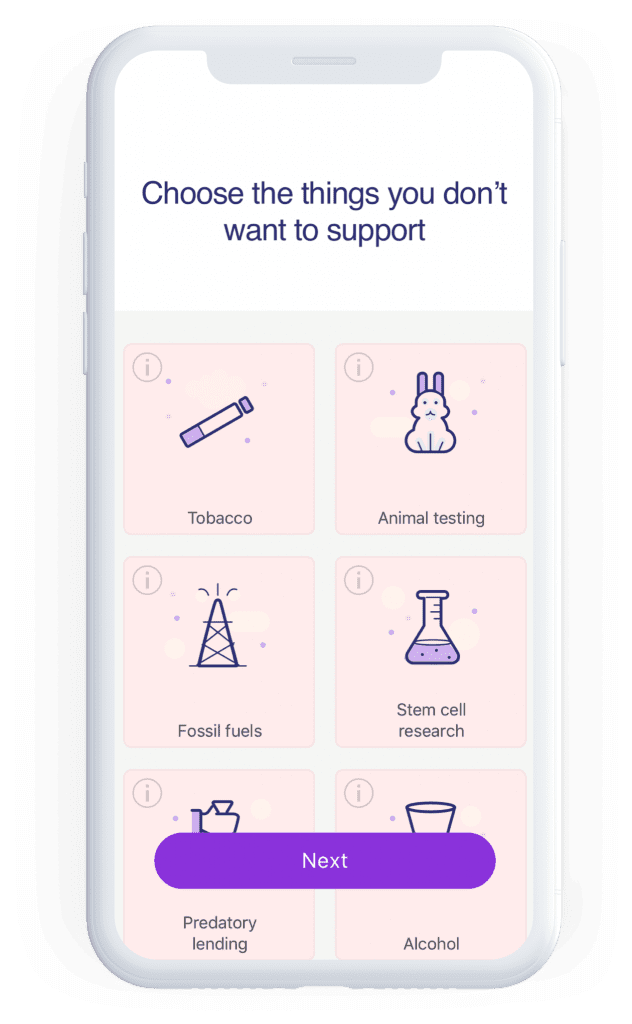 Source: Goodments
The app will then give you a range of personalised shares and ETFs that match your values and see how they stack up against the rest. Users can also search companies by name, or sort by what's trending among other users to get a bit of inspiration.
Users can then buy shares in the investments they've been matched with and track the financial and sustainability of their investments over time, as well as the bigger impact their investments have made.
"We show the impact of every dollar you invest in reducing CO2 emissions, waste and non-renewable energy. This is shown in your portfolio and shows your ongoing performance and impact," Mr Culver said.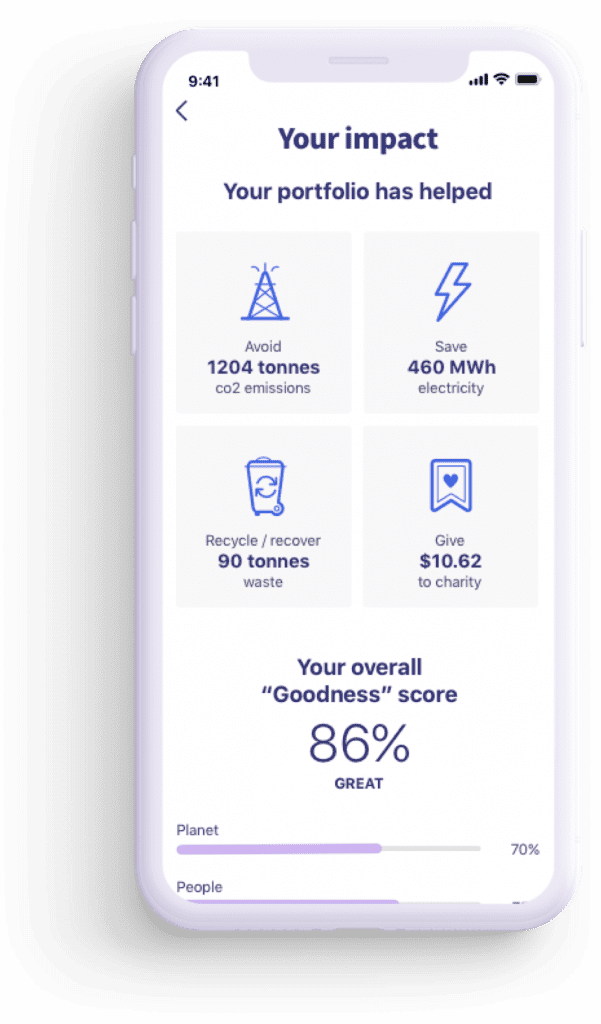 Source: Goodments
The app also shows your total contribution to the Goodments Impact Fund, which is distributed yearly and gifted to charities that focus on conservation, equality and community development.
What are the costs to invest with the Goodments app?
Instead of charging a brokerage fee for each trade like many share trading platforms, Goodments have opted for a subscription-based fee model instead.
If you want to join the Goodments platform, there are two account options, with no brokerage fees, and you can cancel at any time.
There is the 'occasional investor' tier:
Cost: $2.99 per month (two trades per month) or $3.00 per trade (unlimited trades)
And the 'regular investors' tier:
Cost: $13.99 paid monthly, or $11.25 per month, paid yearly (unlimited trades)
---
---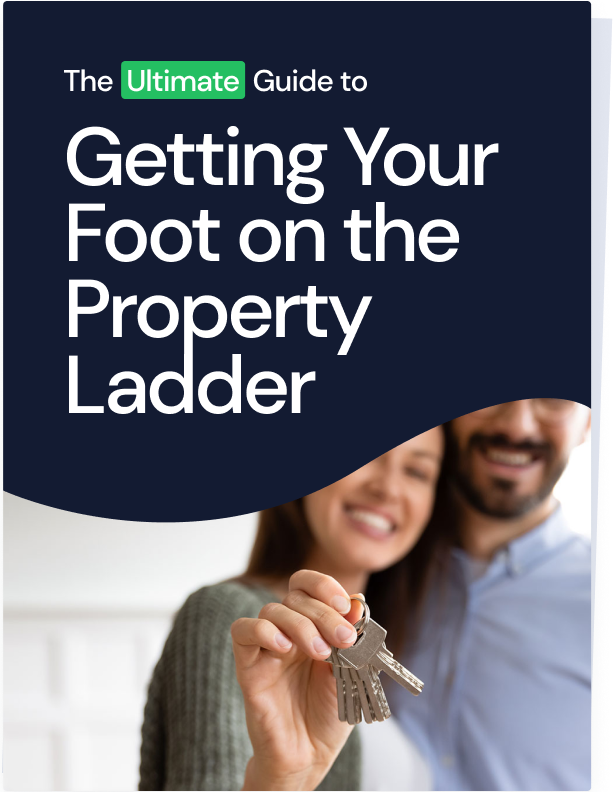 Ready, Set, Buy!

Learn everything you need to know about buying property – from choosing the right property and home loan, to the purchasing process, tips to save money and more!

With bonus Q&A sheet and Crossword!