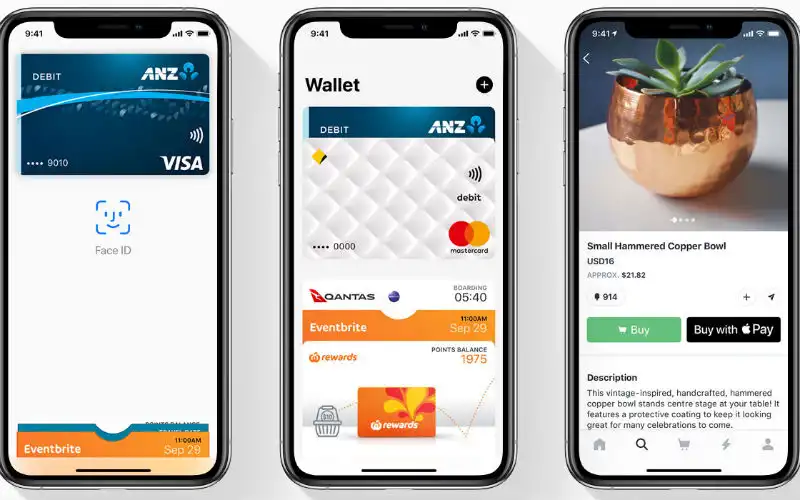 Photo source: Apple
The invention of the smartphone has lead to many problems in our modern society, like the ability to create an Instagram account for your dog that isn't as cute as you think it is. But one positive of the smartphone era is the ability to make instant contactless payments without needing to dig out your credit card.
This can be done through the use of digital wallet services such as Apple Pay.
What is Apple Pay?
Apple Pay is a form of contactless payment technology exclusive to users of Apple products, of which there are about 1.4 billion around the globe. Essentially you can pre-load your credit or debit card information onto your Apple product – whether it's an iPhone or Apple Watch – and pay with a simple wave, instead of getting the card out of your wallet or purse and paying in more than 10 seconds like some sort of chump. Time is money after all.
And it also means if you happen to leave your physical cards behind, you still have a backup option in the form of a virtual card. null
Apple Pay first launched in Australia in 2015, with American Express the first institution to allow customers to use it. Globally, it's been downloaded by 43% of the world's iPhone users, while closer to home, Commonwealth Bank said it had seen a 270% increase in the number of digital wallet transactions made between January 2019 (when it installed Apple Pay) and March.
How does Apple Pay work?
Apple Pay is a type of digital wallet technology that stores your bank account and card information securely in your Apple device. It then utilises your phone's Near-Field Communication (NFC) chip to connect to EFTPOS machines and merchant terminals the same way the physical card would except you can't insert it (unless you want to try jamming your phone in a credit card slot).
It's used exclusively for tap-and-pay purchases and doesn't require a pin to be entered for purchases under $100.
With Apple Pay functionality, you can also easily make purchases online using your phone or iPad. By storing your card's information it can auto-fill details when doing online shopping, which can be dangerous in the sense that it becomes easier for you to buy all the junk you're tempted by.
As a fairly recent innovation, Apple Pay is only available with some of the more modern Apple devices. According to Apple, the following devices support Apple Pay:
iPhones offering Apple Pay
iPads offering Apple Pay
Apple Watches offering Apple Pay
iPhone 6
iPhone 6 Plus
iPhone 6s
iPhone 6s Plus
iPhone 7
iPhone 7 Plus
iPhone 8
iPhone 8 Plus
iPhone X
iPhone SE
iPad (6th generation)
iPad ProiPad (5th generation)
iPad Air 2
iPad mini 4
iPad mini 3
Apple Watch (1st generation)
Apple Watch Series 1
Apple Watch Series 2
Apple Watch Series 3
Your iPhone should have a 'wallet' section in settings – you can click on this and simply enter your card's details to start using Apple Pay pretty much instantly.
Does Apple Pay cost anything to use?
Nope, it costs as much as it does to use your physical card in that you still might have to pay a surcharge, but this is charged by the merchant, not Apple Pay itself. It can cost the banks something to allow you to use it, but that's another story.
Are there any dangers to using Apple Pay?
The only real danger of using digital wallet tech to make purchases is the temptation to overspend. With Apple Pay, you don't have to worry too much about security – Apple doesn't keep your transactions or card numbers on its servers, and when a transaction is made, it creates a random token for that purchase that replaces your card number. This can actually make it safer than using an ordinary card since these can easily be lost or stolen.
Do the big four banks offer Apple Pay?
As of August 2019, three of the big four banks currently offer Apple Pay to their Australian customers, although most were somewhat reluctant to take it up. Commonwealth Bank, NAB and Westpac actually banded together with Bendigo and Adelaide Bank to ask the ACCC to force Apple to give them access to its mobile payments technology instead of having to pay for it, which would've allowed them build their own mobile payments technology.
It was revealed a few months ago the banks pay between 0.04% – 0.06% of the value of purchases on Apple products, which was the cause of the contention.
But the ACCC rejected their demands, and slowly but surely, more of the big banks started offering Apple Pay.
Does ANZ offer Apple Pay?
Yes, ANZ was actually the first big bank to offer Apple Pay in Australia, introducing it all the way back in April 2016.
"The RBA is trying to remind people that property prices don't always go up & having a lot of debt can be dangerous," @wmdglasgow pic.twitter.com/bV2W0CDFa4

— ABC News (@abcnews) October 13, 2017
It would be almost two years before the next big bank adopted Apple Pay.
Does Commonwealth Bank offer Apple Pay?
Yes, Commonwealth Bank does offer Apple Pay. It was made available to CommBank customers in January 2019, and also applies to its subsidiary bank Bankwest. As mentioned before, it saw a huge increase in contactless payments immediately after making Apple Pay available, implying customers were clamouring for it to be introduced.
Apple Pay is now available to @CommBank and @Bankwest customers. https://t.co/ae6w1PvfR8

— CBA Newsroom (@CBAnewsroom) January 22, 2019
"In 2019, customers can expect us to continue listening, innovating, and providing the best possible experiences when they bank with us," CmmBank Group Executive of Retail Banking Services Angus Sullivan said at the time.
Does NAB offer Apple Pay?
Yep – as of May 2019, NAB and UBank (which NAB owns) customers can use Apple Pay with eligible Visa debit or credit cards.
It's here. NAB customers can now use Apple Pay. Just add your NAB Visa Card and start using Apple Pay wherever you can tap and pay. Apple Pay with NAB. Easy. T&Cs apply. https://t.co/bs5t9VIGwT pic.twitter.com/fDY5vbMRDA

— NAB (@NAB) May 20, 2019
National Australia Bank Chief Customer Experience Officer Rachel Slade had said the bank added Apple Pay due to consumer demand.
"We've been hearing from customers that they want Apple Pay and it's great to be able to launch this service today," she said.
Does Westpac offer Apple Pay?
Westpac is the only big bank to not offer Apple Pay yet. It offers alternatives like Samsung Pay and Google Pay (more info on these later), but no Apple Pay, unfortunately.
Apple Pay supported banks in Australia
A huge number of Australian financial institutions currently support Apple Pay, and the list is ever-expanding. As of August 2019 there are 79 banks and mutual banks who offer Apple Pay. Here's a complete list of them:
American Express
ANZ
Australian Unity
AWA Alliance Bank
Bank Australia
Bank First
Bank of Heritage Isle
Bank of Sydney
BankVic
Bankwest
BDCU Alliance Bank
Bendigo Bank
Beyond Bank Australia
Border Bank
Central Murray Credit Union Ltd.
Central West Credit Union Ltd.
CIRCLE Alliance Bank
Citi Australia
Coles Financial Services
Commonwealth Bank of Australia
Community First Credit Union Ltd.
Credit Union SA Ltd.
CUA
Defence Bank
DiviPay
Edge
EML Payment Solution Ltd
Endeavour Mutual Bank
Firefighters Mutual Bank
First Option Bank
Geelong Bank
Goldfields Money Ltd.
Goulburn Murray Credit Union
Health Professionals Bank
Holiday Coast Credit Union Ltd.
Horizon Credit Union
HSBC
Illawarra Credit Union Ltd.
IMB Bank
ING
Intech Credit Union Ltd.
Laboratories Credit Union Ltd.
Latitude Financial Services
Lombard Finance
Macquarie
MyState Bank Ltd.
National Australia Bank
Nexus Mutual
Northern Beaches Credit Union
Northern Inland Credit Union
Nova Alliance Bank
Once Credit
Qpay
Orange Credit Union
P&N Bank
Paywith
People's Choice Credit Union
Police Bank
Police Credit Union Ltd.
Qbank
RACQ
SERVICE ONE Alliance Bank
Skye provided by FlexiCards Australia Pty Ltd
South West Slopes Credit Union
Suncorp
Sydney Credit Union Ltd.
Teachers Mutual Bank
The Broken Hill Community Credit Union Ltd
The Mac
UBank
UniBank
Unity Bank Ltd.
Up Money
Vault Payment Solutions
Warwick Credit Union Ltd.
WAW Credit Union
Wildcard Money Pty Ltd
Woolworths Employees' Credit Union
Woolworths Group Limited
What are the alternatives to Apple Pay?
If you're an Apple aficionado, it might surprise you to learn there are other types of smartphones out there.
With so many different models of smartphones available from the likes of Samsung, LG and Google, you don't have to just stick with Apple Pay for mobile wallet services. The main alternatives to Apple Pay are:
Google Pay: originally launched as Android Pay, Google Pay is Google's alternative to Apple Pay and is available on most modern Android devices.
Samsung Pay: Samsung Pay is available with Samsung's latest smartphones – all Galaxy S9, Galaxy S8, Galaxy S7 and Galaxy S6 models as well as Galaxy Watch and Gear smartwatches can use it.
Garmin Pay: Garmin Pay is a contactless payments solution for people who have a Garmin smartwatch. Paying with your watch can make you look like even more of a big dog than paying by phone like an amateur.
Fitbit Pay: you can also pay on after doing your morning run with Fitbit pay, which is the same thing just available on Fitbit smartwatches.
Some banks also have their own mobile payment services like Commonwealth Bank's Tap & Pay. These obviously aren't as widely available as other mobile wallets.
Savings.com.au's two cents
Contactless payment technologies such as Apple Pay are fast becoming the new norm in Australia and in many countries around the world where cash is no longer king. Of course, you don't have to adopt these technologies if you don't feel comfortable with them. For instance:
You might be tempted to overspend
You might still be sceptical about giving another corporate monolith your personal information, especially your credit card details
And that's okay.
But if you do decide to use Apple Pay, it can be a very easy way to pay for things and can make your life smoother in some ways. If easy payments are important to you, then check out banks that offer Apple Pay or rival payment options like Samsung or Google Pay.
---
Latest Articles