The Australian Prudential Regulation Authority (APRA) has released its latest quarterly property exposures data to 30 June 2019, and the figures show a rise in the share of new loans approved with higher LVRs (loan-to-value ratios).
According to the results, the share of new loans approved with LVRs above 80% increased from 20.3% to 21.5% over the June quarter.
This means 80%+ LVR loans now account for over 21% of new home loans approved.
Of that 21%, 88.1% (aka 14.6% of all new mortgages) had LVRs between 80-90%, while 31.8% (6.5% of new mortgages) were for LVRs above 90.
However, it should be noted that over the past 12 months there has still been a 7.2% decline in the value of new housing loans with 80%+ LVRs, shrinking from $76.8 billion to $71.2 billion.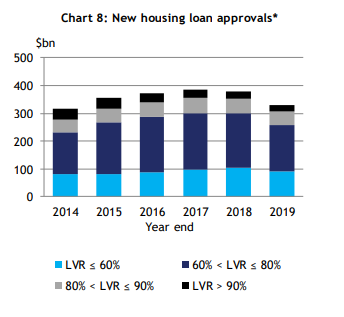 Source: APRA
Australian Property Institute CEO Amelia Hodge believes increased consumer confidence could be a factor in the uptick in lower deposits.
"If you take a look across Australia, all the reports say that sales rates are increasing and clearance rates are improving. So I think there's probably a level of confidence in the market where people are diving in," Ms Hodge told Savings.com.au.
"(Those with LVRs over 80) could be first time owners who are less likely to have larger deposits, and I think what we're probably seeing is people jumping out of rentals and into buying.
"Generally if you're a first or even a second home buyer you're less likely to have a 20% deposit."
Ms Hodge says there is "no doubt" the June rate cut contributed somewhat to this rise, as did the certainty of a Federal Election result.
She also warned that people taking out home loans with smaller deposits should consider having some emergency savings on hand.
"I think they should have a bit of a stash for a rainy day because when you do have higher LVRs and lower deposits, there's not a lot of wiggle room if something were to occur. You could have an accident or lose your job," she said.
"Having that safety net as a buffer in case something does happen for you to be able to meet your loan repayments during times of hardship, that's the best place to be."
Minimum repayments on loans with smaller deposits tend to be higher since the principal portion of the loan (the amount being borrowed) will be larger.
LVRs above 80 also tend to attract Lenders Mortgage Insurance, which can add thousands of dollars to the cost of a home loan.
New housing loan approvals down on the June quarter
The report shows the number of both owner-occupied loans and investor loans approved actually fell fairly significantly since June 2018.
ADIs with greater than $1 billion of residential term loans approved $330.4 billion of new loans, a decrease of $47.5 billion (12.6%) on the previous year.
Of these new loan approvals:
Owner-occupied loan approvals accounted for 70.1% ($231.5 billion) of new approvals; this is down 11.1% from June 2018.
Investment loan approvals accounted for $98.9 billion (29.9%) of new approvals; this is down 15.8% from June 2018
The number of new interest-only loans approved over the same period also declined by 15.4% to $51.8 billion.
The average loan size for the June quarter 2019 is $278,000, compared to $272,000 the previous year.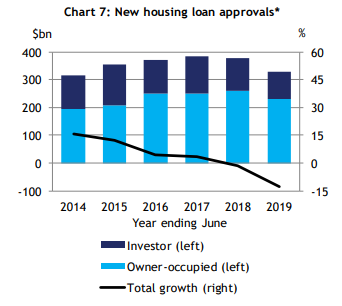 Source: APRA
While June data is down, more recent data is positive
APRA data for the June quarter might show a 12.6% decrease in housing loan approvals, but more recent figures from the Australian Bureau of Statistics paint a different picture.
According to the lending to households and businesses data for July 2019, the value of new lending commitments to households rose 3.9% over the month in seasonally adjusted terms.
This follows a 1.9% monthly increase in June 2019, but compared to July 2019, it's still down over 9%.
ABS Chief Economist Bruce Hockman said the monthly growth in new lending commitments was the strongest since October 2014.
"For the second month in a row there were particularly strong increases in the level of new lending commitments for owner-occupier and investment dwellings," he said.
"Despite this recent turn-around both series remain down from their respective peaks in 2017."
The value of lending for owner occupier dwellings rose 5.3% over the month, while lending to investment dwellings rose 4.7%.
There were monthly increases in every state and territory, with the exception of owner-occupied loans in Tasmania.
First home buyer lending was up for the fourth consecutive month (1.3%), while there was a 5.4% monthly rise in the value of refinancing, likely due to the consecutive rate cuts seen in June and July.
---
---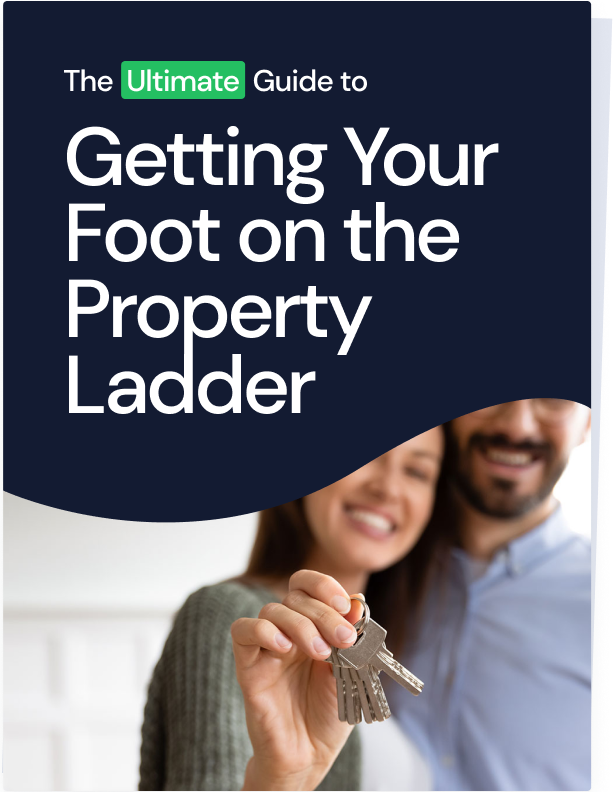 Ready, Set, Buy!

Learn everything you need to know about buying property – from choosing the right property and home loan, to the purchasing process, tips to save money and more!

With bonus Q&A sheet and Crossword!