The NAB Consumer Anxiety Index shows a 2.9 point increase in consumer anxiety to 57.3 points from 54.4 in Q2 2019.
All components of NAB's Index increased, with worries over health expenses, government policy and the ability to fund retirement seeing the biggest increases.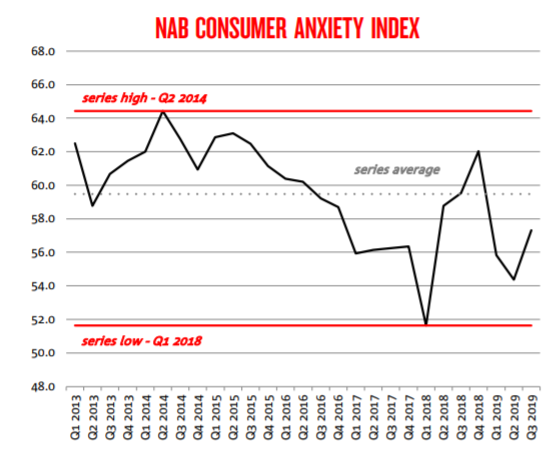 Concerns over the cost of living remain the biggest driver of consumer anxiety, with one in four respondents rating their anxiety over living costs as "very high".
NAB Chief Economist Alan Oster said this highlights the disconnect between low levels of inflation and consumer-focused costs.
"When we ask Australian consumers what worries them, the cost of living is consistently at the top of their list", Mr Oster said.
"Some of these costs (food, alcohol, clothing, housing, health expenses, transport etc.) worry some consumers more than others and these are the costs consumers often think of most when determining their true cost of living."
According to the research, six in 10 Australians identified utilities and groceries as adding the most to their living expenses over the past three months, with these expenses also having the biggest impact on living costs regardless of age or income.
"But your age and your income did have an impact on other causes of cost of living pressures", said Mr Oster.
"For example, more young people aged 18-29 were impacted by rent, eating out, entertainment and other debt than any other age group."
Other key findings from NAB's research include:
The lowest-earning group was much more impacted by rents that higher income groups were impacted by mortgages,
Groceries were a far bigger factor in older age groups, as were home improvements,
Many people are still struggling to save: nearly twice as many women saw their savings fall in net terms compared to men and were generally less optimistic,
Debt remains a concern for many Australians: more than one in five indicated they had spent more than they earned in the past three months.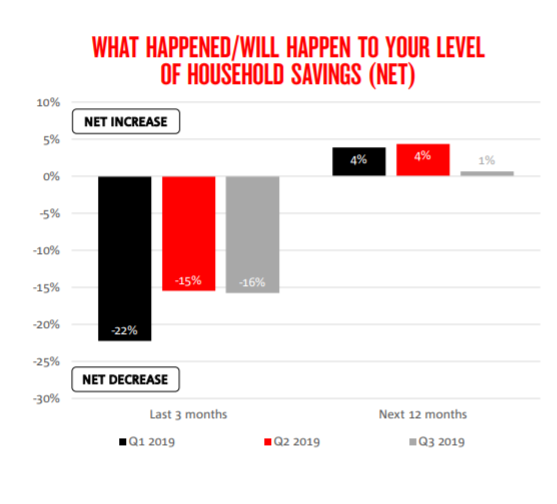 Home buying intentions remain high
The October 2019 edition of Commonwealth Bank's Household Spending Intentions (HSI) series found that retail spending intentions have dipped, supporting NAB's research, while intentions to buy a home remain at high levels.
However, CBA Chief Economist Michael Blythe said home buying intentions have little to do with recent Reserve Bank rate cuts.
"While there were some positive signs in sectors where the tax refunds now flowing would most likely be spent, the overall picture is one of continued consumer caution," Mr Blythe said.
"Our view for some time now is that monetary policy changes do little to support household activity.
"While a positive 'wealth effect' is emerging from rising home prices, consumers interpret rate cuts from record lows as a sign of economic weakness and keep their wallets shut."
Spending intentions have bottomed out after edging higher over the September quarter, although there have been some increases.
"Spending intentions for entertainment, education and motor vehicles are now pointing up," Mr Blythe said.
"Also, importantly, the improvement in home buying intentions is holding up – supported by the RBA rate cuts.
"A positive 'wealth effect' from the housing market should help support broader economic growth in the year ahead."