NAB's quarterly Australian Wellbeing Report for Q4 2018 shows 43% of respondents ranked their family home as having the biggest impact on wellbeing, ahead of:
Personal safety (39%)
Family & personal relationships (37%)
Standard

of living (31%)
Feeling a part of the community (27%)
Mental wellbeing (14%)
Interestingly, the process of actually buying a home ranked #5 for negative effects on wellbeing – hardly surprising when you consider that the home buying process can often be incredibly lengthy, expensive and time-consuming, depending on the lender or broker.
It still ranked well below things like abuse and a lack of time in terms of detractors to wellbeing.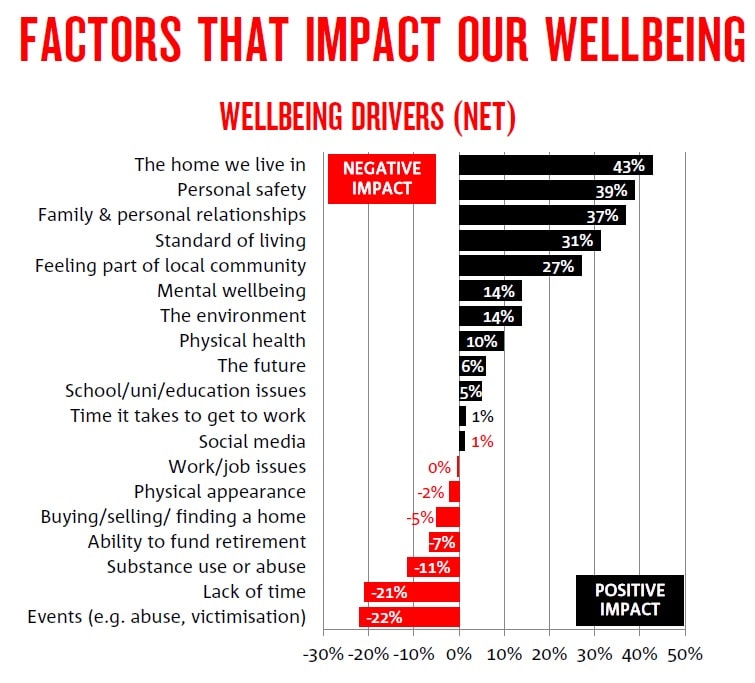 Source: NAB
So short-term pain can lead to long-term gain when wellbeing is concerned, as long as it's the right house.
Of course owning a home can lead to a different kind of stress – mortgage stress.
More than 30% of Australian households are estimated to suffer from mortgage stress, according to the latest data from Digital Finance Analytics.
Finding an affordable home loan can therefore also help with a person's wellbeing.
Overall wellbeing down again
NAB releases its wellbeing index quarterly, and Q4 for 2018 was the second month in a row to see a fall in overall wellbeing, ranked from 0-100.
Overall wellbeing was 64.2 in Q4 – in Q3 it was 64.6. In Q1, it fell to its series low of 62.8.
Recent high-school leavers reported the biggest increase in wellbeing, alongside labourers, part-time workers, men aged 18-28 and divorced people.
On the other hand, people with the lowest wellbeing were single people, renters and young women and men earning less than $35,000 annually.
Widows recorded the highest average wellbeing score of any group, at 70.5.
Small business owners among the happiest Australians
SME (small-medium sized enterprise) owners scored much higher in their overall wellbeing scores compared to the average Australian.
Out of 100, SME owners gave themselves an average score of 72.3 for overall wellbeing and 74.3 for having a satisfied life.
The Australian average score was 64.2 for wellbeing and 68 for life sastisfaction.
Some of the most common reasons cited as positives for wellbeing included "work/life balance" and "sense of achievement".
Previous NAB Research found 34% of SMEs ranked seeing a customer smile as the most important business moment, and NAB Customer Executive Small Business, Leigh O'Neill said customer satisfaction and the sense of achievement is a significant contributor to the wellbeing of small business owners.
"While sales and profits are important for Australian SMEs, it is clear that their customers are why thousands of small business owners around the country get up and do what they do," Ms O'Neill said.
"Despite intense workloads and pressures on all fronts, business owners are energised and motivated by their customers to succeed.
"Small business owners can often be consumed by simply running their businesses and it can be easy for them to lose sight of their health and wellbeing."
For feedback or queries, email will.jolly@savings.com.au
---
---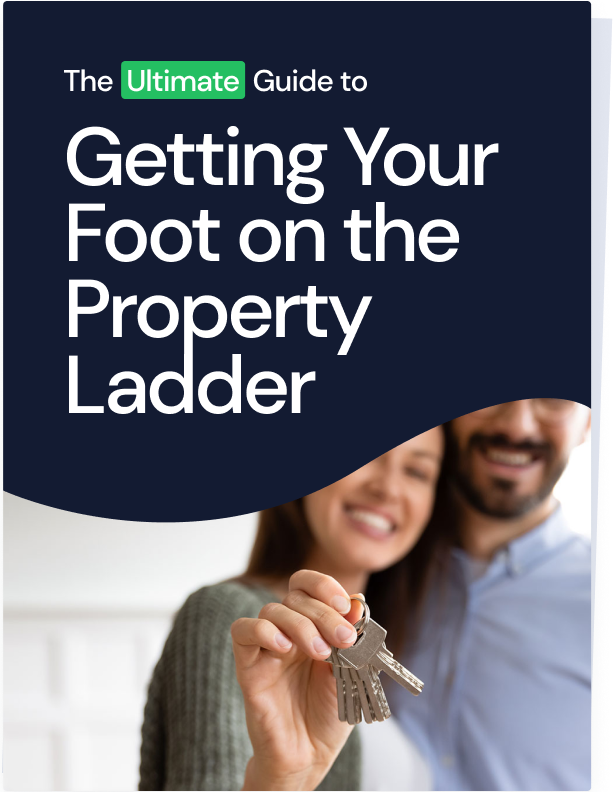 Ready, Set, Buy!

Learn everything you need to know about buying property – from choosing the right property and home loan, to the purchasing process, tips to save money and more!

With bonus Q&A sheet and Crossword!