Data from job platform Seek, shows a 10.2% month-on-month increase in jobs posted in October.
The strong surge follows stimulus measures launched by the NSW and Victorian governments to boost the state's economic recoveries.
The latest data now shows a 66% increase in job ads year-on-year.
Job ads have risen for the second consecutive month, after decreasing monthly since April.
Managing Director of Seek, Kendra Banks, said updated COVID-19 roadmaps have sparked the recent surge.
"The COVID-19 roadmap announcements in New South Wales and Victoria have encouraged businesses to move ahead with rehiring and preparing for the summer holiday period," Ms Banks said.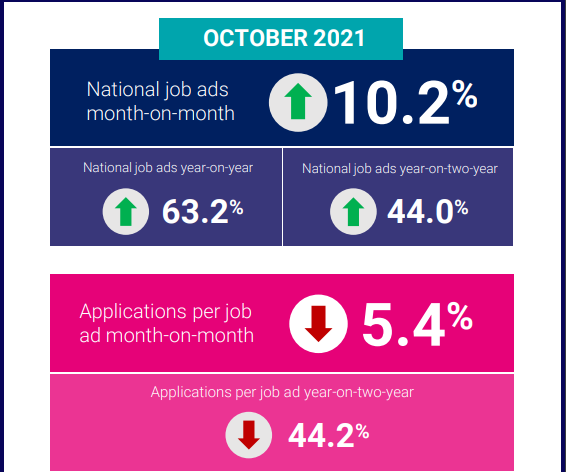 Source: Seek
Jobs by sector
Unsurprisingly, with the reopening of Victoria and NSW, hospitality and tourism ads have jumped 35.5%.
However, applications per job ad remain down, as Australians appear to be cautious when deciding their next career move.
"Many hirers are still finding it difficult to recruit. Month-on-month applications per job ad are down slightly by 0.8% nationally and remain significantly below pre-pandemic levels, down by 34.9% when comparing September 2021 to September 2019," Ms Banks said in September.
Recent data shows that many Australians have been impacted by the pandemic, resulting in stepping away from full-time employment or turning to freelance work to get by.
Admin jobs have now risen by 80% in the last year according to the report.
Job Ads by Industry
Month-on-month
Oct 21 v Sep 21

Year on year
Oct 21 v Oct 20
Trades & Services
7.5%
41.8%
Heathcare & Medical
4.4%
42.0%
Hospitality & Tourism
35.5%
104.8%
Manufacturing, Transport & Logistics
9.4%
65.0%
Information & Communication Technology
3.3%
68.4%
Education & Training
12.3%
62.4%
Retail
6.3%
80.0%
Administration
11.8%
86.2%
Community Support & Development
9.7%
37.5%
Construction
6.2%
62.4%
Source: Seek
Job Ads by State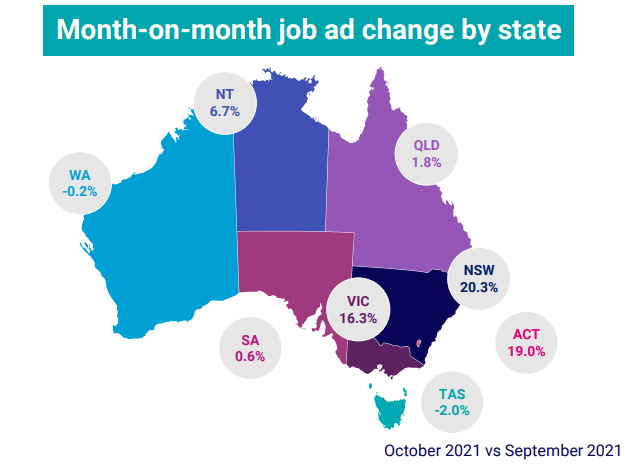 Source: Seek
---
Advertisement
Need somewhere to store cash and earn interest? The table below features savings accounts with some of the highest interest rates on the market.
Provider

---

4

0

0

0

$product[$field["value"]]

$product[$field["value"]]

$product[$field["value"]]

More details

FEATURED

High Interest Savings Account (< $250k)

Bonus rate for the first 4 months from account opening
No account keeping fees
No minimum balance

0

1000

0

$product[$field["value"]]

$product[$field["value"]]

$product[$field["value"]]

More details

FEATURED

Savings Maximiser (<$100k)

Deposit at least $1,000 + each month from an external source
Make 5 or more eligible transactions
Grow your savings balance each month

Savings Maximiser (<$100k)

Deposit at least $1,000 + each month from an external source
Make 5 or more eligible transactions
Grow your savings balance each month

0

1000

0

$product[$field["value"]]

$product[$field["value"]]

$product[$field["value"]]

More details

FEATURED

Saver Account (<$250k)

No account fees
Total ongoing variable rate of up to 5.20% pa by depositing $1,000 in the previous month
Easy access to your money

Saver Account (<$250k)

No account fees
Total ongoing variable rate of up to 5.20% pa by depositing $1,000 in the previous month
Easy access to your money

4

0

0

0

$product[$field["value"]]

$product[$field["value"]]

$product[$field["value"]]

More details

Savings Account (Amounts < $250k)

A high-interest online savings account with no monthly fees, easy withdrawals and award-winning digital banking
A great base interest rate of 4.75%

Savings Account (Amounts < $250k)

A high-interest online savings account with no monthly fees, easy withdrawals and award-winning digital banking
A great base interest rate of 4.75%

0

500

1

$product[$field["value"]]

$product[$field["value"]]

$product[$field["value"]]

More details

Goal Saver

Maximum Age - 24
$0 monthly account fee
Earn bonus interest

Goal Saver

Maximum Age - 24
$0 monthly account fee
Earn bonus interest

0

200

0

$product[$field["value"]]

$product[$field["value"]]

$product[$field["value"]]

More details

No monthly fees

Save Account

Download the App to open your account
Get better visibility of your spending within App!
Deposit $200 per month to activate bonus interest

Save Account

Download the App to open your account
Get better visibility of your spending within App!
Deposit $200 per month to activate bonus interest

0

20

0

$product[$field["value"]]

$product[$field["value"]]

$product[$field["value"]]

More details

Bonus Saver Account (Amounts < $250k)

No fees or penalties for withdrawing money
Savings guaranteed up to $250,000
Maximise your savings and reach your goals faster with Auto-Savings

0

1000

0

$product[$field["value"]]

$product[$field["value"]]

$product[$field["value"]]

More details

For customers aged 14-35 years

Future Saver Account ( < $50k)

0

1000

0

$product[$field["value"]]

$product[$field["value"]]

$product[$field["value"]]

More details
Important Information and Comparison Rate Warning
Image by Free-Photos via Pixabay