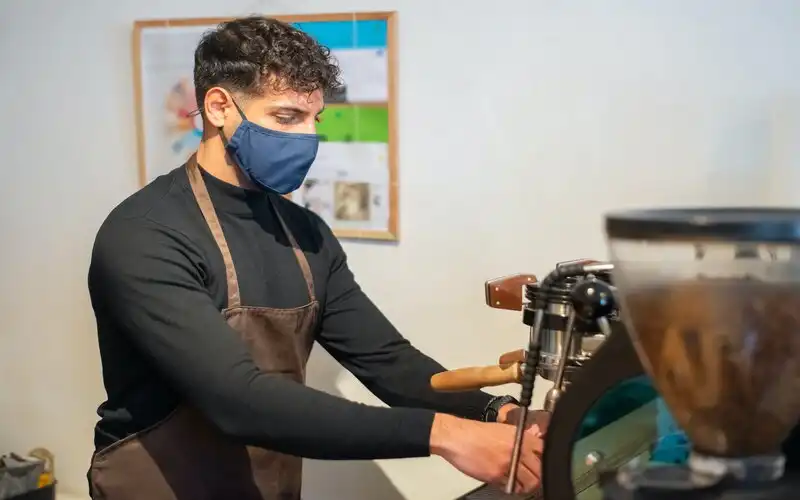 With the spotlight on arts, retail and hospitality industries, ABS data released Wednesday shows the number of job vacancies increased in November.
Total job vacancies reached 396,100 seasonally adjusted in November, an increase of 18.5% from the last reporting period of August 2021.
In the three months to November 2021, 61,900 vacancies were added following the easing of lockdowns across the nation.
Australia has now recorded 169,000 more job vacancies than before the start of the pandemic.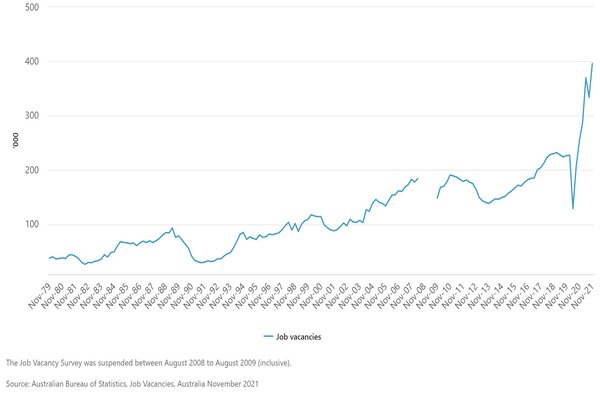 Head of Labour Statistics at the ABS Bjorn Davis said job vacancies continue to reach new record highs through the pandemic.
"The number of job vacancies in November was around 74% higher than it was before the start of the pandemic," Mr Davis said.
"The percentage of businesses reporting at least one vacancy rose from 20% in August 2021 to 21% in November 2021 yet many businesses continued to report difficulties in filling their vacancies.
"Job vacancies were also elevated in all states and territories, ranging between Western Australia, where job vacancies were 120% higher than before the pandemic, and 49% in the Australian Capital Territory."
This marks an overall 19% increase in job vacancies in the three months to November, coinciding with the easing of lockdown restrictions in New South Wales, Victoria and the Australian Capital Territory.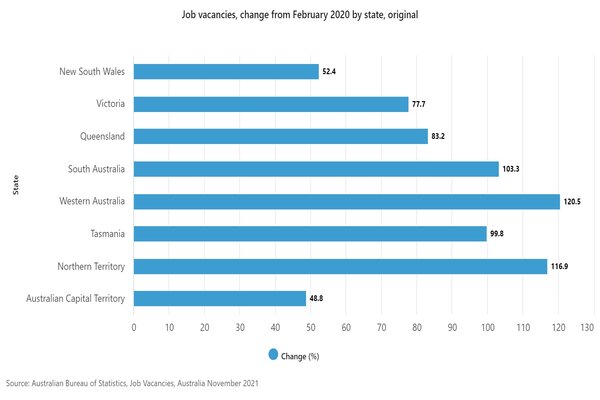 Industries with the largest percentage increases in job vacancies over the November quarter were:
Arts and recreation services - 89%

Accommodation and food services - 66%

Rental, hiring and real estate services - 47%.
These were the three customer-facing industries that also experienced the largest falls in vacancies in the reporting periods of May 2020 and August 2021.
Callam Pickering, Asia-Pacific economist at job-hunting site Indeed, said there is one job vacancy for every 35 people in the Australian labour force, up from one-in-60 before the pandemic.
"Quite simply, there has never been this many jobs available at the same time," Mr Pickering said.
"High vacancies are a great sign for future employment, with strong demand for talent translating into employment growth, tighter labour market conditions and often higher wages - however, that rosy outlook might be tempered by the rapid spread of the omicron variant.
"Although omicron complicates things, this still appears to be a very favourable labour market for jobseekers as they have more bargaining power to ask for higher wages or better conditions or the ability to work remotely."
---
Image by Kampus Production via Pexels