Australia's housing market has boomed over the past two years, and now it may be time for the country's rental market to step into the spotlight.
Simon Pressley, Propertyology's Head of Research, has forecasted that advertised rent prices for standard houses will rise by $5,000 or more in 59 cities across the country including Brisbane, Adelaide, Canberra and Perth.
Mr Pressley said these four capital cities are about to follow in Hobart's footsteps, where the advertised rent price for a three-bedroom house has increased by $8,300 over the past five years while still maintaining the lowest capital city vacancy rate in Australia (0.3%).
He said the pressure on Australia's rental market is a 'direct result' of five years of 'grossly insufficient' supply being added to the country's rental pool.
See the full list of cities where Mr Pressley predicts rent prices will skyrocket
"Securing rental accommodation across regional Australia is akin to seagulls fighting over a chip," Mr Pressley said.
"The current under supply of rental accommodation is easily the worst ever experienced in Australia's 230-year history."
Mr Pressley said that since the total national population increased by 1.5 million over the past five years, one would expect a 'significant' increase in the total volume of dwellings available for rent.
"Alas, it reduced from 86,683 in December 2016 to a piddly 57,558 in December 2021," Mr Pressley said.
"The numbers are significantly more horrifying when Sydney and Melbourne are excluded."
Why is this happening?
Mr Pressley said this situation 'didn't occur overnight', pointing towards a series of regulatory blockages that have been 'seriously suppressing' rental supply for the past few years.
"Fifteen million people live in the other six capital cities [excluding Sydney and Melbourne] plus 200 regional cities and there were only 16,896 dwellings advertised for rent in December," he said.
"Five years ago there were 61,980 dwellings for tenants to choose from."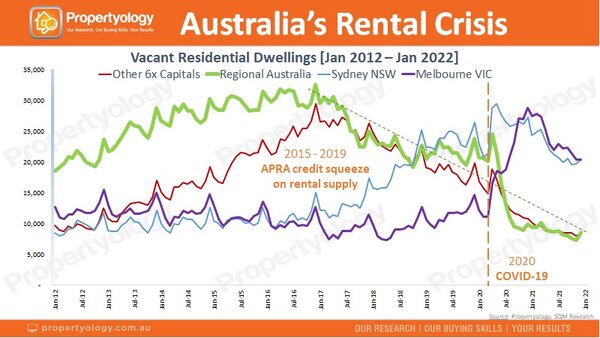 Source: Propertyology
Mr Pressley said that in every corner of this country, other than Sydney and Melbourne, the competition among tenants searching for a rental property has been 'increasingly intense'.
"Over the two-years ending, some of the biggest rental increases that have already occurred were in, but not limited to, Ballina, Orange and Port Macquarie in NSW, Wangaratta in Victoria and Launceston in Tasmania," Mr Pressley said.
"In Queensland, rents have already been significantly squeezed in popular cities like Cairns, Hervey Bay, Gold Coast and Sunshine Coast. And in Western Australia it is locations like Busselton and Mandurah."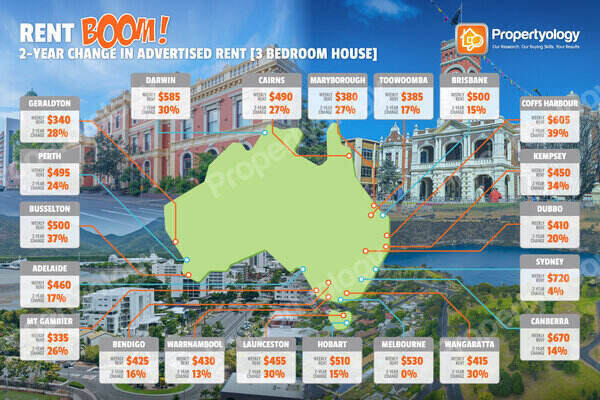 Source: Propertyology
Mr Pressley said that a consistent theme emerged from his discussions with property managers all over Australia: the volume of properties on their rent rolls have been shrinking for years while the number of tenancy applications have continually increased.
"2.8 million dwellings make up Australia's current rental pool. Only 15% are government-funded (down from 26% in 1991), while the other 85% are privately-funded by 2.1 million everyday Aussie property investors," Mr Pressley said.
"With state and federal governments only adding 3,000 of the required 50,000 extra rental properties required across Australia each year, rental supply is almost entirely dependent upon discretionary funding from private citizens."
The situation will get 'much, much worse' before it gets better
Mr Pressley predicts that with overseas migration resuming, by this time next year, the rental markets in Sydney and Melbourne will be approaching similar 'crisis levels' to the rest of Australia.
"I've analysed every Census paper dating back over a century and the official data confirms that, every year for the last 60-years, a third of this country's total population live in rental accommodation," Mr Pressley said.
"Demand for rental dwellings will never go out of fashion."
Mr Pressley said that despite people moving every year, insufficient rental supply has made it 'very stressful if not impossible' to move.
"Review of official data suggests that, just to maintain balance between annual growth in rental demand and available supply, the size of the nation's permanent rental pool needs to increase by circa 50,000 every year single year," Mr Pressley said.
"As certain as today rolls into tomorrow, things will get much, much worse before they improve.
"Property managers all over Australia continually tell us that lots of landlords are selling out of the market because they've had a gut-full of new legislation introduced by state governments."
Mr Pressley called state government restrictions on investors' income-earning capacity 'discouraging enough' without expenses like land tax, council rates, and insurance costs also rising.
"[I'm] genuinely concerned that this rent crisis may cause widespread civil unrest," Mr Pressley said.
"The combination of the growing number of wannabe tenants living in makeshift accommodation, pressure on tenants' household budgets from rising rents, and landlords being squeezed at every corner is toxic cocktail."
"There's only so much juice in the orange,.
"Rental properties don't grow on trees. If governments can't afford to fund them who will?"
59 cities where rental prices will boom in 2022
Mr Pressley listed the 59 locations - both capital and regional cities - where he believes rental asking prices will rise by at least $5,000 in 2022.
Adelaide

Airlie Beach

Albany

Albury

Ballina

Batemans Bay

Bathurst

Bendigo

Bowral

Brisbane

Bundaberg

Burnie

Busselton

Cairns

Canberra

Coffs Harbour

Dubbo

Esperance

Geelong

Geraldton

Gladstone

Gold Coast

Gosford

Goulburn

Gympie

Hervey Bay

Kiama

Kempsey

Kingscliff

Launceston

Lismore

Lorne

Mackay

Maitland

Maryborough

Mount Barker

Mount Gambier

Mornington Peninsula

Mudgee

Newcastle

Noosa

Orange

Perth

Port Macquarie

Rockhampton

Sunshine Coast

Toowoomba

Torquay

Townsville

Traralgon

Wagga

Wangaratta

Warrnambool

Warragul

Warwick

Wodonga

Wollongong

Yamba

Yeppoon
---
Advertisement
Buying an investment property or looking to refinance? The table below features home loans with some of the lowest interest rates on the market for investors.
Lender

---

Variable

More details

FEATURED

Refinance Only

Apply In Minutes

Unloan – Variable Rate Investment Loan – Refinance Only

A low-rate variable investment home loan from a 100% online lender. Backed by the Commonwealth Bank.

Variable

More details

Athena – Straight Up Investor - Obliterate (LVR < 50%) (Principal and Interest)
Important Information and Comparison Rate Warning
Image by Nathan Anderson on Unsplash
---
---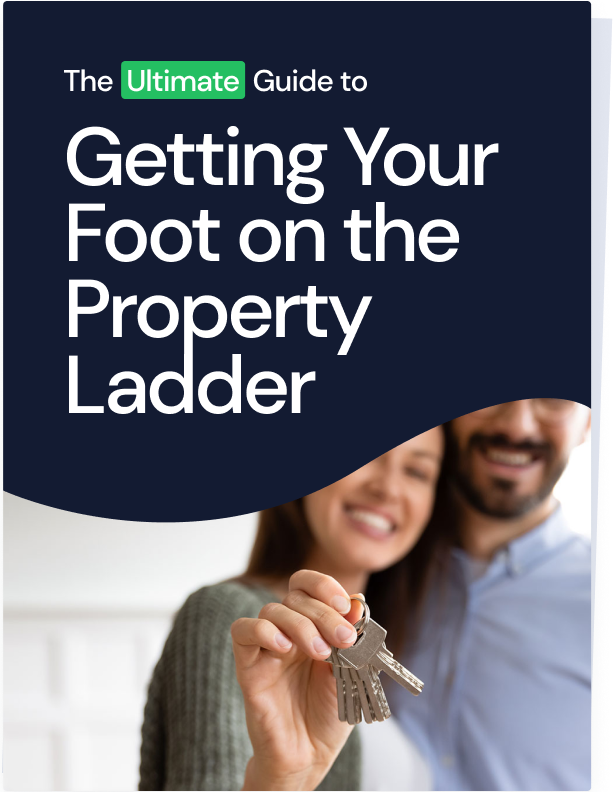 Ready, Set, Buy!

Learn everything you need to know about buying property – from choosing the right property and home loan, to the purchasing process, tips to save money and more!

With bonus Q&A sheet and Crossword!