The report shows older Australians today are spending more and have higher incomes and greater wealth than older Australians three decades ago – but living standards have barely improved for younger Australians.
Rising taxpayer spending on health, aged care and pensions combined with "overly generous tax concessions" means younger people will bear the brunt of growing pressures on government budgets.
Australian household wealth has grown strongly over the past 30 years, from $2.8 trillion in 1990 to $10.3 trillion in 2018.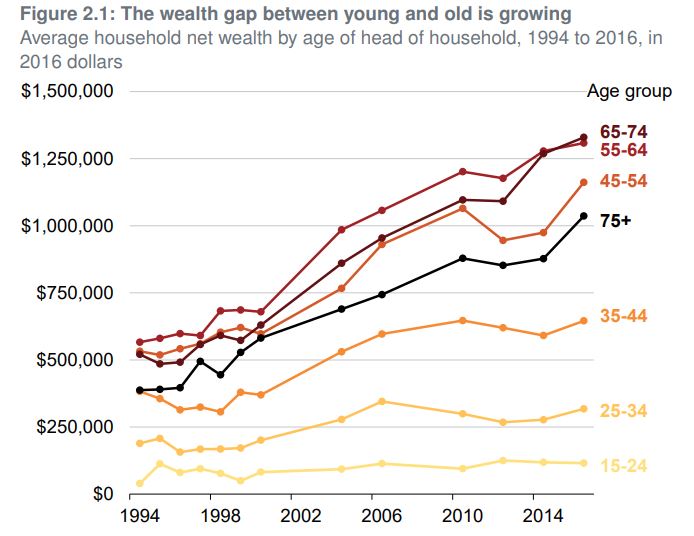 But researchers Danielle Wood and Kate Griffiths found the "wealth bonanza has been far from equally spread".
"Most of the increase in wealth has been accumulated by older households, who benefited most from the housing boom and growth in superannuation assets," the report said.
"For younger Australians, wealth has barely shifted in the past decade. And poorer young Australians today have even less wealth than their predecessors."
"The intergenerational wealth gap cannot be explained by too many avocado brunches"
If you're an Australian millennial who can't afford a home, it's probably because you spend all your money on smashed avocados and lattes, right?
Not according to the Grattan Institute, who has shut down the avocado trope that has defined a generation of young Australians.
"It's a myth that young people's spending habits and lifestyles are to blame for their stagnating wealth. This is not a problem caused by avocado brunches or too many lattes," says the report's lead author, Grattan's Budget Policy Program Director Danielle Wood.
In fact, younger people are spending less on non-essentials like alcohol, clothing, and personal care, and more on necessities like housing, than they were three decades ago.
The report says this suggests they're restricting their spending on luxury items to accommodate the growing cost of essentials and to save and invest.
Home ownership out of reach?
The report found that young Australians are less likely to own a home than young people were in the past.
In 2016, 45% of 30-year-olds owned a home. In 1981, that figure was 67%. In contrast, about 80% of 65-year-olds own a home.
"Home ownership rates are dropping fastest for the young and the poor. In 1981, 60% of people in the lowest wealth quintile aged 25-34 owned a home. Today the figure is just 20%," the report said.
"Younger Australians are less likely to own a home than their parents at the same age, and those who do are taking on a lot more debt. The conditions that precipitated the rapid growth in wealth for older Australians are unlikely to be repeated."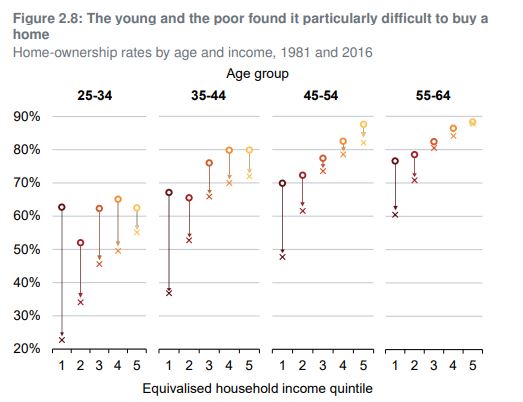 The report said booming property prices had made many long-term property owners "unexpected millionaires" while compulsory superannuation and tax benefits encouraging further contributions have substantially increased the nest eggs of households nearing retirement.
"For most of the 20th century, each generation was wealthier than the one before it at the same age," the report said.
"But in the US, UK and many European Union countries, millennials have lower wealth than members of earlier generations at the same age. There is a risk Australia could go down the same path."
The report found younger Australians are unlikely to see the same capital appreciation from the house price boom as their parents did while forcing them into even more debt just to get into the market.
Calls for changes to policy
The report says policies to boost economic growth, such as tax reform, better education and smarter infrastructure spending, are needed.
Reducing or eliminating tax breaks for "comfortably off" Australians would be a start.
Changes to planning rules to encourage higher-density living in established city suburbs would make housing more affordable.
"Just as policy changes have contributed to pressures on young people, they can help redress them. Every generation faces its own unique challenges, but letting this generation fall behind the others is surely a legacy none of us would be proud of," Ms Wood said.
"The time for action is now: none of us wants the legacy of a generation left behind."
A White Paper released today by University of Melbourne academics says reform to Australia's personal finance sector is vital for the future wellbeing of Australians.
Co-author from the Faculty of Business and Economics Carsten Murawski said many Australians have lost trust in financial institutions, which is holding them back from improving their financial situation.
"About two-thirds of Australians face some level of financial vulnerability and stress. Financial concerns are now the number one concern among young people," Professor Murawski said.
The paper, titled FinFuture – The Future of Personal Finance in Australia, calls for financial literacy skills to be taught in school.
"A lack of financial literacy is often another major obstacle for good financial decision-making," the report said.
"Schools should be the primary channel through which financial literacy training is provided to young Australians.
"However, financial education should not stop when people leave high school. It should continue in later stages of people's lives, ideally around points in time when people are about to make important financial decisions."
---
---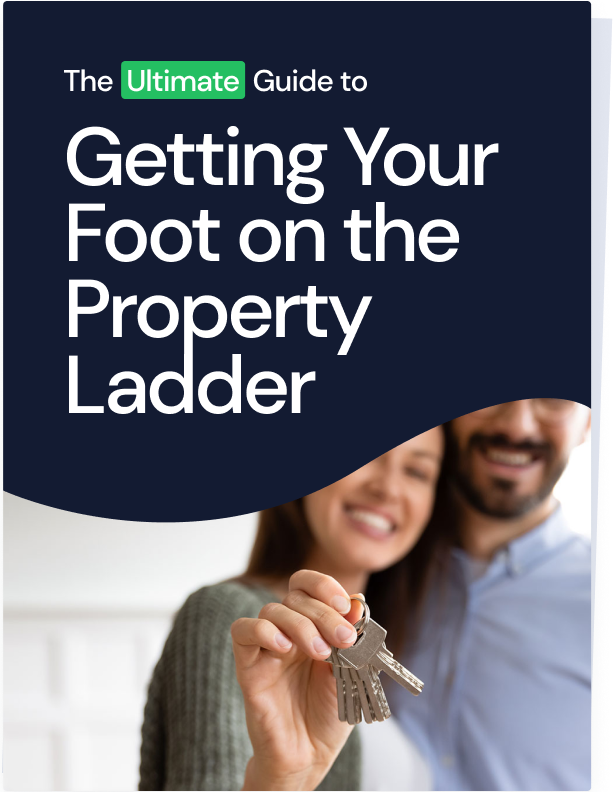 Ready, Set, Buy!

Learn everything you need to know about buying property – from choosing the right property and home loan, to the purchasing process, tips to save money and more!

With bonus Q&A sheet and Crossword!