The new card, called the TransferWise Platinum debit Mastercard, is attached to TransferWise's Borderless Account product and allows users to spend in over 150 different countries in more than 40 currencies.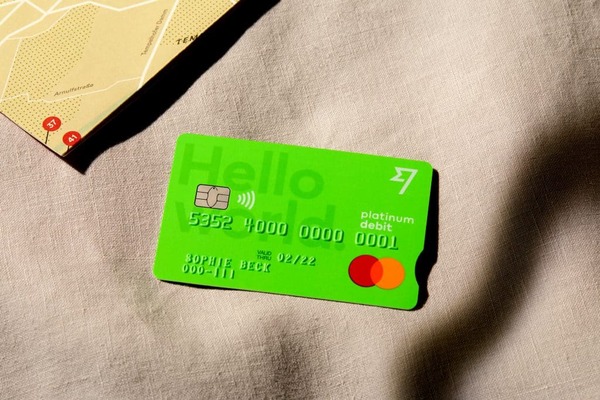 The TransferWise Platinum debit card comes in bright green.
Source: TransferWise

n independent market research agency conducted research to compare the new TransferWise card with four major Australian travel cards:
The ANZ Travel Card
The CommBank Travel Money Card
The NAB Traveller Card
The Qantas Travel Money Card
Based on $5,000 spend in various different countries, TransferWise's Platinum debit card could lead to potential savings of hundreds of dollars.
TransferWise
ANZ
Commbank
NAB
Qantas
Set up & monthly fees
$0
$0
$0
$0
$0
Cost to top-up/spend $5000from AUD to NZD
$25
$131.07
$191.08
$184.83
$191.59
Cost to top-up/spend $5000from AUD to

EUR
$23.50
$162.68
$229.67
$253.67
$247.25
Cost to top-up/spend $5000from AUD to

GBP
$23.53
$161.95
$232.25
$227.84
$242.08
Cost to top-up/spend $5000 from AUD to USD
$23.50
$138.11
$202.46
$189.61
$204.67
Source: TransferWise.
These results show the TransferWise card can be up to 11x cheaper than these major cards.
How is this card so cheap?
One of the biggest points of difference this card has is the exchange rate.
Previous research by TransferWise found Australians are copping $3.1 billion annually in high exchange rate markups, while further research from Capital Economics found Australians lost $2.14 billion in 2018 from using their bank's travel products overseas due to the various exchange rate markups and fees.
While most travel cards charge an exchange rate margin – where they offer a worse exchange rate than the actual exchange rate seen on Google (also known as the mid-market rate) – TransferWise converts money using the real exchange rate with no margins added on top.
But TransferWise simply offers the exchange rate seen on Google, which is the actual exchange rate.
To compensate for this, TransferWise charges what it calls a "small" upfront fee for currency conversion, which can range from 0.35% to 2.22%.
For example, it charges 0.47% on currency conversions from AUD to the British Pound or US Dollar.
Other fees on the card are minimal – there are no signup fees, account maintenance fees or transaction fees, and ATM withdrawals up to $350 are also free before 2% is charged on higher amounts.
Designed to "stop the ripoff"
According to TransferWise, transaction fees on travel and prepaid cards have more than doubled from $70 million to $174 million over the past five years, while the worst offending travel cards are costing Aussie travellers $188 million each year.
TransferWise co-founder and CEO Kristo Käärmann said the new Platinum Mastercard has been designed to stop this ripoff.
"Aussies are known the world-over for being prolific travellers. Working and living overseas is a right of passage for many, so we think it's unfair that your bank punishes you simply for wanting to spend your own money abroad", Mr Käärmann said.
"As of today, exorbitant, non-transparent fees on international transactions are a thing of the past.
"TransferWise's aim is to bring fairness into the finance sector and we've designed an innovative, smart debit card packed with lots of features, so you can enjoy more of your own money whether you're going overseas on a holiday, are an expat, a digital nomad or using it for business."
The features Mr Käärmann refers to include the following, which are available to cardholders at no extra cost thanks to the Platinum debit scheme:
E-commerce Protection:​ for online purchases up to US$200.
Mastercard Airport Concierge:​ a 15% discount on

concierge services

available at over 700 airports around the world.
Mastercard Global Health & Travel:​ ​access to healthcare and wellness packages from renowned hospitals in Asia Pacific countries.
Mastercard Priceless Cities:​ ​access to exclusive deals and experiences in over 40 countries on hotel stays, restaurant bookings, spa treatments etc.
Other features are the ability to freeze/lock the card in-app and smart technology that automatically chooses the currency with the best conversion rate.
"We're looking forward to Australians using our card all over the world and it won't be long before our customers in Singapore get the card so they too can save."
This card has already been launched in the UK and the EU, where it's seen 15 million international transactions made since 2018.