By 2020, the UBank app will offer customers predictions of their future spending behaviours, as well as more detailed and accurate spending insights across 40 categories, including:
tech and gadgets
cafes and restaurants
transport
rent
holidays and travel.
Australian startup Basiq is powering the innovative technology, which allows customers to see the total spend number and every transaction within a certain period across each category.
They'll also be able to see detailed spending by merchant, be that the local pub, grocery store or fast food joint.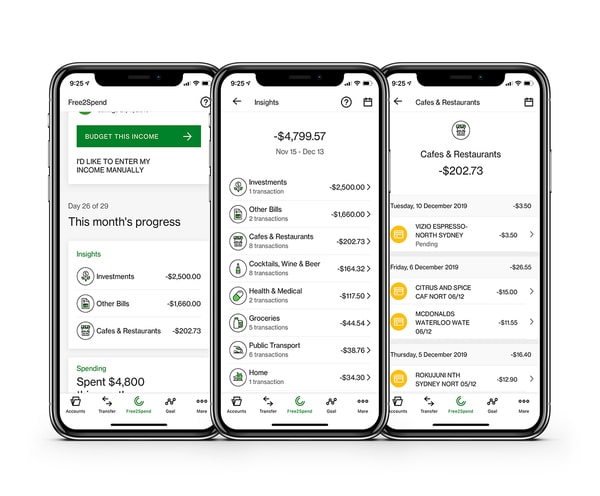 Source: UBank
Currently, UBank customers can use the in-app Budget tool to enter their fixed costs like rent and bills, how much they want to save and even buy-now, pay-later purchases.
Similar to a fitness tracker that matches the current status against a daily goal, the Budget tool shows a single, real-time number of how much to spend each day.
The tool also automatically adjusts to help keep the customer on track, even if or when they overspend.
UBank and Basiq's 2020 goal is to help customers avoid bill shock by predicting upcoming bills and adopt positive spending behaviour by predicting how much they are likely to spend by the end of their pay cycle, after each transaction.
UBank CEO Lee Hatton said the ultimate goal is to help customers more comfortably hit their savings goals and control their spending.
"Budgeting is still a need that is widely under-served," Ms Hatton said.
"What used to be tracked in unwieldy spreadsheets or ledgers – if it was tracked at all – can now be tracked in a simple app.
"Giving Australians richer insights into their spending data means they can make smarter decisions without lifting a finger – it's how we can truly set them up for success."
We've made it even easier for you to hit your savings goals with our latest iOS updates. 💰👏🤩 There are new budgeting features, more insights into your spending habits and you can even manage your Term Deposit from the palm of your hand! pic.twitter.com/OGSW2xLqjP

— UBank (@UBank) November 11, 2019
Basiq CEO Damir Cuca said the partnership will help customers automate the drudgery of manual efforts usually tied to budgeting.
"UBank is the first in market to leverage Basiq's platform to apply advanced machine learning algorithms and help customers understand how they're spending their money," Mr Cuca said.
"It's an important tool for helping customers meet their financial goals."
UBank taps into uncharted gig economy with new tool
UBank is also now offering a unique feature catered specifically for the booming number of gig economy workers.
The feature allows customers to input multiple income streams and maintain just one budget, instead of having to navigate their spending and saving in fractions.
According to the ABC 'Australia Talks' survey, over a million Aussies will hold a second job in the next five years, and UBank believes their new tool can address the under-served needs of this growing market.
Customers can use the UBank app to add as many income streams they have, whether it's a one-off part time job or ongoing side hustle, such as a ride share driver or academic tutor.
"We're living in the era of the side hustle, which means we need to factor in the reality of more intricate financial management," Ms Hatton said.
"With this in mind, we're committed to making financial decisions easier for every Australian.
"That means we have to factor in the reality that around 7 per cent of our population now faces holding more than one job and having to more closely manage their day-to-day finances. If we can automate this for them, it's one less hassle in their day."