The figures from the Australian Bureau of Statistics (ABS) were ahead of expectations, with the consensus among economists being that the rate would hold steady.
Bjorn Jarvis, head of labour statistics at the ABS, said it was eighth consecutive monthly fall in the unemployment rate.
"The unemployment rate fell to 4.9% in June. This was 0.4 percentage points below March 2020 (5.3%) and the lowest it has been since December 2010," Mr Jarvis said.
"The declining unemployment rate continues to coincide with employers reporting high levels of job vacancies and difficulties in finding suitable people for them.
"The number of unemployed people fell by 22,000 in June, down to 679,000. This was around 325,000 people below the peak of one million unemployed people in July 2020."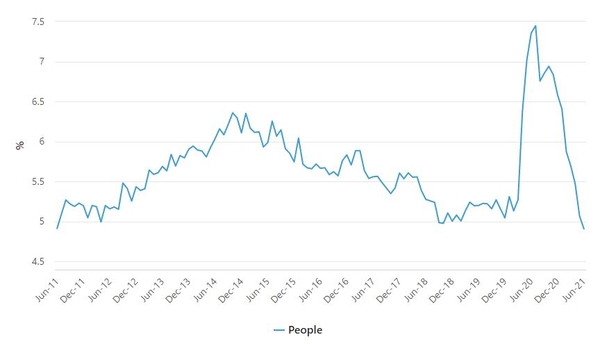 Source: ABS
ABS figures show employment increased by 29,000 people in June, with employment 1.2% higher than at the start of the pandemic.
The youth unemployment rate decreased by 0.5 percentage points to 10.2%, a level which hasn't been seen since January 2009.
Hours worked decreased nationally by 1.8%, driven by an 8.4% fall in hours worked in Victoria, off the back of their snap two week lockdown in May.
"Hours worked data continues to provide the best indicator of the extent of labour market impacts from lockdowns," Mr Jarvis said.
"Hours worked in Victoria fell by 8.4% in June, compared with a 0.3% fall in employment.
"This highlights the extent to which people in Victoria had reduced hours or no work through the lockdown, without necessarily losing their jobs."
Callam Pickering, APAC economist at Indeed, said at surface-level the labour market was running smoothly, but the impact of lockdowns were still being felt.
"The outlook for jobs growth remains strong, even if Sydney's prolonged lockdown may weigh on growth in the near-term," Mr Pickering said.
"Job vacancies remain elevated and that typically translates into strong employment growth.
"If we can avoid another significant lockdown - admittedly a big if - then we expect the Australian labour market to tighten considerably by the end of the year."
Photo by Jane Slack-Smith on Unsplash