The Domain Rental Report for the June quarter (April, May and June) shows a 3.2% fall in the national unit rental price - the biggest decline in over 15 years.
That's the equivalent of $15 per week.
Sydney and Hobart unit rentals were the hardest hit, as both experienced the sharpest quarterly falls ever recorded by Domain.
Sydney's unit prices fell by 3.8% to a new median rent of $500 per week, while Hobart's fell by a massive 8.4%, the biggest of all the capitals, to a median rent of $380 per week.
Buying an investment property or looking to refinance? The table below features home loans with some of the lowest variable interest rates on the market for investors.
Lender

---

Variable

More details

FEATURED

Refinance Only

Apply In Minutes

Unloan – Variable Rate Investment Loan – Refinance Only

A low-rate variable investment home loan from a 100% online lender. Backed by the Commonwealth Bank.
Important Information and Comparison Rate Warning
In the other capital cities, unit rents experienced different levels of change:
Melbourne rents fell by 3.5% ($415 median rent)

Brisbane rents fell by 1.3% ($380 median rent)

Adelaide rents were unchanged ($320 median rent)

Perth rents were unchanged ($320 median rent)

Darwin rents were unchanged ($380 median rent)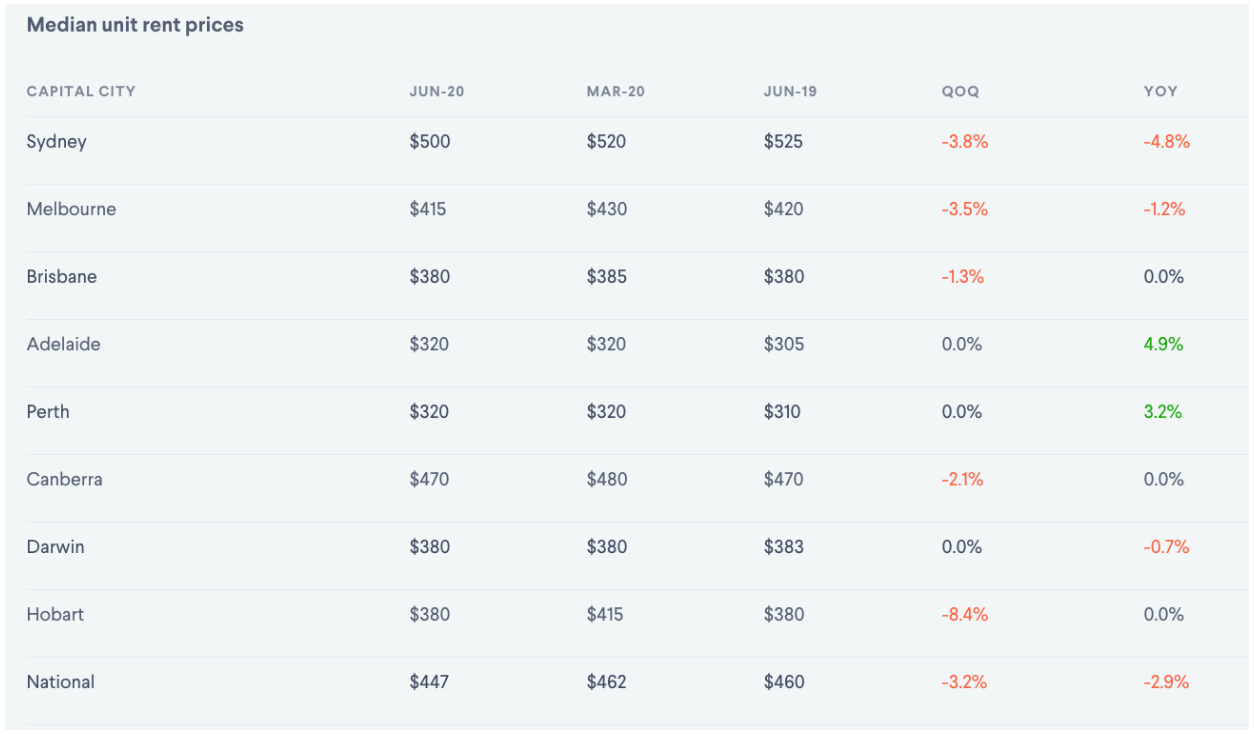 Source: Domain
Nationally, unit rents fell by 2.9% over the 12 months to June, with the national median rent now sitting at $447.
House rents fall 1.2%
House rent prices faired a bit better than units in the June quarter but still fell by 1.2% nationally to $446 per week.
Quarterly house rents in Sydney ($530 per week), Adelaide ($395 per week) and Darwin ($480 per week) remained unchanged, but it was Hobart again that experienced the biggest decline, making it comfortably the worst performer.
Hobart house rents fell 4.3% to $450 (median) over the June quarter, which according to Domain now makes it "the second most affordable capital in Australia", tied with Adelaide.
Other notable median house rent falls are:
Melbourne: -2.3% ($430 per week)

Brisbane: -2.4% ($400 per week)

Perth: -1.3% ($370)

Canberra: -0.9% ($575 per week)
Over the past year, national house rents have still managed to post a 0.5% rise, with Canberra seeing a large 4.5% increase.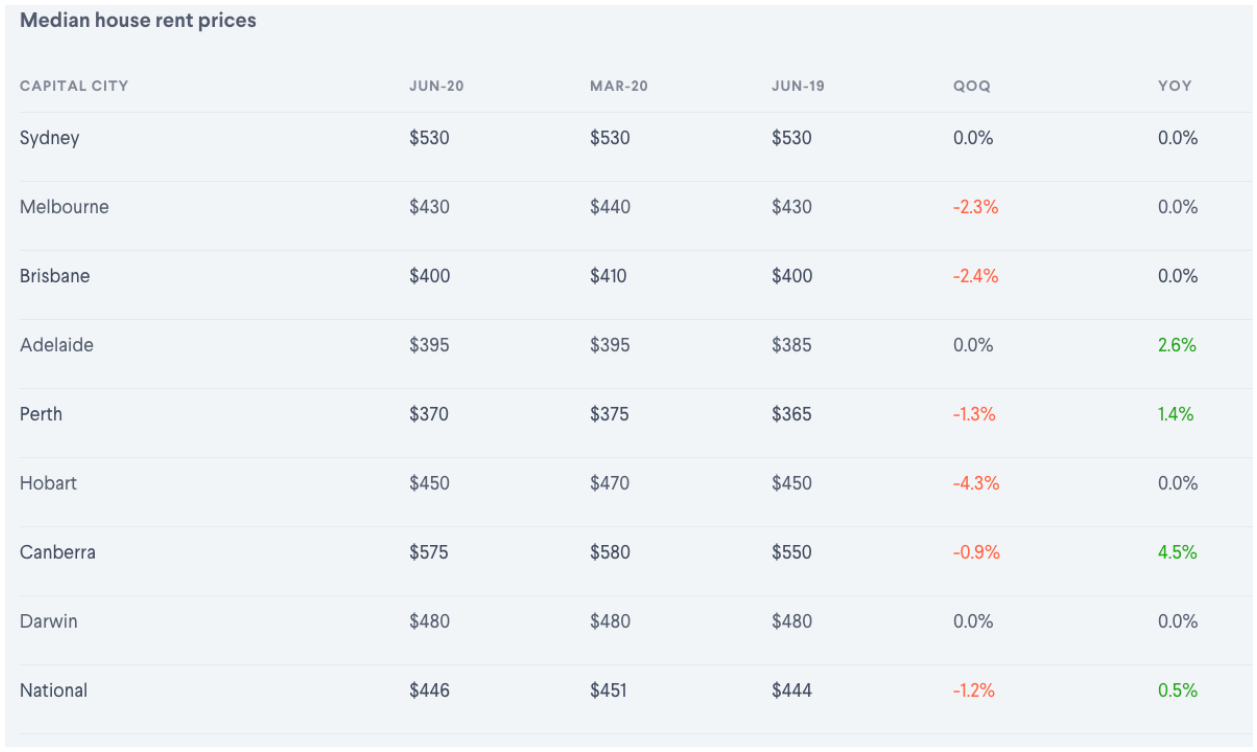 Source: Domain
Domain Senior Research Analyst Dr Nicola Powell said the rental market has become highly fragmented in recent months.
"With weaker conditions for units compared to houses, tenants have a better chance of nabbing a cheaper unit," Dr Powell said.
"Rental prices fell across most major capitals, illustrating no city was immune from the impact of coronavirus, with Sydney and Hobart units recording the steepest quarterly fall on record.
"This weakness has been led by significant rent reductions in Sydney and Melbourne inner-city areas due to a surge in advertised rentals from March to June."
Read: Should you find a new place to rent during COVID?
Sydney rent falls
According to Domain, Sydney tenants are in a strong position to negotiate prices or seek out cheaper properties in areas like the CBD and eastern suburbs.
"Sydney's rental market conditions have become highly varied. House rents remained stable over the quarter and year, and are 3.6% below the 2017 peak," Dr Powell said.
"Rental price growth appears to be supported by more stable conditions across Sydney's outer areas while house rents fell substantially in the inner areas.
"There were also significant increases in advertised rentals in Sydney's inner areas at a time of weakened demand."
Domain's report states these falls were driven by falling migration, falling foreign student numbers and job losses in key industries like tourism.
"Tenants now have the novelty of choice. The rapid rise in advertised rentals has put pressure on rents. Tenants are using this as bargaining power to negotiate a deal while landlords compete to lure them," Ms Powell said.
"Demand has weakened as migration ceases, international students remain offshore and economic uncertainty rattles many tenants, forcing them to evaluate their personal circumstances."
Melbourne rent falls
Melbourne is in a similar position to Sydney, according to Domain, as a rapid increase in the number of properties for lease means tenants are in a strong position to negotiate prices as their options expand.
"While house rents remained stable over the year, unit rents recorded the first annual fall in 15 years. The drop in unit rents have pushed gross rental yields to a near-record low," Dr Powell said of Melbourne's results.
"Vacancies have surged in inner Melbourne, with advertised rentals lifting 64% from March to June.
"This has created a discounting war, forcing one-third of inner Melbourne landlords to slash asking rents in an attempt to secure a tenant."
Melbourne is also particularly exposed to similar issues as Sydney, such as migration, international students and tourism.
"Vacancies are likely to remain high in the coming months across metropolitan and tourist areas, which could result in further rent reductions," Dr Powell said.
"Any potential renewed short-term demand from interstate travel has been curtailed as Melbourne enters a second lockdown."
Brisbane rent falls
Brisbane's rental market has not been as impacted as other cities, according to Domain, but international border closures, plummeting foreign student numbers, job losses and pay cuts have still made their mark.
Domain notes that the number of advertised rentals jumped from March to June and more landlords have cut asking rents.
"The rental market is fragmented across Brisbane's regions. House rents in higher-priced areas weakened, while prices in more affordable areas were steady in their asking rent," Dr Powell said.
"Sunshine Coast rents remain at record highs, with houses at $500 a week, steady from last quarter and units at $410 a week which have held at this high for a year.
"The Gold Coast is a two-speed rental market: house rents remain at a high of $520 but unit rents dropped over the quarter and year, marking the first annual fall since 2013. Gold Coast unit prices are likely to be more exposed to a drop in international tourism."
Perth rent falls
"The market has improved considerably from the post-mining boom lull. The number of advertised rentals continues to shrink, down 19% from March and has dropped 32% over the year," Dr Powell said.
"Tenants will find rental conditions have tightened. The number of vacant rental properties is steadily shrinking, providing landlords greater grounds to raise asking rents in certain areas."
Adelaide rent falls
"Adelaide remains the second most affordable city to rent a house and could overtake Brisbane in coming months if rents continue to fall there," Dr Powell said.
"Rents remain lower compared to other capitals, but relative affordability is declining for units - prices in Adelaide have recorded the strongest annual growth since 2011. Adelaide offers greater value for money compared to other capital cities.
"As we resurface from the coronavirus lockdown, it could become a drawcard destination for those seeking affordability."
Hobart rent falls
"Given a large part of Hobart's economy is driven by tourism, many landlords had been lured by the lucrative incomes of short-term holiday lets," Dr Powell said.
"The coronavirus pandemic has been detrimental for the tourism industry, and landlords were quick to seek longer-term tenants in order to retain cash flow during this time. Advertised rentals rose at the height of the lockdown but have begun to tighten again as restrictions ease.
"Vacancies are likely to remain higher in the coming months, although as restrictions ease and people resume interstate travel, hefty falls are unlikely to continue."
Canberra rent falls
"House and unit rents fell from the highs of last quarter, down $5 and $10 a week respectively. Unit rents held over the year following half a decade of annual growth," Dr Powell said.

"Rising vacancies and weakened demand have pushed asking rents down recently, but this could be short-lived - vacancies look to be tightening again.
"Despite rental prices sliding over the quarter, rental conditions remain competitive as tenants compete in the third tightest capital city rental market."
Darwin rent falls
"House and unit rents (in Darwin) remain well below the 2013 peak by 31% and 33%, respectively," Dr Powell said.
"For investors, steady rents and affordable purchase prices have propelled gross yields to the highest of all the major capitals.
"Unit gross rental yields are the highest in more than 15 years."
---
---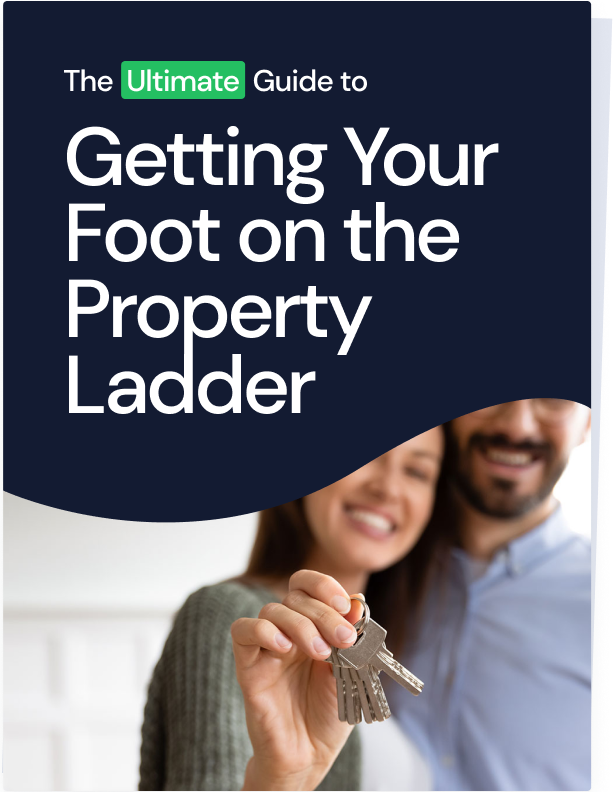 Ready, Set, Buy!

Learn everything you need to know about buying property – from choosing the right property and home loan, to the purchasing process, tips to save money and more!

With bonus Q&A sheet and Crossword!