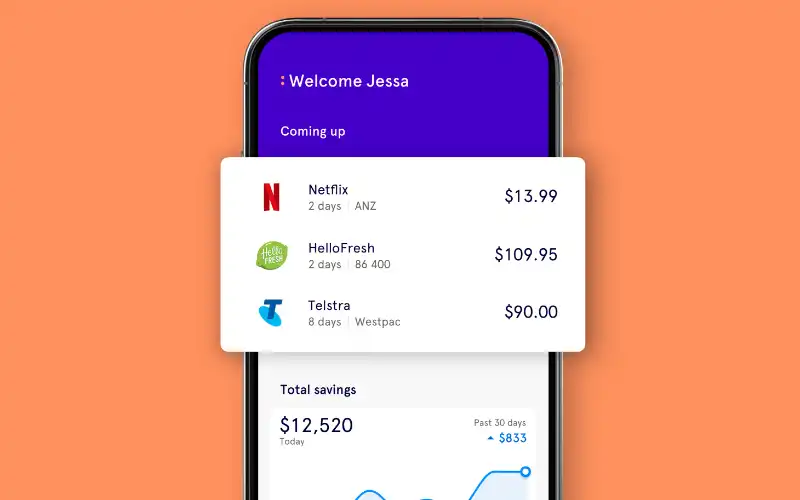 Source: 86 400
Another smaller bank is cutting savings account interest rates, while a larger one is making it easier to earn interest during the COVID-19 pandemic.
Neobank 86 400 announced it is cutting the total interest rate on its Save account by 15 basis points, down from 2.00% p.a. to 1.85% p.a.
This follows the Reserve Bank of Australia's (RBA) emergency rate cut on 19 March which saw the cash rate cut for the second time in a month to 0.25%.
The change will apply from Tuesday 14 April:
The bonus rate will remain unchanged at 1.60% p.a, for balances up to $100,000 per account (up to three accounts)
The base rate will be cut from 0.40% p.a. to 0.25% p.a.
In order to earn the bonus rate, customers must deposit at least $1,000 per month into any of their Pay or Save accounts.
"We know what you're thinking. Another rate change. We hear you. While we much prefer telling you about new app features and products, we do need to check in with you following the RBA's emergency rate cut on 18 March 2020, which reduced the official cash rate from 0.50% to a new record low of 0.25," 86 400 told its customers.
"Effective Tuesday 14 April 2020 we'll be adjusting our Save account interest rate to 1.85% p.a. – still a really great savings rate in today's market."
It's been almost a month since 86 400 last cut its savings account rate: In early March it reduced its total interest rate by 25 basis points from 2.25% p.a.
However, it has only passed on 40 of the 50 basis points cut by the RBA.
86 400 joins fellow neobanks Up and Volt in cutting interest rates recently: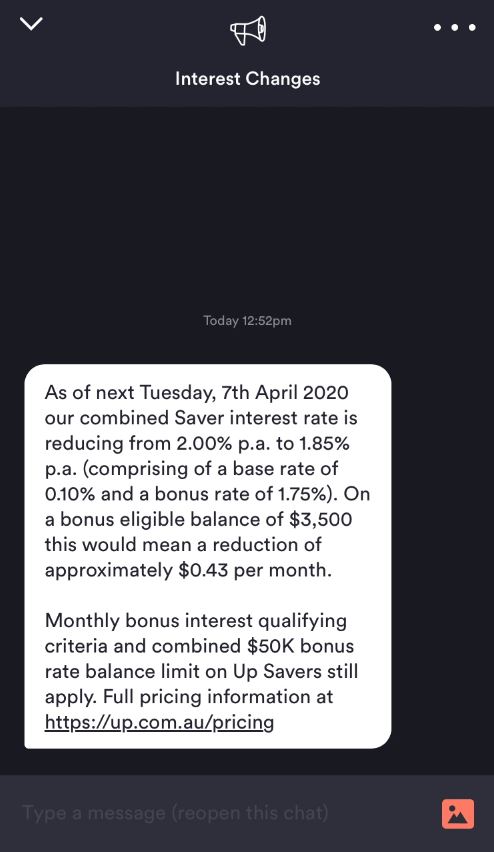 Source: Up
Other banks to cut rates lately include the likes of AMP (which had only just increased rates a week earlier), ANZ and NAB, Westpac, ME, UBank and CBA.
The table below displays a snapshot of savings accounts with some of the highest non-introductory interest rates on the market.*
*Reminder: 86 400's interest rate will change on 14 April.
ING eases bonus interest requirements
Another bank to cut interest rates recently, ING - which cut by 15 basis points on 31 March - announced it will be easing the restrictions on its bonus interest rate over the coming months on its Savings Maximiser account.
According to ING, if customers have previously met the eligibility criteria to earn bonus interest in any of the previous three months (January, February or March), then it will offer those same customers the bonus interest rate in the coming three months no matter what.
"The decision to waive regular eligibility criteria for bonus interest recognises that this is a tough time for many Australians who may not be transacting as often or saving as much," Ing Head of Retail Banking Melanie Evans said.
"We want to assure customers that we understand what they're going through and we don't want them to lose out due to factors outside of their control."
The current maximum interest rate on the ING Savings Maximiser is 1.80% p.a.
To earn this rate, customers would usually have to:
Deposit at least $1,000 into it per month, and
Make five or more ING card purchases from a linked Orange Everyday account
If customers have met these conditions in any of the previous three months, then they are eligible to earn the 1.80% p.a. rate in April, May and June regardless.
If not then they must continue to meet these criteria, or earn the base interest rate of just 0.10% p.a.
Read: The difference between bonus and base interest rates.
---
Latest Articles