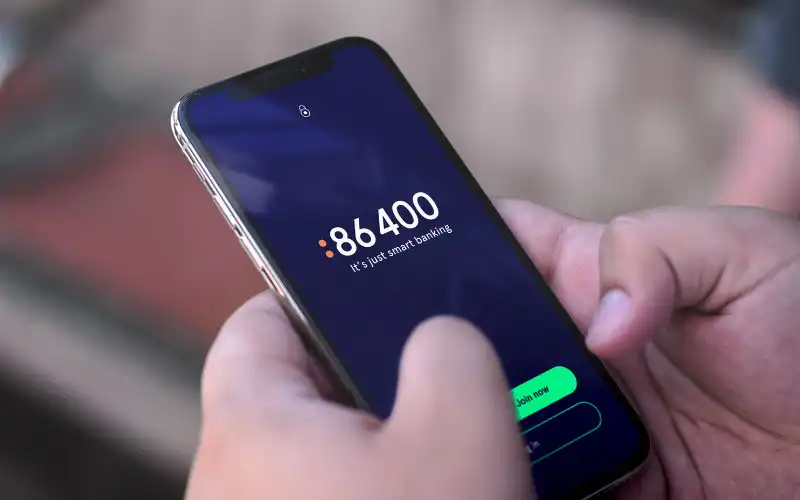 Photo source: 86 400
Australia has a brand-new bank, with 86 400 granted a full Authorised Deposit-taking Institution (ADI) license by APRA today.
Named after the number of seconds in one day and self-dubbed "a genuine alternative to Australia's Big Four banks", 86 400 will soon be launching savings and transaction accounts to customers.
86 400 CEO Robert Bell said the challenger has been busy for the last two years building a "smarter alternative" to how Australians bank.
"Today's news confirms we've passed all of the necessary checks and balances required to call ourselves a bank," Mr Bell said.
"This has been an incredibly thorough process and we've had every element of our business stress-tested to confirm that we are as robust, secure and safe as any bricks-and-mortar bank.
"The only thing remaining is to bring 86 400 to market, which we're now very close to doing."
Details of 86 400's savings and transaction account products aren't yet available, as its banking license has only just been confirmed.
Its website does, however, confirm there are no monthly fees.
But these products will be first two available to customers, with the newly-made bank also claiming home loans will follow, available only through mortgage brokers.
According to 86 400's announcement, it will offer modern data and analytics to "help customers gain a better understanding of their savings and spending habits" and take control of their money.
The bank also said customers can open accounts in as little as two minutes, and all digital payment methods – Apple Pay, Google Pay, Samsung Pay, as well as FitBit Pay and Garmin Pay – will be instantly available.
Below are some of the first images of what 86 400's physical card (left) and app interface (right) will look like.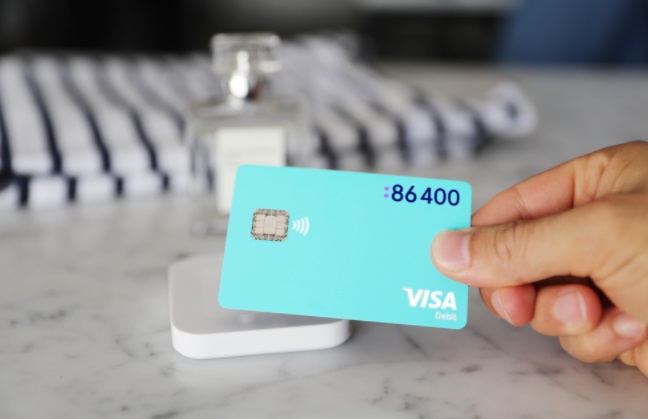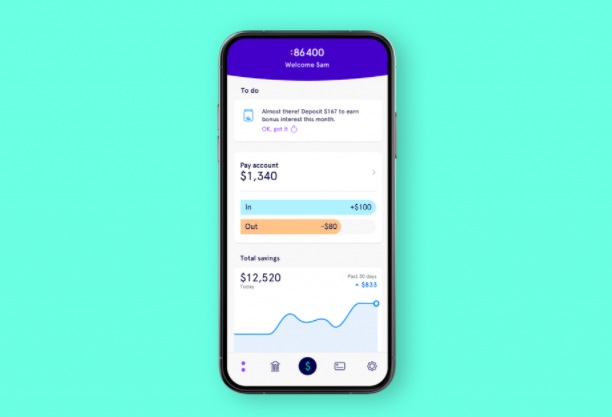 Source: 86 400
86 400 Chairman Anthony Thomson said the new bank is incredibly confident" they can offer Australians a smarter alternative to the big banks.
"Smart tech is everywhere: smartphones, smart cars and even smart homes. They exist to make our lives easier and more convenient. But when it comes to managing our finances, these same benefits haven't been available to us until now," Mr Thomson said.
"Designed for smartphones, our smartbank will help people take control of their money, offering far more than they'd expect from a bank."
"With the latest technology, a simpler operating structure and streamlined systems and processes, we'll be able to make savings that are passed on to our customers, and better returns for our investors.
Mr Thomson has previously co-founded two similar challenger banks in the UK – 'Metrobank', and the country's first completely digital bank 'Atom'.
Today, 86 400 joins the likes of Volt and Xinja as digital banks to have recently gained a banking license, although Xinja currently operates under a 'restricted' license. Up Bank, meanwhile, operates using Bendigo and Adelaide Bank's licence.
86 400 is backed by Australian payment and banking services provider Cuscal.
"Designed to help customers out – not catch them out"
Although the exact details of 86 400's interest rates won't be available until its official app store launch, CEO Robert Bell told Savings.com.au its interest rates will be made to ensure customers earn their bonus interest each month.
"Our products have been designed to help customers out, not catch them out," Mr Belll said.
"Our bonus interest is designed for fairness, so there's no penalty for taking your money out. In fact, our app will nudge customers to ensure they get their bonus interest each month."
"86 400 customers will get great rates and pay no monthly fees – we'll help them avoid late fees or unnecessary charges and highlight their spending and savings habits."
As for its home loan products, 86 400 provided a bit more information on why they've chosen to offer broker-only home loans.
"We are streamlining the application process and focussing on the key consumer and broker pain points – particularly the amount of paperwork which Australians currently need to provide with an application," Mr Bell said.
"So many borrowers feel they've been put through the wringer when applying for a mortgage and don't want to go through the process again.
"Mortgage brokers have long driven competition and choice for consumers and we look forward to working with a viable mortgage broker industry in the future."
Recent data from the Mortgage and Finance Association of Australia (MFAA) shows mortgage brokers settle six out of every 10 residential home loans (59.7%).
---
Latest Articles