Photo by Johny vino on Unsplash
Australians officially took more out of their super accounts than they put in over the June quarter, according to the latest figures.
The Australian Prudential Regulation Authority's (APRA) latest quarterly superannuation statistics for June 2020 shows that over the 12 months to June 2020 there was a 0.6% fall in the total value of superannuation assets.
This is the first time super contributions have fallen since superannuation was first introduced nearly thirty years ago.
This was driven by Australians withdrawing almost $37.5billion over the entire June quarter, which is a 78% increase over the previous three months.
According to APRA, most of this $37.5 billion was due to the super early release scheme introduced in March 2020, as the latest scheme figures show $31.7 billion has been withdrawn since its inception.
However there are signs withdrawals from this scheme are decreasing, with the number of withdrawals made during the most recent week to 16 August sitting at "only" $600 million, the lowest recorded in the scheme's history.
The previous lowest came a week earlier at $711 million, showing the scheme may be coming to a halt after peak withdrawals reached $6.2 billion in the week ending July 12.
Around 30,000 of the 70,000 applicants this week who withdrew from their super were repeat applications tapping the maximum $20,000 from the retirement fund.
The average application amount for new applicants is $7,400, while those doing a second application are withdrawing an average of almost $8,500.
Need somewhere to store cash and earn interest? The table below features introductory savings accounts with some of the highest interest rates on the market.
More scrutiny for the early super access scheme
Super contributions falling into the negative for first time since super began has rung alarm bells for several industry experts.
The Australian Institute of Superannuation Trustees (AIST), in an analysis it conducted with Mercer Super, said the $100 billion in lost super earnings by the time many applicants reach retirement is a cost the government should bear, not Australia's "most vulnerable".
"The early release scheme unfortunately forced many people to choose between poverty now or poverty in retirement," AIST CEO Eva Scheerlinck said.
"These vulnerable Australians are unlikely to recover from this without targeted policy intervention.
"Given the difference compound interest makes, a withdrawal made at a younger age has a big impact on retirement balances of this generation.
"Catching up contributions later in their working life will cost significantly more than the amount withdrawn and will be difficult to achieve for many low-income earners."
AIST has called on the government to make a one-off super contribution of up to $5,000 for low-income earners on under $39,837 per year (if they accessed their super), as well as:
Increasing the Government superannuation co-contribution rate and threshold;
The removal of the $450 minimum SG threshold and super on paid parental leave;
Passing the l

egislated increase in the superannuation guarantee to 12%;
The Labor Opposition was also critical of the scheme again, and used it as an opportunity to call for an increase in the superannuation guarantee to 12% from 9.5%.
"The Morrison government's lack of a plan for jobs and the recovery has already forced millions of anxious Australians to raid $33 billion of their hard-earned retirement savings," shadow treasurer Jim Chalmers said.
"Now more than ever Australians need help to rebuild their superannuation balances.
"This new record makes the long-promised, legislated, and overdue superannuation guarantee increase more important, not less,"
Prime Minister Scott Morrison however pushed back against Labor's claims, saying the opposition "never seems to understand that people's superannuation investments belong to them, not industry fund managers."
"We believe it belongs to [workers] because they work for it, they earned it, they saved it … and when they need it at a time in a pandemic, we are going to make sure they can get access to it," Mr Morrison said.
Research by AMP released today shows super withdrawals combined with welfare payments like JobKeeper have caused the average net income to increase by $5,000.
However this is only likely to be temporary, with AMP senior economist Diana Mousina saying Australians are building up a buffer for what could come later in the year and in 2021.
"The savings rate is likely to decline again from here as households use the build-up in savings for consumption, as income growth is expected to slow down," Ms Mousina said.
"The boost from government payments will fade. Wages and salaries will remain under pressure as employment growth is likely to remain low - with Victoria adding another negative to the labour market."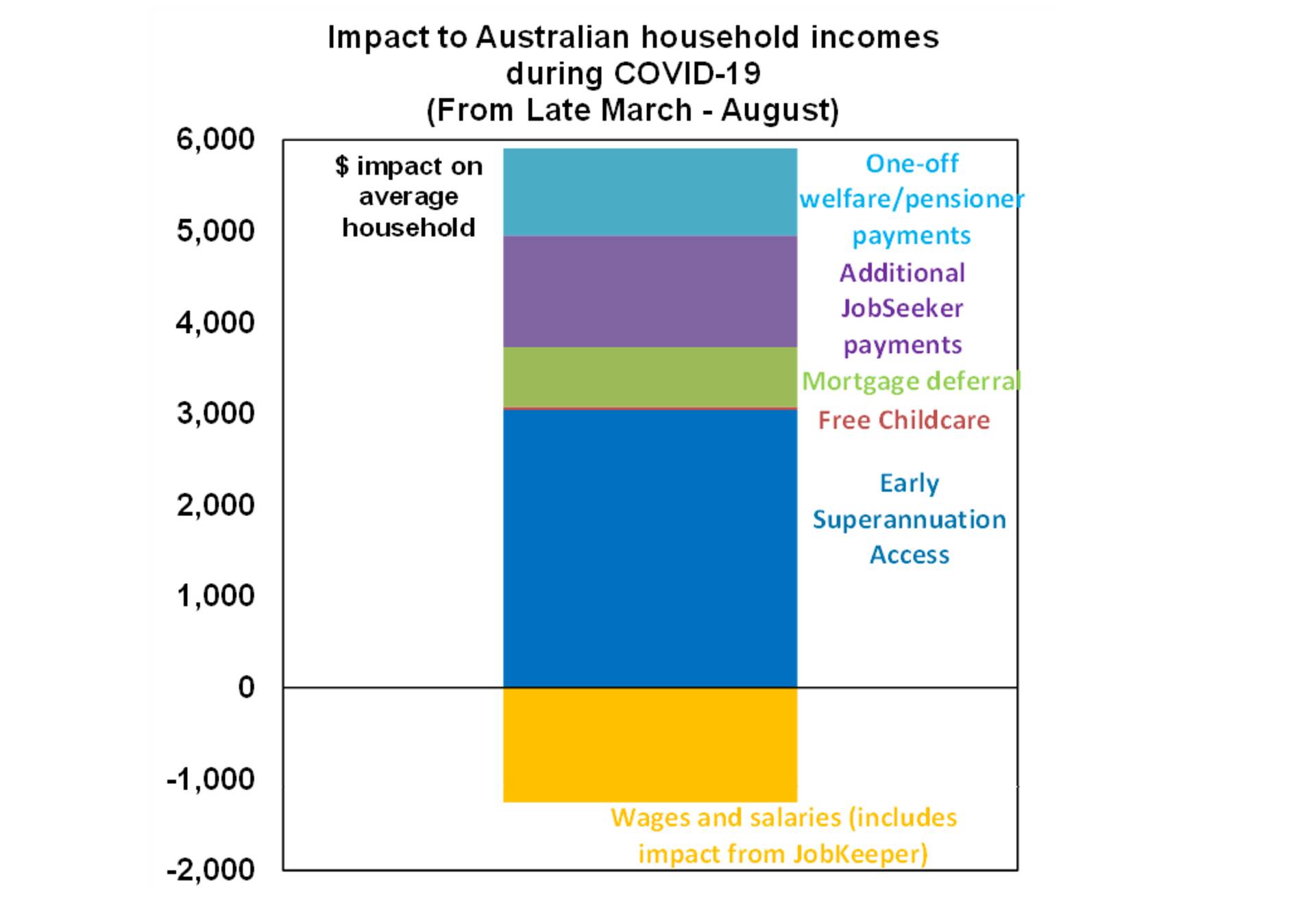 Source: AMP Capital
---
Latest Articles