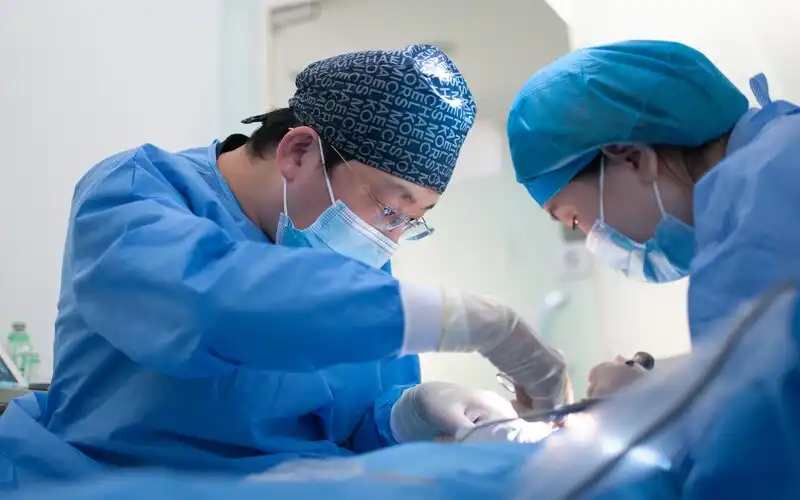 A new report has found health care and social assistance is likely to be your best bet at a job over the five years to November 2025.
The latest Industry Employment Outlook from the National Skills Commission found four industries alone will generate more than three-fifths (64.4%) of total employment growth in that period.
The report projected the industries to watch are:
Health Care and Social Assistance, increasing by 249,500 jobs,
Accommodation and Food Services, increasing by 139,900 jobs,
Professional, Scientific and Technical Services, increasing by 131,100 jobs, and
Education and Training, increasing by 118,600 jobs.
Projected employment growth - five years to November 2025

Source: National Skills Commission
National Skills Commissioner Adam Boyton said employment was projected to increase in 17 of the 19 broad industries in the next five years.
"The Health Care and Social Assistance industry is projected to make the largest contribution to employment growth to November 2025, continuing the long-term trend as the primary provider of new jobs in the Australian labour market," Mr Boyton said.
Jobs in manufacturing as well as media and telecommunications sectors were projected to have the fewest jobs in the next five years, losing 5,900 and 7,500 jobs respectively.
The report also studied the resilience of jobs based on pre-pandemic employment growth expectations, the shock to employment from COVID, and the consequent recovery to date.
Health care workers again topped the list, followed by fashion and jewellery, speech professionals, counsellors, welfare workers, and delivery drivers.
Delivery drivers were the only low-skilled occupation among the most-resilient jobs, evidencing the boom the sector has experienced through Uber Eats and the like.
Low-skilled occupations dominated the jobs with dwindling job prospects, and included debt collectors, gaming workers, filing clerks, ticket salespersons, and toolmakers.
Aquaculture workers were the exception, being among the least resilient job prospects despite needing a high-degree of expertise.
Consumer confidence drops despite positive unemployment figures
The ANZ-Roy Morgan weekly consumer confidence fell 0.5% after a 0.9% fall last week, despite unemployment falling to 5.8% on Thursday.
ANZ Head of Australian economics David Plank said the positive labour market data hadn't translated to confidence among consumers.
"The very positive news about the labour market in February, with a strong gain in jobs and the much bigger than expected drop in the unemployment rate have not boosted consumer confidence," Mr Plank said.
"The torrential downpours and overflowing dams causing flash floods along parts of the east coast possibly dampened sentiment, as evident from the index falling 5.9% in Brisbane and 2.6% in Sydney.
"Along with the harsh weather conditions, the JobKeeper program approaching its end may also be causing some apprehension."
Consumer confidence to 23 March '21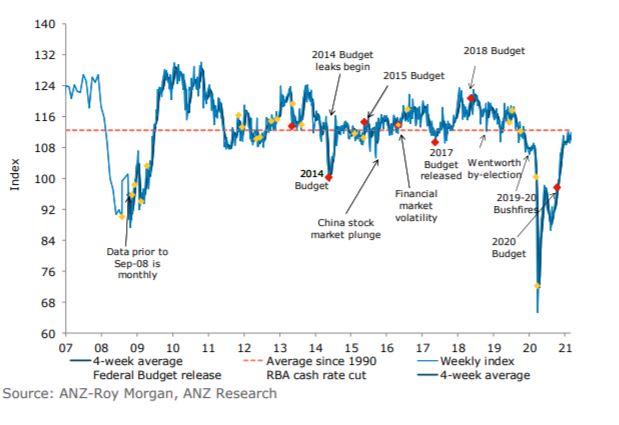 The study found 'current financial conditions' gained 2.2%, while 'future financial conditions' fell 2.6%, and 'current economic conditions' fell 2.0%.
'Future economic conditions' fell 0.8% while the 'time to buy a major household item' index gained 1.6%
---
Photo by Bofu Shaw on Unsplash