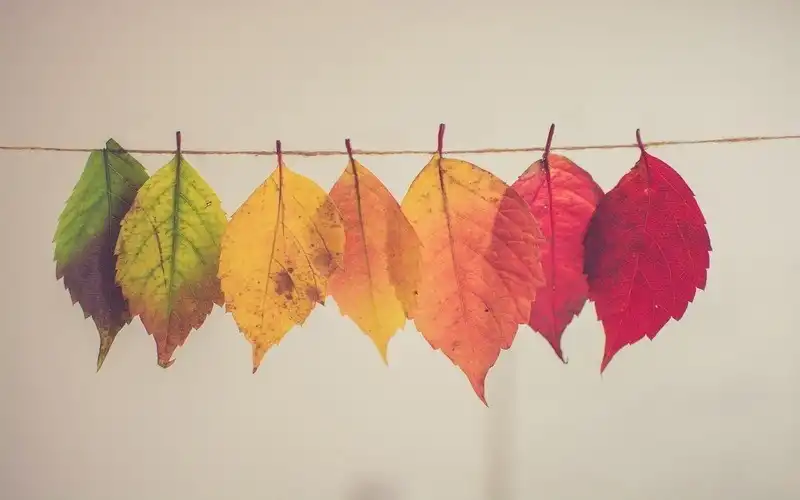 There might not have been another cash rate cut in December, but that doesn't mean your savings interest rates aren't changing.
The Reserve Bank maintained a record low 0.10% cash rate on Tuesday, and said it would remain so for several years, while new data to emerge showed Aussies are still stashing nearly 19% of their income away in their bank accounts, in addition to cramming an extra $10 billion into the banks in October.
Despite no change to the cash rate and a continued reliance on cash deposits, Aussie savers continued to take a beating, with numerous banks either cutting their savings rates or changing their conditions in recent weeks.
Need somewhere to store cash and earn interest? The table below features savings accounts with some of the highest non-introductory and introductory interest rates on the market.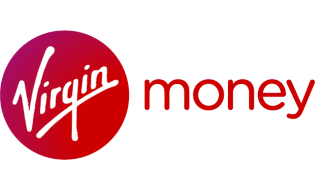 Advertisement
Boost Saver - Savings Account
Highest
variable rate
1.50%†
Base
variable rate p.a.
0.10%
BOOST YOUR SAVINGS with up to 1.5% for the first 3 months
Product Features
Red Hot Intro Rate of up to 1.5% for the first 3 months
Enjoy up to 1.2% thereafter
Bundled with the Virgin Money Go transaction account
ING changes savings account requirements
Most notably, ING announced that from March, it will implement additional criteria to earn its maximum 1.35% p.a interest rate, requiring customers' Savings Maximiser balances to be higher at the end of the month than it was at the end of the previous month, in addition to the previous requirements.
ING's most recent savings account cut came in the wake of the Reserve Bank's decision to cut the cash rate to 0.10%, even after it did not pass this on to variable home loan rates.
---
86 400 cuts interest rate again
Neobank 86 400 - which in September halved its deposit limit and also lowered its interest rate by 25 basis points in October - announced a further 15 basis point reduction to 1.20% p.a from 20 November, with customers still required to deposit $1,000 per month to earn more than the base rate of 0.10% p.a.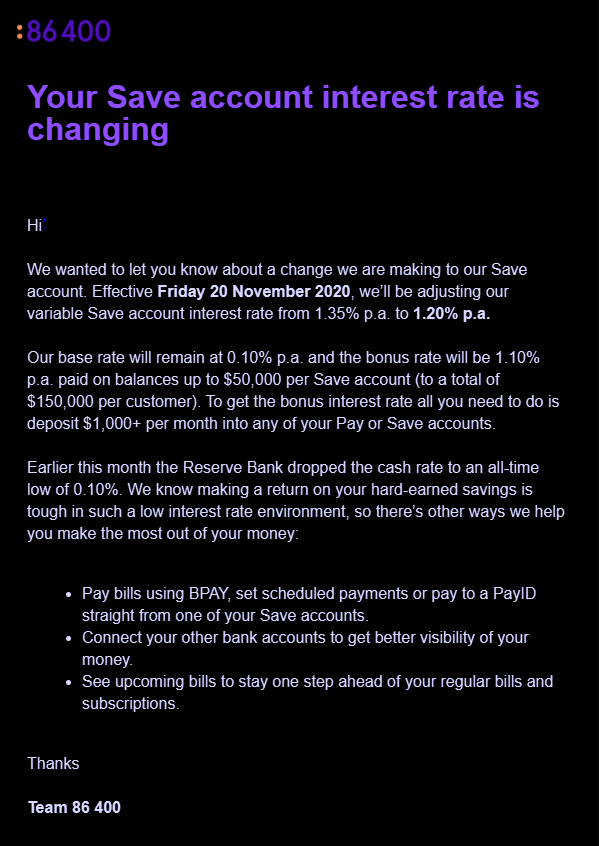 Source: 86 400.
Fellow Neobank Xinja also lowered the deposit limit for its maximum interest rate in November.
RAMS' baaaaad interest rate
The RAMS Saver account, once the darling of many keen savers that could formerly claim one of the highest savings account interest rates on the market (2.80% p.a in June 2019), has seen better days.
In a note sent to customers, the Westpac-subsidiary confirmed the RAMS Saver's total interest rate would be cut on December 4 by 20 basis points to just 0.55% p.a.
For balances above $500,000, that interest rate is just 0.10% p.a.
The bank also said that "following a strategic review", there will be a further rate reduction in 2021.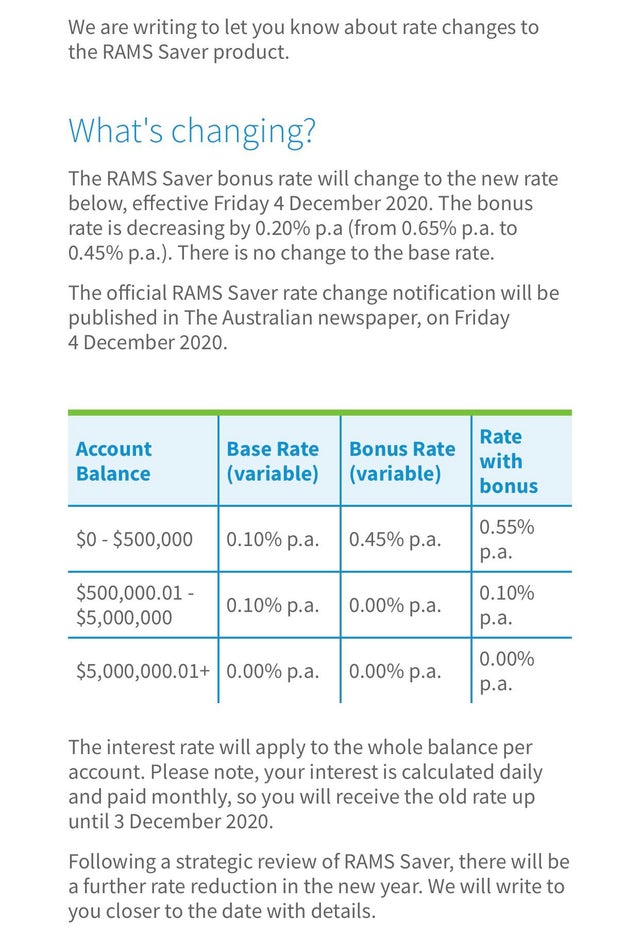 Source: RAMS.
---
UBank makes a minor change, MyState also cuts
Having previously cut its maximum interest rate on the USave + USpend account by 15 basis points to 1.31% p.a on 13 November, popular online bank UBank made another minor adjustment this week.
On December 1, the NAB subsidiary cut this interest rate by a further 6 basis points to 1.25% p.a.
The conditions to earn the bonus interest of 1.06% p.a remains unchanged, requiring customers to:
Open a USave savings account;

Link a USpend transaction account; and

Deposit at least

$200/mth

from a non-UBank account
Another of the market leading rates, MyState's Bonus Saver Account, also reduced its interest rate by 15 basis points on December 1.
This account now has a maximum interest rate of 1.35% p.a, as long as customers deposit $20 or more and make five or more settled eligible VISA Debit card transactions from a linked account each month.
What now for savers?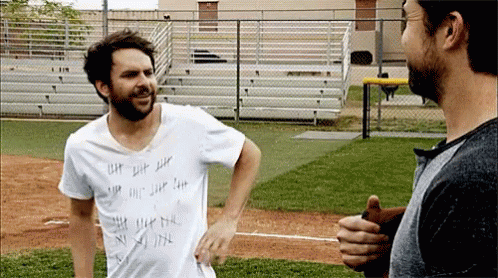 Despite these continued changes to savings account rates - other banks to cut last month include ANZ as well as ME and Macquarie Bank - Australians are still putting money away into banks.
In addition to the household savings data mentioned earlier, other recent research shows 57% of the 11 million Australians receiving their 'Stage two' personal income tax cuts - around $40-$50 a week extra for low and middle-income earners - planned to save it.
With rates as low as they are, Raiz Founder and CEO George Lucas told Savings.com.au last month that many deposit options now are little more than "parking accounts" to secure money, instead of trying to gain any interest income.
"To put it simply, inflation may be low, but interest rates are in many cases even lower," Mr Lucas said.
"This has led commentators to label savings accounts as 'parking accounts', where savers may be going backwards as they're not being compensated for the decrease in purchasing power of their savings, due to inflation."
However there are still some good interest rates available out there, such as the ones listed in the table below, which include some special interest rates for people below a certain age.
For more help on finding a worthwhile account, check out Savings.com.au's guide to choosing the right savings account.
---
Photo by Chris Lawton on Unsplash