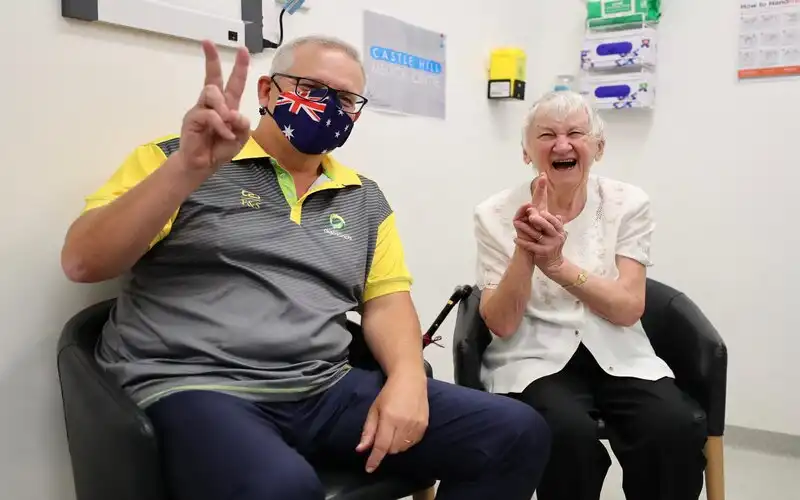 Prime Minister Scott Morrison has announced the liquid asset test applied to the COVID-19 temporary disaster payment will be waived moving forward.
Mr Morrison said the test would be waived from the third week of the Greater Sydney lockdown, and would also not apply to any lockdowns experienced in the nation in the future.
When the scheme was first announced in June, eligibility requirements deemed applicants must have less than $10,000 in liquid assets, like cash or shares.
The payment gives people who work more than 20 hours $500 a week when locked down, and those working less than 20 hours $325.
"It doesn't matter what funds you have available to you in your bank account or that you can readily convert to cash," Mr Morrison said.
"[We are] recognising that we're not just dealing with a one-week period or a two-week period, that this is now going into a third week with further decisions to be taken."
The Prime Minister also announced the government was suspending the mutual obligation arrangements for people receiving welfare payments in Greater Sydney.
In a joint statement, Minister for Social Services, Anne Ruston, and Minister for Employment, Stuart Robert, said the suspended arrangements applied to job seekers in Jobactive, online employment services, and disability employment services.
"Job seekers and participants in these areas will not face payment suspensions or financial penalties for failing to meet their mutual obligation requirements that are due, or are arranged to occur, during the suspension period of mutual obligation requirements," they said.
"Job seekers and participants in these areas are still encouraged to stay connected to employment services to ensure they are supported to access the full range of assistance including mental health services if required, and to continue to check when their mutual obligation requirements are due following the temporary suspension."
No federal support for businesses
With so many businesses affected by the extended lockdown in Sydney, the Prime Minister was questioned on whether the Federal Government could provide support to help them through.
Mr Morrison said National Cabinet had agreed this was a State matter, but was discussing the situation with New South Wales' Premier and Treasurer.
"Given the circumstances we're now seeing unfolding in New South Wales, we will work very closely with them to ensure that there is appropriate economic support," he said.
"There are shifting sands when it comes to the evolution of this issue, and we're working very cooperatively and positively together because, let me be clear, what is happening in Sydney just doesn't have implications for Sydney."
---
Picture source: Twitter